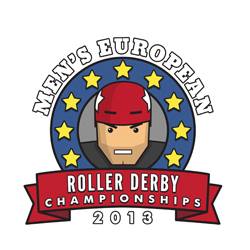 Image courtesy of MERDC
The Jakey Bites are gearing up for their debut appearance in the upcoming Men's European Roller Derby Championships! The tournament will be spread over the weekend of Saturday 20th July and Sunday 21st July, hosted in Birmingham.
This is only the second MERDC tournament, so the organisers are keen to pull out all the stops to make their mark. The number of teams participating between last year and this year has increased from 7 to 16, and from the discussions on Facebook, it looks like the venue will be jam-packed with team merchandise and stock from the tournament sponsors.
2012 winners, Southern Discomfort, will be back to guard their title from teams from France, Wales, England, and Scotland. The Inhuman League, South Wales Silures, and Quad Guards from Toulouse, will be joining The Jakeys in putting up a strong fight to take home the Cup. As well as getting the chance to watch all of these fantastic teams in action, The Jakeys are hoping to come up against Super Smash Brollers, as former Jakey - Danimal - has recently joined their team after moving to England.
Saturday will set the tournament off to a flying start, with 20 bouts played over 2 tracks. From the line-up issued by the MERDC, The Jakeys will take on Manchester's New Wheeled Order in the third bout of the tournament. By the end of the day, only 8 teams will remain to fight it out for a place on the leaderbord. On Sunday, spectators can settle down to watch all the action from 1 track. They will be treated to the Semi-Finals, Third Place Play-offs, and then THREE Finals!
When asking The Jakeys how they are preparing for the tournament, team skater WK Deid told us, "At Jakey HQ we have been taking preparation for the Euros very seriously, which isn't like us at all. In addition to our normal Jakey training sessions and our other leagues training (Capital City, Mean City & Bairn City Rollers) we are scrimming almost every week or bouting. We have recently played Team Steve (and celebrated our first win!) and will play Granite City's co-ed bout in the two weeks before the tournament".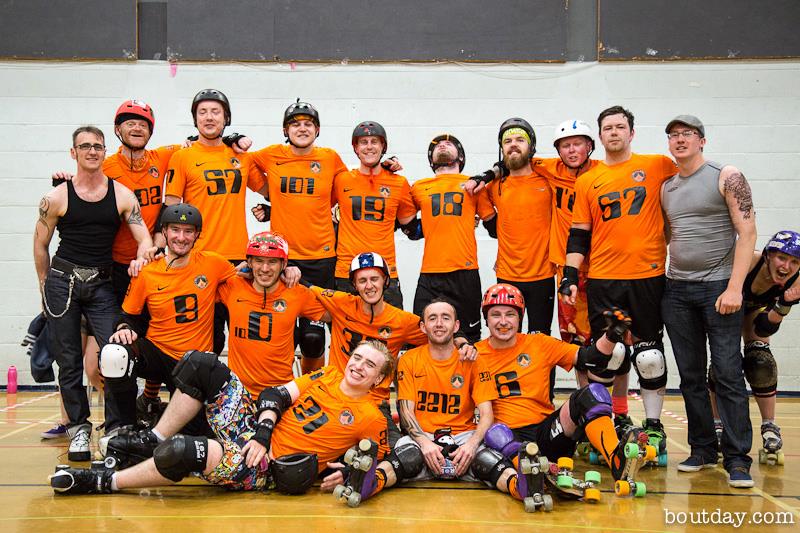 Jakey Bites vs Team Steve - Image courtesy of Dave McAleavy
Cult Friction from Dundee Roller Girls will be on the road with The Jakeys as their Line Up Manager. She has built a strong relationship with the men's team after training and skating with them since September 2012. Cult was Bench Manager for The Jakeys in their bout against the Crash Test Brummies in 2012, and her involvement has escalated from there. She told us that, "Skating with the guys every week has resulted in fantastic relationships and friendships with them, as a team and individually. I know how they all skate like the back of my hand so I guess becoming the Line Up Manager was a natural progression. They have taught me a lot in the last 10 months and always push me to up my game so it is an absolute pleasure to be their Line Up at MERDC. I think they will make us all proud at the MERDC tournament and will give a great representation of Men's Roller Derby in Scotland". We couldn't agree more, Cult!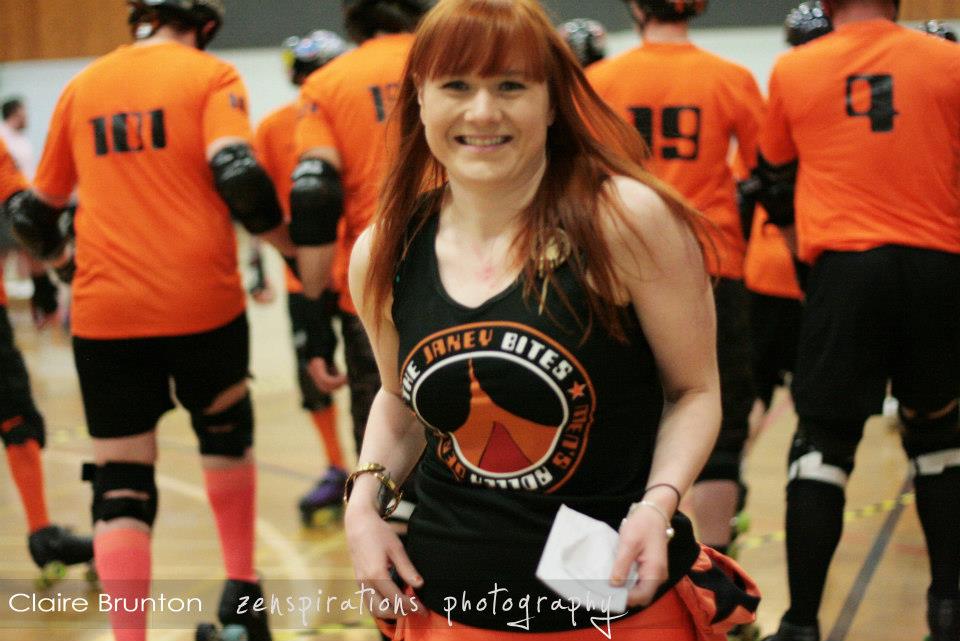 Cult Friction at The Jakeys v South Wales Silures - Image courtesy of Claire Brunton
Tickets are available online until 17th July, priced at £20 for a day pass, or £30 for a weekend pass. Keep up to date with the latest tournament news by joining the MERDC Facebook Event.