First in a series of interviews with those outside the track that help make Roller Derby what it is, an interview with an announcer familiar to many. Helliverance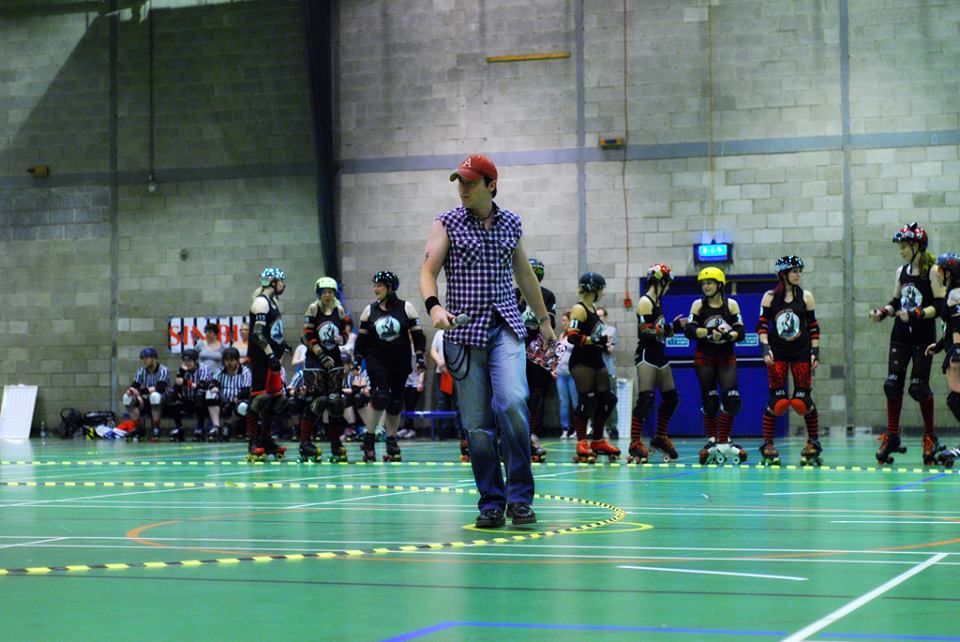 Photography by Chris Renton.
How did you get started announcing in Roller derby?
I started in Roller Derby the way most people do, as a fan. Everyone knows someone who is involved in the sport and it was just a matter of time before my curiosity got the better of me. So yeah, first a loudmouthed fan cheering on my local team and then a loudmouthed announcer introducing them - it's the natural progression.
Announcers all have different styles, how would you describe your style and how has it evolved since you started?
That's actually a good question, every announcer I've worked with has their own thing they bring to the mix. Me, I'm there to enjoy myself, have fun with the crowd an keep the energy up.
I wasn't aware of 'announcing styles' when I started out but I reckon I was closer to being a colour announcer, filling in between the action with a little insight and some facts (not all were genuine - but that's what I bring). I stepped up my game by becoming certified by the Association of Flat Track Derby Announcers (AFTDA) and can now turn my hand to a little play by play (commentating on the action as it happens), supplied with a little side-dish of rules knowledge when needed. At the end of the day though I just want to have fun and for the crowd to enjoy themselves.
How do you prepare for bouts and how much work do you have to do on the fly?
My pre-bout preparation consists of (1) Find flannel shirt (2) Find Jeans (3) Find Bout. Other than that everything else is done on the day. The thing I've really taken away from working with other announcers is to use the teams warm up track time to learn the skaters names. Really hone in on what distinguishing features (crazy leggings, custom helmets etc.) they have so's in the midst of a high energy jam I know exactly who's doing what. Once I've nailed that the rest of the bout is as easy as shootin fish in a barrel.
Skaters have skate heroes, do you have any announcer heroes?
Do I have any announcer heroes? Hell, we're all heroes, out there on the front line talking to about 200 people at once. I've seen many folks try to do what we do and crumble under the pressure - announcing's a super power - you know what, I might just go and get myself a Superman styled t-shirt except with an 'H' on it for my next bout... Still, if I had to pick one announcer who stands out it would be Bulldog; the guy's a dang machine on the mic and he's also the one I saw using the skaters warm up time to learn them by sight. Heck, last time I worked with him I dam near had to wrestle him for some mic time :)
When you watch sports in your free time, do you find yourself doing your own commentary?
Oh man, I really do. I try an keep it quiet but before I know it, I'm making the calls as they happen. I tell you what's worse though, about 1 day before and 2 days after a bout I'm in some kind of announcer trance, where I'm 'on', providing commentary on life as it happens and cracking jokes about it as I go. It's fine for me, but if you're around ole Helliverance during that period, you might wanna invest in some quality earplugs.
Which has been your favourite bout to call and what are you looking forward to calling in the future?
Sheesh, there's been so many great bouts. Me & "Sven.Will.I.Be.Famous" co-announced an entire two day tournament one time (Highland Fling) when no other announcers showed. By the mid point of the second day I thought I was a butterfly and Sven was throwing in his day job to live a life training seals to spin balls on their noses! But probably my best so far would be calling the final of the Mens European Roller Derby Championship (MERDC) this year, between Toulouse Quad Guards and London's Southern Discomfort. That crowd were ELECTRIC and I was plugged into their power grid! An that's not even where it ends, this coming March, back in Birmingham, will be the Mens Roller Derby World Cup - Now THAT'S a spicy meatball. You can bet the farm that I've got my application in & am looking forward to calling that bad boy!
Thanks for your time, I've got some 'shine and a old guitar to tend to. Helliverance