Continuing our series of interviews with Scottish Announcers, we caught up with Granite City's SmackDaddy...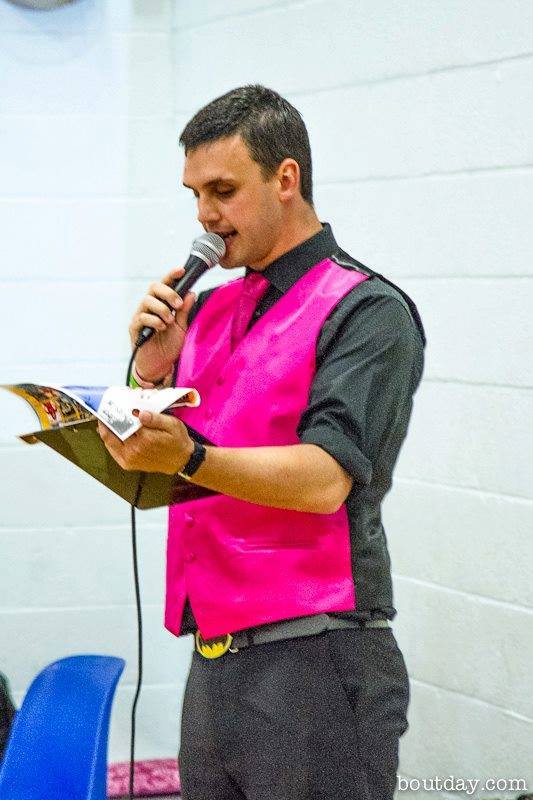 How did you get started announcing for GCRG?
Ha! This was actually quite funny. I had originally got involved with the league as my other half (Krusty) was convinced I'd make a good ref. Unfortunately, injuries etc. kept me off skates for a while so, since they had lost their normal announcer and I had a bit of a history as a presenter on the radio, they asked me to step in. It was a home bout (their first in over a year due to issues with the venue) and I was honoured to do it. Needless to say I was MAJORLY nervous but I just ploughed ahead with it. One of the GCRG skaters (Zomboobies) was injured so she joined me on the mic to help with the play by play stuff. It was awesome and I got a lot of great feedback from refs, skaters and fans. J
Announcers all have different styles, how would you describe your style and how has it evolved since you started?
My style is very simple. I'm loud and clear! I've taken a lot of the stuff I learnt from doing podcasts and radio shows and carried it across to announcing bouts. Get rid of the accent as much as possible, throw your voice and have fun with it! I firmly believe that you have to have a lot of inflection in your voice. Get hyper with awesome plays, go crazy during timeouts and be serious when you have to. Simples! ;) In regards to how my style has evolved, by attending more bouts and watching ALLLLLL the footage I can online, my play by play has improved a lot. I've started to develop little catchphrases and I have become a lot more natural meaning my sense of humour tends to shine through a bit more too. Although if you ask the girls up here, they'd tell you that's not necessarily a good thing…
How do you prepare for bouts and how much work do you have to do on the fly?
I try and be as prepared as possible. I study the rosters as soon as I get them, I contact the leagues taking part in the bout and see if there is anything specific they want me to talk about (birthdays, sponsor messages etc.) and I make sure I have the skaters' names perfected! God help me, there is nothing worse than getting a skaters' name wrong! They WILL kill you! Problem is, 90% of what announcers do is on the fly as you are talking about the match going on in front of you and obviously you can't plan any of that! Sometimes, it's the off the cuff stuff that gets the best reaction from the crowds. Whenever there is a decent break in play, I have been known to wander into the crowd and pick out some of the best signs and talk to people about them on the mic! It's great fun and it gets people interacting.
Skaters have skate heroes, do you have any announcer heroes?
Hell…yes! Jim Ross, the greatest announcer in the history of the WWE. I have idolised that man since I was knee high to a grasshopper! His delivery, his flair and his attention to detail is phenomenal. He spent a lot of his time working alongside the younger talent in WWE so in addition to honing his mic skills, he was learning about the stars of the future! This was invaluable as often he would be announcing their matches so he knew their history which gave him loads to talk about during the lull periods in live events! I was gutted to miss out on seeing him when he came to Scotland recently. L
When you watch sports in your free time, do you find yourself doing your own commentary?
Emmmm…kind of! I don't so much commentate as I do shout and scream! I'm a nightmare for screaming "what are you doing??! You totally shouldn't have done that! You should have done X-Y-Z!" I do have a little bit of an inner monologue though. I talk to myself a lot throughout the day. I find it helps me concentrate and remember what I'm doing. I have to make sure I don't do that when I'm announcing derby bouts because I will probably mutter something incoherent and/or ridiculous! And yes, by inner monologue, I do mean that essentially…I talk out loud to myself.
Which has been your favourite bout to call and what are you looking forward to calling in the future?
The final of Quad Nations a few months ago in Swansea. It's my favourite for one reason…GCRG won the whole thing! Although as well as being my favourite, it is also my worst because I was so proud of the girls yet I had to remain completely impartial the whole time. It actually got to the point where I just went quiet because if I didn't, I was going to explode! At the end, I broke down in tears…while talking on the mic! Not ashamed to admit, I bawled my eyes out! I'd also say MRD vs. GCRG because I got to work with a fellow wrestling fan, Captain Malice! We bounced off each other fantastically and had an awesome chemistry. It was the first time we met, yet everything we did just sounded so natural. Loved it. What do I look forward to calling in the future? Well, I applied to announce the Men's World Cup next year but to be fair, I'm probably not experienced enough for that yet. I would love to do it and have total faith in my own ability, but there are loads of other awesome people who have applied so I don't envy those who have to make the final decision!