Feminism and roller derby – two great life passions will be combined for many Scottish skaters on Saturday 7th Dec!  As many of the country's leagues commence their 'off season', this is a great way to mark the end of what has been a monumental year for all Scottish leagues in one way or another.
The 'Hell Hath No Fury' charity bout is the brain child of Glasgow Roller Derby's Maiden Grrders skater, Trucks Norris.  The bout will raise awareness of the 16 Days of Action for the Elimination of Violence Against Women campaign; a global phenomenon which runs from 25th Nov to 10th Dec.  Organisations across the world will organise events during this period to raise awareness of violence against women. 
All proceeds of this bout will go toward local Glasgow organisation 'Womens Support Project', a feminist voluntary organisation which works to raise awareness of the extent, causes and effect of male violence against women.  It also works to provide improved services to those affected by violence, and highlights the links between different forms of male violence and promoting interagency responses to the abuse of women and children.
The bout will take place at the Arc Sport Centre in Glasgow, and will feature skaters from Glasgow Roller Derby, Granite City, Fierce Valley, Dundee, Lothian Derby Dolls and Auld Reekie.  The bout also takes place on the same day as Team Scotland Try-Out 2, so if you do find yourself at a loose end then show your support for this great cause and go see some killer roller derby into the bargain!
Sat 7th Dec, doors at 12.30pm    https://www.facebook.com/events/212345205605145/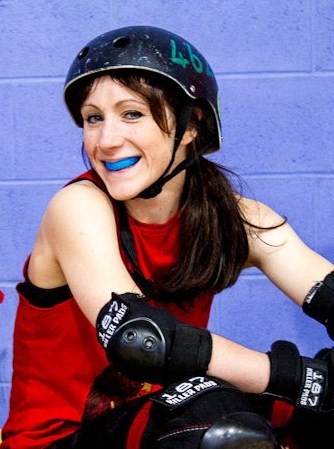 This bout is the brainchild of former Womens Support Project Worker Trucks Norris (above)