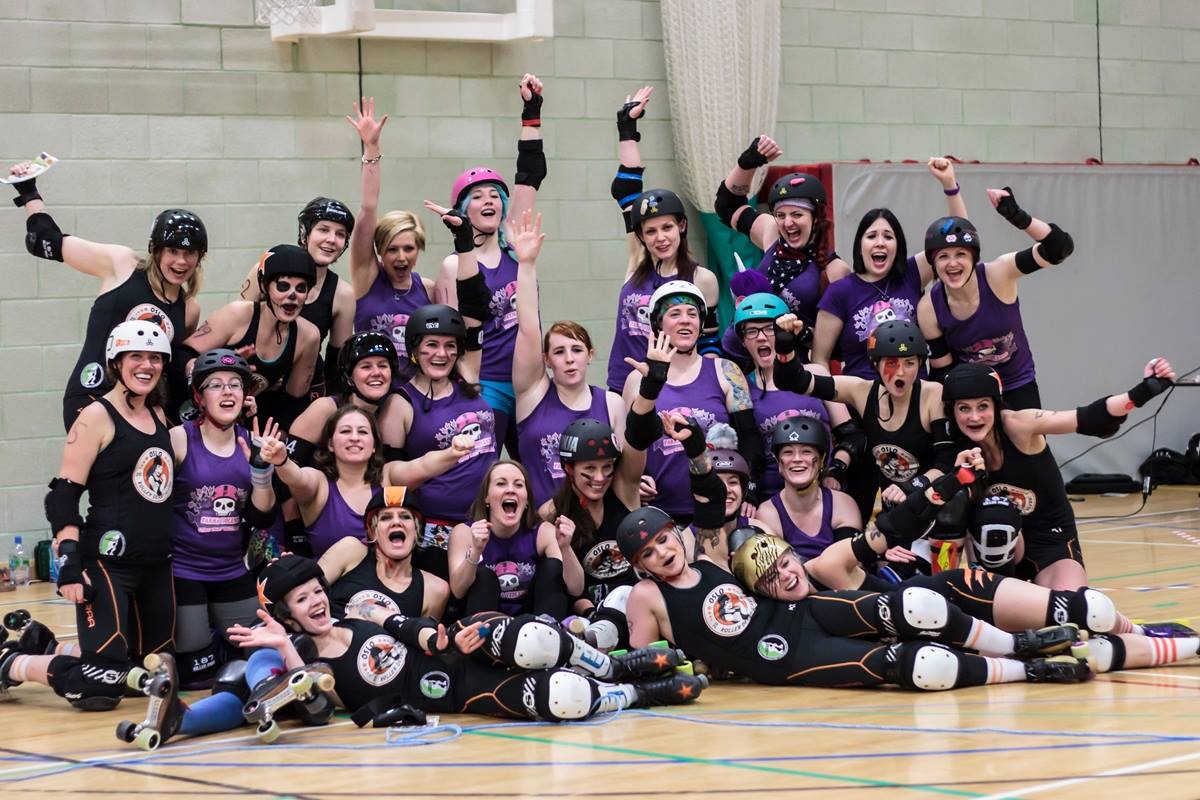 FVRG and Oslo Roller Derby All Stars-Photography by Laura MacDonald
Next in our end of year reviews is Fierce Valley Roller Girls' captain, Gallus Cooper.
Fierce Valley Roller Girls have had an varied year, road trips south of the border to Wirral and Newcastle and your first international. What have been the highlights of the past year for the team?
We really did have a fantastic year last year! We spent a lot of time and effort last year getting all our skaters up to the 2013 mins standards. Both the away bouts were tremendous fun, long days with ardous bus journeys, but we had a lot of fun on the bus! The bouts themselves were great too! We have brought a number of new bouters onto the Parma Violents this year and it has been great watching these skaters grow in both skills and confidence on track. The Oslo bout was a great way to finish the year as the PV's, those girls were just awesome! And tall!
FV secured a convincing victory against Wirral in 2012, a year on and the return match was another story, with a slender 2 point victory in a hard fought bout that came down to the last jam.Were you surprised by just how hard Wirral played and will there be a rematch in 2014?
The Whipiteres were great opponents, for both bouts! They really put up a fight on our return bout! We knew from the first bout how hard they could hit, but wow, they had been training hard since then! The last jam was crazy! 2 points! So close! I don't think there is a rematch this year, but you never know!
Back in July you hosted a co-ed bout involving The Jakey Bites, how did you feel about joining the co-ed party and is it something we will see more of at Fierce Valley?
I for one really enjoyed the co-ed bout. We have quite a close relationship with a number of the Jakey Bites and it seemed like a logical step to co-host the bout. And really, who wouldn't want to be a Violent Jakey? As a league we have been involved in a few different co-ed bouts, be it the recent charity bouts or mixing things up with the local boys teams and I know that there are a few of us within the league who are keen to keep playing with the boys, the more derby the better.
Oslo Roller Derby came to visit in November, how did it feel to be selected as Oslo's Scottish debut bout in your own first international?
Playing our first international bout was always going to be a huge challenge for us, but we couldn't have had better opposition on the day. It was really exciting to see just how much derby talent is out there, and it really gives us something to aspire to.
In the last year you have hosted two intraleague bouts for the first time. Can you tell us why these are important to FVRG? The intraleagues are so important to us. They give us a chance to bring some of our newest talent to the fore. It's really exciting to see the new skaters step up and show us their skills. I don't think I'll ever forget ThumpHer's first jam during the Fightmare Before Christmas bout, when she got Lead Jammer the whole crowd went wild for the duration of the jam, it really was amazing! They give us the chance for a bit of intra-league rivalry too, going up against my PV co-captain Cammy for the second time was a lot of fun! Fierce Valley Roller Girls have recently joined the ranks of the UKRDA, what does it mean to the league to have been accepted?
Joining the UKRDA has been a goal of FVRG for a long time and it feels great to finally be in the gang! FVRG is still a relatively young league but we're growing all the time. It's nice to see everyone's hard work pay off in this way.
Lastly,can you drop any hints about FVRG's plans for 2014?
We have a lot to look forward to in 2014. We start our bout calender off with GRD's Cannie Gingers debut bout on the 15th February at The Peak, that's going to be a lot of fun to play! We are also hosting some return bouts with Dundee and Newcastle, so that's a lot to look forward to, both are formidable opposition! We have a lot of training to do this year!
With thanks to Lady Feerocious for her help in compiling this interview.