Another day, another league Review for 2013. Moving a little further North than the last few, Silvery Tayzers Captain Psychomilly was happy to talk about Dundee Roller Girls' year.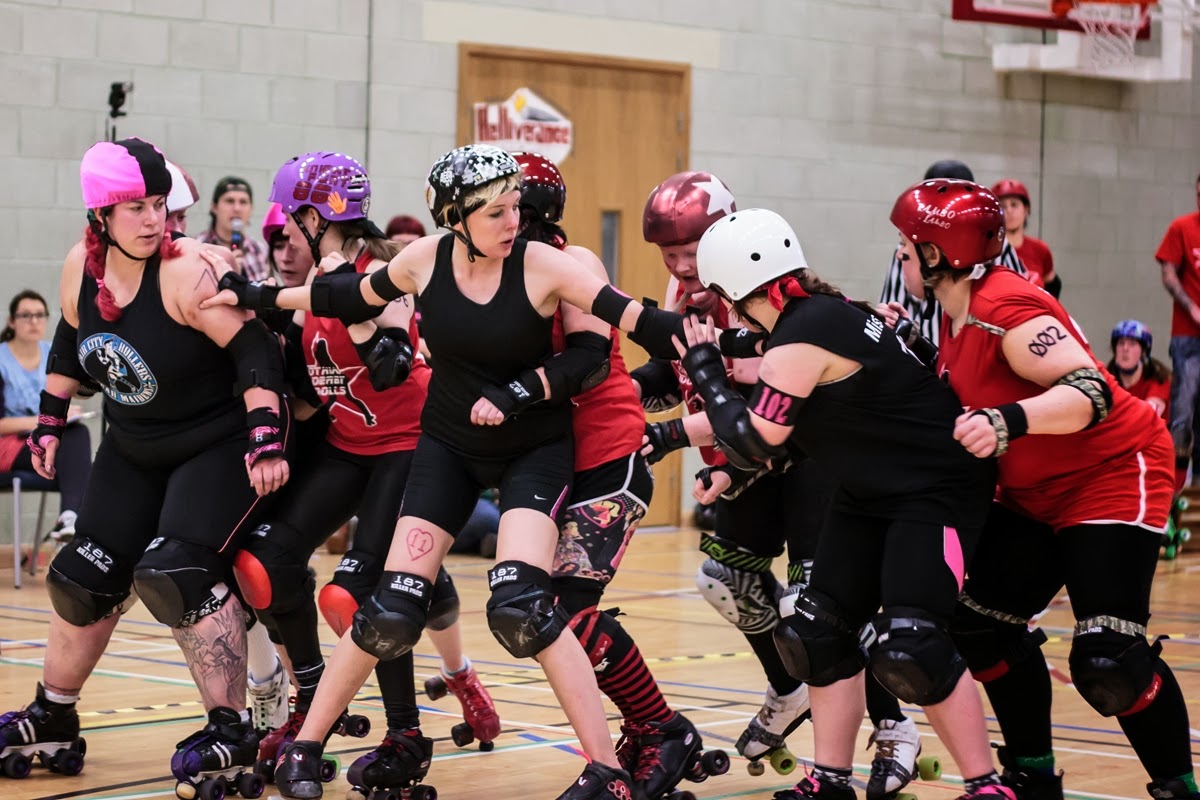 Dundee Roller Girls taking on Lothian Derby Dolls at Battle of Britain (Photo: Laura MacDonald)
Compared to 2012, 2013 has been a slightly more mixed year for the Silvery Tayzers; a couple of losses at the start of the season against Rainy City and Glasgow's Maiden Grrders, followed by an improving streak (a narrow loss against Newcastle's Whippin' Hinnies, and an almost unbroken winning streak since). You said last year that Dundee were aiming higher for their competition in 2013; how did you work to raise your game and fight back over the year?
The team has worked really hard this year to push our skills and to keep our tactics current with the new rules set introduced. We saw more losses this year than last, but we really were playing with the big girls this year! Over the year I think we settled into our new roster and became more comfortable working together as a team. In the latter half of the year, we took our tactics back to basics and worked on developing our skills together, which definitely paid off.
There's also been several changes to the roster over 2013, starting the season with several regulars missing or moved to other locations, and then Suffra-Jet moving to Glasgow to join GRD in the middle of the year, and Cult Friction moving to Edinburgh to join ARRG (and changing her skatename!), ending with Dr Carnage's last bout You've also picked up a bunch of new (or returning) skaters, who we saw in the last few bouts of the year. How are you adapting to the changing makeup of Dundee this year? Do you think this kind of cyclic mutability is good for the team?
DRG have always had a pretty fluid roster as we're a university team - there's two universitys in Dundee, but it's a small city when it comes to finding a job, so a lot of our veteran skaters have moved for the sake of their careers. It's always hard to see someone you've trained with leave, but we're so, so proud of everyone who has moved on and become even more skilled. This season, we've had some absolutely inspirational skaters move from newbies to Tayzers almost seamlessly. Having so many new skaters get on the Tayzer's roster has meant that as a team we've worked even harder to bond on track and to support each other. BoB and our home game against FVRG were the most 'together' I felt the team all year and it's a total pleasure to skate with so many committed new skaters. I think having new skaters move up to the Tayzers is good for us as a team - they bring fresh ideas and their enthusiasm and motivation is infectious.
With all the preparation for the second ever (Women's) Roller Derby World Cup in 2014, several of Dundee's skaters have been trying out for national teams. Crazily InSanne got into Team Netherlands, and there's a few of your skaters who attended the Team Scotland first round tryouts. It's a great thing for Scottish derby to have skaters featured in potentially multiple national teams… do you see more of this and other international involvement in Dundee's future?
I'm so excited to see DRG represented at the World Cup. Sanne has gone from strength to strength this year and I think you'd struggle to find someone more committed to the sport. Her behind the scenes work to keep our team running as well as the time she spends honing her skills, fitness and knowledge is outstanding. It'd be a total dream to represent DRG as part of Team Scotland, but the competition is so, so high! I'd love to see Dundee more involved in international derby, particularly now that there's more and more leagues in Europe visiting Scotland. Hopefully this year we can experience our first international bout!
Looking outside of Dundee, there's been a continuing growth in Scottish Roller Derby over 2013, with Bairn City Rollers, Lothian Derby Dolls and New Town Roller Girls all holding their first bouts this year. Dundee played two of those league already, and donated a skater or two to New Town's cherry popping bout roster. Now that Dundee is firmly in the upper-half of Scottish teams in terms of experience, do you feel you have a responsibility to newer teams? How does the increasing breadth of derby spread interact with how you see DRG placing itself in Scotland?
The expansion of derby in Scotland this year has been amazing. We've found the newer leagues have provided a great opportunity for some of our newer skaters to get involved with scrimmages and bouts with skaters of their level. We've also seen skaters from a lot of the newer leagues in Scotland visiting us for our open scrimmages, which is a really good way of sharing learning and techniques, as well as getting to know the leagues better. In the beginning, DRG received so much training and advice from the larger leagues at the time, we realise how important it is to be supported by more experienced teams. We love to help out other leagues in any way we can!
This was the first year Dundee Roller Girls played in a tournament, signing up to IntotheNitemare's Battle of Britain at the last minute due to cancellations. Despite Newcastle pipping you to the top spot, Dundee did very well - are you planning on more tournaments after this experience? How did the tournament compare to the usual single-bout context?
We'd love to take part in more tournaments. It's a fantastic way of bonding as a team and I think we kept the momentum going throughout the day. I couldn't have been any more proud to captain DRG at the tournament. We worked together so well as a team - particularly with 6 skaters new to the Tayzers. BoB was one of my favourite experiences in derby. I think tournaments differ to single bouts in that it's over just as you get into your stride. Keeping the motivation and morale up through the day was really important to us - we had a team quiz, a poster of the roster made up of pugs and a gold-star system of goals to keep us all focused and smiling.
For much of this year, Dundee have continued their support of Co-ed Derby with the Dundee Co-ed Scrims continuing to be extremely popular for skaters across Scotland, and the Jakey Tayzers returning to play more co-ed derby on track. How's Dundee's relationship with Co-Ed developed over the year? Will the Jakey Tayzers remain a more exhibition team, or is there possibility of a more formal arrangement?
Dundee have always supported co-ed derby and will continue to do so. This year we've moved to having monthly co-ed scrimmages. Co-ed is a great way to challenge ourselves, as skating with men means we have to skate that little bit smarter!
As for the Jakey Tayzers...I think we already see ourselves as more than an exhibition team. Still unbeaten!
On a personal note, you've had a busy year: referreeing at as many bouts as you've played in, appearing on Team Steve for Scotland's first Men v Women bout against the Jakey Bites, as well as regaining the captaincy of Dundee for the last bouts of the season (and trying out for Team Scotland(!)). How do you fit it all the derby in? Is there a temptation to choose one or other of refereeing or bouting?
I've been really lucky over the past few years, with ARRG and GRD giving me the opportunity to officiate loads of their bouts, including my first WFTDA Sanctioned bouts, which was a total honour. I also loved reffing the Men's European Roller Derby Champs. It was an incredible experience and I met loads of really inspirational officials. I'm also lucky to have such a supportive home league who've given me the opportunity to captain them again and help build the team and I've had the most fun bouting with them this year, especially at Battle of Britain.
My heart is definitely still in bouting, I love DRG, though I do often get told that I'll have to choose either skating or officiating eventually. I find that a really strange idea and one that I think only female officials seem to be pushed into - I can think of a number of male skaters who skate high level derby who also officiate, but women in the same situation seem to be expected to choose one or the other. Until my schedule means I can't manage both, I'm happy sharing my time!
Finally, can you let us in on any of Dundee Roller Girls' plans for 2014?
Hmm...well, we have a massive year planned for the team, but sadly I can't reveal too much just yet! It's safe to say we're working hard to expand and develop our wee team, so watch this space!