While many of our Scottish leagues have held bouts in the past year, that doesn't make the newer, or relaunching, members of the Scottish Roller Derby community any less important. New leagues are an important part of the derby community, spreading skating to places that it hasn't been before. So, let's spend a little time catching up on what the non-bouting leagues have been doing in 2013.
In 2013, Scotland continued to gain new leagues at an impressive pace. Leaving aside Voodoo Roller Dollies (who will be covered in a different article), women's derby leagues sprouted up in Dumfries and Galloway, and in Ayrshire. As is traditional, both the Doonhame Derby Dolls and Ayrshire Roller Derby were founded by women who wanted to skate, but found themselves too far from the existing leagues to join one.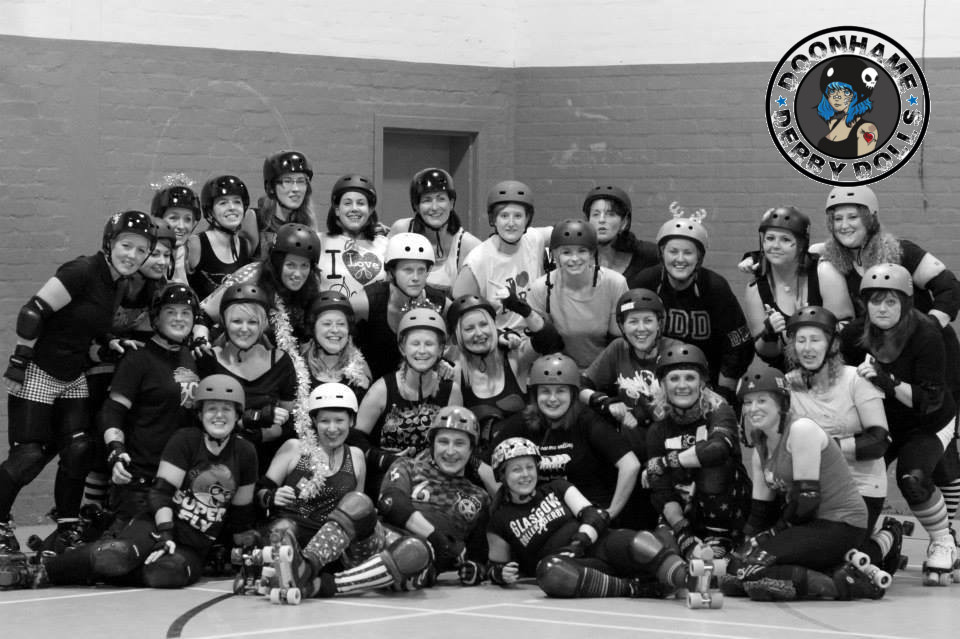 Doonhame Derby Dolls, and friends from GRD and Mean City Roller Derby (Sourced from DDD Facebook page.)
The Dolls have been particularly successful, as skater Claire Warner noted "Our first meet saw 50+ in attendance and that number has grown since (with over 70 paid up members now on the books)!" As with any new league, that success was supported by the wider derby community, as Claire told us "Our first night was led by Jodie from Glasgow Roller Derby (the woman who had inspired [founders] Debz and Grace) and Cat, a Windsor Rollergirl who luckily for us had just moved to the area, and who has been coaching us ever since. We have had other guest skaters joining in and sharing their skills too, Bruisedog from Mean City, and Turbolinz from GRD came for a visit, Tessington World of Adventures from Granite City Roller Girls and Hazzard from LRG have all dropped in to share their skills, knowledge and love of derby with us, the freshest of fresh meat."
Doonhame have been exceptionally organised in themselves, as well. In the last four months, they've managed to set up their league branding and management structure, gain sponsorshop, and also garner a huge amount of local media attention, including a spot on ITV Borders News. They've even managed to hold two RollerDisco fundraisers, the funds from which they are planning on using to subsidise costs for skaters on low incomes. From all of that, you would not be wrong in guessing that their plans for 2014 are.. expansive. "There is sooo much more planned for this year too (we have just been away on a Dolls development planning weekend)!", Said Claire, "Not only do we plan to gain affiliation, sponsorships/funding to improve access opportunities for other local women, we aim to hold our own local bootcamp to help us work towards passing minimum skills, put on a demonstration bout and hopefully be scrimmaging by the end of the year. In addition to all this we are also looking to take part in local charity fundraisers, spreading the Derby Love and helping those in need in our local community. we will also be running roller disco's on a regular basis throughout the year and hopefully we are about to start organising our own junior derby league!!"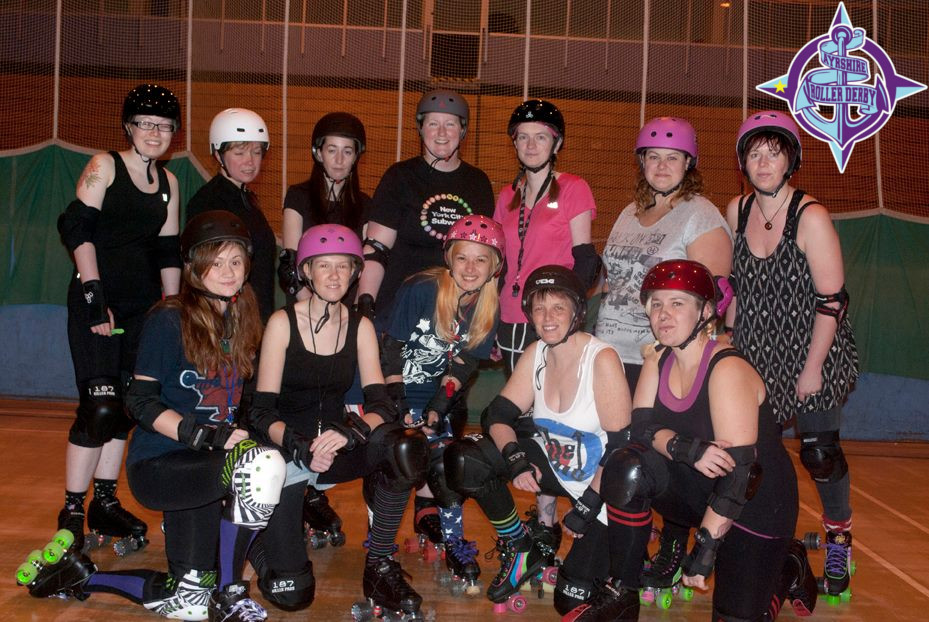 Ayrshire Roller Derby's earliest skaters. (Sourced from ARD Facebook page)
If the Dolls were inspired by one Glasgow Roller Derby skater, Ayrshire Roller Derby was inspired by another. As Lorna McIlvanney told us: "We wanted to start up an Ayrshire league but thought it would be difficult and never had the time to do it. Then at Rollerstop, we spotted Sylk from GRD and approached her to see if she might be able to help us set up. She said she would give advice and help with training as and when. [...] We have had massive amounts of help from Sylk, along with various Mean City skaters. We have been invited to scrim with other leagues (once we are mins passed) and have had messages of support and offers of help from many, which has been awesome."
ARD have exciting plans for 2014, as well, as Lorna explained, "We are planning on getting to as many bouts as possible and getting involved where we can e.g. as NSO's etc. Our sights are set on passing mins shortly. We have fundraising plans and recruitment drives coming up. Then, scrims for experience and hopefully we'll be ready for our very first bout. We hope to one day base ourselves in the three Ayrshire (North, East, South) and maybe have our home teams structured that way. That's further down the line obviously, but it nice to have goals."
⁂
As well as the brand-new leagues of 2013, leagues founded from 2012 and earlier still continued to develop over the past year.
In Glasgow, the
Deadly Divas
experienced a hiatus for various personal reasons. A spiritual-successor league,
Renfrewshire Rockin' Rollers
, also appeared, with similar stated aims, but is also currently static. RRR Co-founder, Juggs Knock'her said "At the moment due to a lot going on in our personal lives things are on hold. We plan to have a fairly relaxed approach to skating, as well as training to WFTDA rules and Renegade. We are looking to recruit both women and men. Basically derby is about fun and we hope to keep it that way." With the Deadly Divas also hinting that they might be waking up, it remains to be seen what happens in the space of second-leagues in Glasgow.
Moving northwards, the resurgence of Perth's Fair City Rollers continued apace in the past year. League chair Pistol Panties was excited about their continued growth, "Initially, we were holding open sessions and just trying to build our numbers up, with the rec sessions, and we have achieved that. We had a big fresh meat intake in August, funded by a local charity geared towards increasing attendance at women's sports, which was a great success and we had a great response from everyone. That really was a stroke of genius, because it allowed us to invite all Scottish leagues along to an open scrimmage, which not only meant we got to see our friends, but it allowed the girls to get a real flavour of what Roller Derby is really about. We now have good numbers of regular attendees, and a team of (very nearly) mins passed skaters." The league even managed to one-up most of the rest of Scotland, organising a guest coaching session from Steel City Rollergirls' Shrinking Violet in June. "We worked on basic skills, which was really useful even for the more experienced skaters, we all wanted longer with her, so we did a bit of off-skates afterwards too!".
Fair City are now holding regular fresh meat sessions, with the last one being on the 27th of January, and regular training sessions are up to 3 hours a week. "We feel excited about this year," said Pistol, "and to be in a position to be thinking about getting back to competing in the near future. Basically, the only way is up!"
Inverness City Roller Derby's new, striking, logo.
Inverness' Nasty Nessies Roller Girls underwent a few changes over 2013, not least a change of name and branding. The newly styled "Inverness City Roller Derby" will retain the "Nasty Nessies" name and logo for their travel team. While ICRD has not yet bouted, their skaters continue to make appearances in exhibition and cherry popper bouts hosted by other leagues, and travel to open scrims in the rest of Scotland. They've also been working on an interesting outreach project, as Scarlett O'Horror told us: "We've just completed a collaboration with Fixers - a group that helps promote community participation and challenge stereotypes. We made a film with them, featuring our own lovely skaters, which will be premièred in Inverness - very exciting!" 2014 looks like being the year for roller derby in Inverness, however, "We have a lot planned for this year! We will hopefully move into a new training venue this year, and have a few more mixed bouts lined up, including participating in a bout in April, which is really exciting for us. Some very lucky members are also off to Texas to watch the World Cup in December - picking up tips and training ideas, no doubt! And t-shirts. Always t-shirts."
Finally, at the northernmost point of Scotland, Shetland Roller Derby has continued to hold both derby and open skate sessions throughout the year. Men and women are welcome, and the Open skates in particular have been popular.
⁂
As you can see, it's been an eventful year with the growing leagues of Scotland, and 2014 promises to be even more interesting!