When writing an overview of the Scottish Men's Leagues last year, we spoke to Tequila Jammer from Edinburgh's Capital City Roller Derby to hear all about the league's formation and their plans for their first year. A lot has happened at CCRD since then; Sassenick has done us the honour of sharing their adventures with us.
1. When we spoke in February 2013, you were planning your first Fresh Meat taster for April, and then another took place in September. How have you found the  recruitment process? Can you introduce us to the new skaters at Capital City who  joined in 2013?
Recruitment has been a bit hit and miss. Each time we've advertised a new Fresh Meat session, we've initially received plenty of interest, but getting people to actually turn up, and more importantly, come back for a second and a third time, has been tough.
The April Fresh Meat was a bit of a false start due to low numbers, but the September program has been very successful, with a number of the newer skaters now very close to passing their Minimum Skills.
I think our biggest success story is HaJuken, who's gone from absolute beginner back in February to skating in public bouts and, most impressively, helping his team into joint 3rd place in the Jakey Sur5al in December.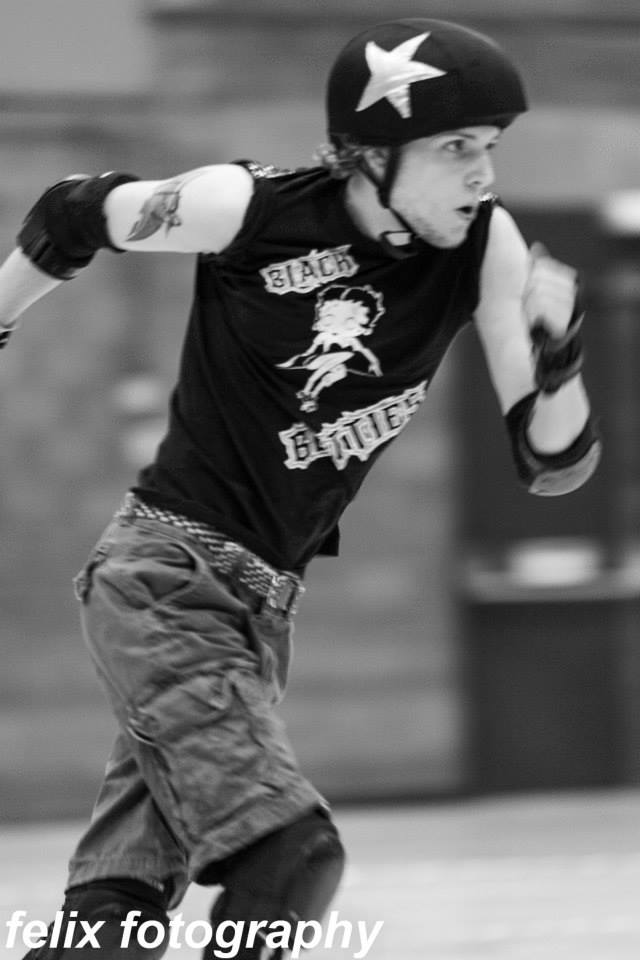 HadJuken jamming at Sur5al 2013 - Photo courtesy of Ian McCreadie
2. How are you finding the balance between training skaters at a beginner level, and also those at a more advanced level?
It is very difficult to find the right balance of training for newer skaters, intermediates and advanced skaters, especially when we currently only have one training session a week. At the outset of 2013 this wasn't so much of an issue, but as the year progressed, and more inexperienced skaters joined the league, we found ourselves with a wide range of skating skills and levels to cater for.
We knew that this is an issue that all new leagues face sooner or later, so we assessed all of our skaters and created a training plan that would cater for everyone's needs. We now split our training session into two halves: the first half covering skating skills that are needed for Mins, which our intermediate and advance skaters join in to help our newer skater's progress. The second is focused on the skills we all need for playing derby. It has worked out really well and all the boys here at CCRD really put everything into each session, so much so that you can visibly see them advancing every week.
3. Your range of merchandise is very impressive! Capital City stalls are regularly spotted at Auld Reekie Roller Girls bouts, and at many local men's bouts. How important is it for you to attend these events and chat to the spectators?
Everyone loves a unicorn! We try to get a presence at as many bouts in and around Edinburgh as we can. It helps us to not only to promote ourselves, but also men's derby in general. There are plenty of guys who attend women's bouts who know very little or nothing at all about the men's game and leagues. We aim to inform them and hopefully recruit them. A few of our current skaters were recruited at bouts in this way and at the time didn't even know there were any men's teams in Scotland. That said, it's important to find a balance when we're setting up shop at other teams bouts, because until we're actually giving something back in the form of, you know, actually playing Roller Derby in public, we run the risk of looking more like a clothing brand than a team.
As an aside, because I'll never stop getting excited by this fact, every so often people submit picture to our Facebook Page of themselves wearing our merch. Last September an ARRG skater (shout out to Terrifying Tink!) posted a pic, taken on a visit to Five Stride Skate Shop in New York, of her wearing Capital City t-shirt while standing next to Bonnie Thunders & OMGWTF of Gotham Girls Roller Derby! How cool is that!?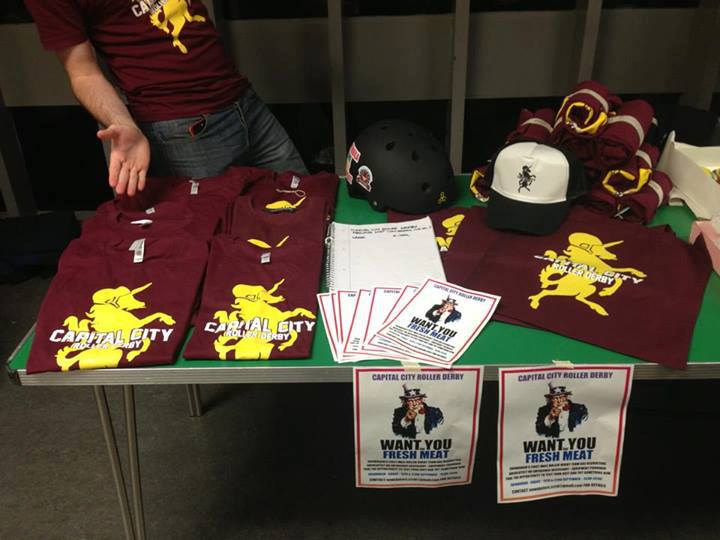 CCRD merchandise at Meadowbank Stadium. Photo courtesy of CCRD.
4. All of the Scottish Men's Teams have certainly put their stamp on the roller derby scene and are no longer seen as the 'newbies' trying to catch up with the women's teams. Starting a roller derby league is a big enough challenge - never mind introducing another culture at the same time! Can you tell us about the challenges you faced along the way, and how you overcame them to rise to the position you are in now?
We were lucky here at CCRD that we were started by a group of Jakey Bites skaters. They saw a gap for an Edinburgh-based team when other regional men's teams were starting to appear, and so CCRD was born. This gave us a solid foundation and a wealth of experience to draw on, not only from their experiences with the Jakeys, but also with Women's leagues as well as some of them were previously (some of them still are) referees.
Even with this we have ran into our fair share of challenges. Recruitment is always the big one, as are hall costs. Unfortunately these go hand in hand, as without skating members we can't pay for hall time. Hall costs are always a big hurdle for new leagues and we're no exception. It seems everywhere we look is expensive! This has led us to make sure to maximise our time we have on track each week, which in turn has helped to focus all our skaters at training. We are planning more Fresh Meat intakes throughout 2014 to hopefully add to our ranks, whilst still looking at alternative training venues to help us reduce hall costs.
On a more positive note, I think the biggest obstacle that 2013 raised for was the need to actually become a team, rather than just a group of guys that skated together. Strangely enough, I think that happened pretty soon after we decided on our logo. It's surprising how readily grown men will rally around a unicorn without a hint of irony, but it's definitely become ingrained in our culture now.
5. It was very exciting to see the establishment of the Men's National Team - The Power of Scotland - last year. Are many Capital City skaters on The Power of Scotland roster? What opportunities do you think a Men's National Team will bring to the sport?
We were all very excited about the establishment of Power of Scotland as a bouting team. There's 4 skaters representing CCRD skating with Power of Scotland, two of which were voted in as the captain and vice-captain for POS. There is Dafty, Tequila Jammer, Judderjam and WKDeid (aka V for Vieneta); names I am sure followers of Men's Roller Derby will recognise from the Jakey Bites bouts. Also Ginge, their line-up, has also been on the side-lines of CCRD since the beginning, so we've definitely got a lot of representation in the national team.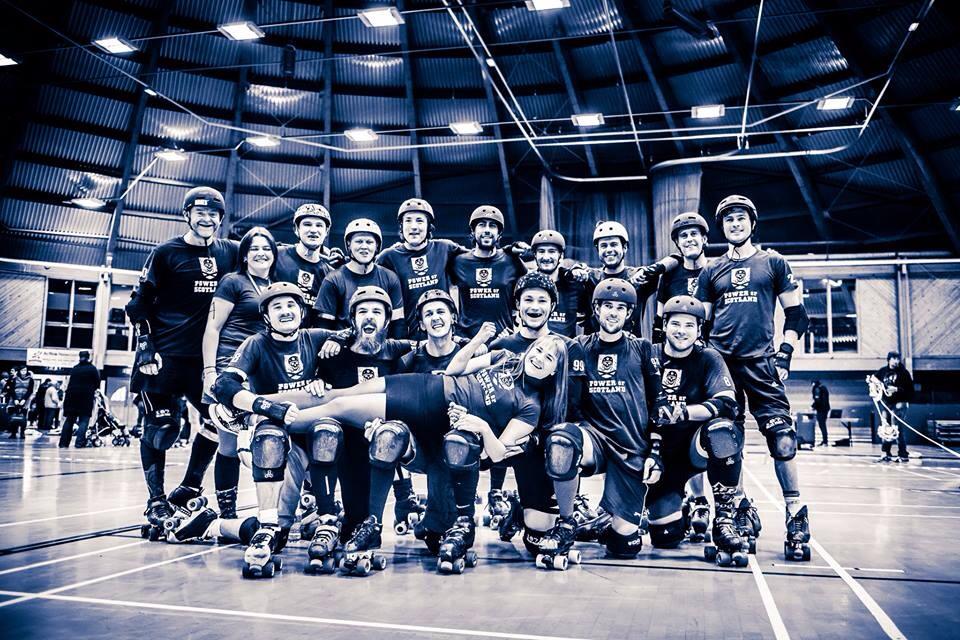 Power of Scotland - Photo courtesy of CCRD
Back row: WKDeid 4th from right; JudderJam 2nd from right.
Front row: Tequila 1st from left.
Very front row: Ginge!
It's hard to say what sort of effect a national team will have in Scotland though. We're in the fairly unique situation of already having an all-star team with the Jakey Bites, so the benefits of a supra-league team have always in a way been visible within CCRD. That said, our coaches are already bringing back new tactics and ideas from Power of Scotland which are definitely having a positive effect on our team and our game.
On top of that, with not only the Men's World Cup in March, but the Women's in December, hopefully there will be more exposure of the sport in general here in Scotland and throughout the UK. It would be really good if the attention the sport is getting on a national level could feed back to help leagues, not only in terms of promotion and recruitment, but also in bringing in new sponsors and representation in the national media.
6. What would you consider as Capital City's biggest achievement in 2013? Are there any highlights that stand out from a very busy year?
2013 was a very busy year for us, but we don't have much in the way of visible achievements. Behind the scenes, our biggest achievement of 2013 has been the successful changing of the way we run our training to best help and suit every one's needs. This has helped build a drive and determination at CCRD to get us ready and in shape for bouting in 2014. Everyone has put in so much hard work and has a fantastic focus of getting us bouting in 2014, to make 2014 the year of the unicorn.
We had our first Fresh Meat pass their Mins which I think is a big sign of success for the league as a whole, but most of the things that I think reflect well on us, can be seen in the successes of our members.
There have been a few more highlights through the year such as a few new skaters playing in their first bout, CCRD being represented at the co-ed charity bouts last year and CCRD being represented in the POS line up to name a few.
7. What would you consider as your personal biggest achievement with Capital City in 2013?
That's a surprisingly tough question, because everything feels like a big achievement when I first master it, but after a few weeks it becomes just another skill. I think the best feeling though was when I managed to skate 28 laps in 5 minutes. My previous PB was 22, I was on new skates, only two weeks back after a two month absence, and the previous week I'd skated headfirst into a wall in the attempt! To actually get the laps I needed after that was such an amazing feeling, even if I had to sit down for the next half hour to avoid passing out!
8. And finally, what are Capital City's plans for 2014?
Bouting! We've already got a couple of dates pencilled in for scrimmages with other leagues, and we're definitely on track to have a public bout by the end of the year. Recruitment is also going to continue to be a big focus, and the big aim there is to have enough numbers so that we can have additional training sessions to better accommodate a range of abilities. On top of that? We're just going to keep having fun!