2013 was a big year for Scottish Roller Derby on the international scene, as Glasgow Roller Derby's Irn Bruisers and Auld Reekie Roller Girls' Twisted Thistles both made the trip across the Atlantic to play in ECDX, the first UK teams other than London Roller Girls to start competing seriously against US teams on their home ground.
As with London's initial experiences, ARRG and GRD made a splash, both doing much better than many of the US natives had expected. This year, both leagues are sending their A teams to different events - GRD is targetting Spring Roll in Fort Wayne, and Auld Reekie are off to The Big O in Oregon this coming weekend.
The Big O is a yearly tournament hosted by Emerald City Roller Girls (based in Eugene, Oregon) since 2012. It's no stranger to international visitors: in 2013, Australia's Victorian Roller Derby flew across the Pacific to compete there, and the UK's own Southern Discomfort participated in the first ever international men's derby bout at the same event. As that implies, The Big O is not just a WFTDA or women's derby tournament: there is also a significant Men's Derby bracket and Junior Derby tournament as well.
Auld Reekie will be joined as International contenders amongst the US teams by Japan's Kokeshi Roller Dolls. Okinawa-based Kokeshi are one of the oldest Japanese derby leagues, naming themselves after the distinctive round-headed Japanese wooden dolls (こけし) which also appear on their logo. Like many of the Japanese derby leagues, KRD are mostly composed of American nationals, drawn from the ranks of United States Forces in Japan and their partners. The Big O will be Kokeshi's first international bouting experience.
Both ARRG and KRD will be competing in the "lower Division 2" tournament bracket, out of the three WFTDA brackets available.
With Glasgow Roller Derby's Spring Roll planning to be covered in a later article, we caught up with Auld Reekie's Ciderella and Kokeshi's Riot Earp and Dark Passenger to get their thoughts on planning for, experiencing, and learning from, international tournaments.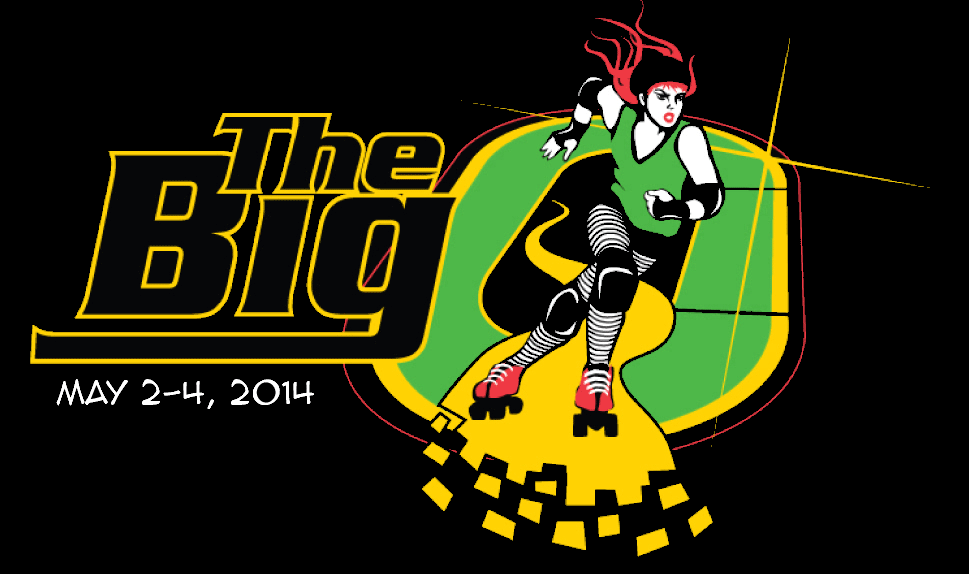 (ARRG) The Thistles' first trip across the Atlantic made something of a splash as both ARRG and Glasgow Roller Derby outperformed expectations at ECDX. Now that the USA is adjusting to the quality of top European teams, are you expecting your experience of the Big O to be different?
(Cider) In some ways yes. This is going to be a much tougher tournament as the teams we are playing are mostly ranked a lot higher than we've played before and the ranking system is a lot more settled than it was last year. However last year I'm sure we felt the same; we were travelling overseas to play teams ranked higher than us then as well. it is only looking back at that experience that this time around seems more challenging. We still just want to go out and play the best that we can and show the rest of the derby community what we can do.
(KRD) According to Flat Track Stats, KRD have relatively few interleague bouts under their belt, thanks to the relatively recent growth of derby in Japan. How are you preparing for your first really big derby tournament challenge?
PRACTICE! We practice as much as we can first. Only a handful of us have been to a tournament so we are heeding the words of those experienced skaters to mentally and physically prep ourselves. We also have been working together as a team to coordinate travel and fundraising plans, as this is such a long trip. (Riot Earp)
KRD is preparing for our very first tournament in several ways. We have weekly scrimmages, we are practicing 3 days a week and participate in off skates workouts with groups or on our own. (Dark Passenger)
(ARRG) Over the past year, the Thistles' Ranking has pretty much continuously increased, according to Flat Track Stats metrics. In addition, you're ranked as the best (non-London) team in the UK by UKRDA's subset of FTS's rankings, and have a comfortable spot in Division 2 of WFTDA's rankings, heading up the European contingent. How important was the experience of ECDX to your improvement as a team? Is there a point where every league has to start looking across the Atlantic for more challenges?
(Cider) In terms of improvement as a team, ECDX was certainly a focus for us in our training but I don't necessarily think that a tournament itself improves a team, I believe it is the work behind the scenes that does that. Travelling overseas and knowing that this was our one (very expensive) opportunity to get into Division 2 that year was certainly a good motivation! That being said, tournaments are so different to single games that any experience a team can get attending them is vital if you are serious about progressing up the rankings. They take a lot more out of you and as a unit you need to be smart about how you play the long game. It can also be a bit overwhelming the first time you travel anywhere with your league, so the more experience you can get the better. That way you can focus on the game when you are there and not everything else happening around that. As for going across the Atlantic to get those chances, well I really hope it does not get to the point where all leagues have to do this. Obviously if leagues want to do it, well that's great, it is a wonderful experience to see derby around the world and have that challenge against long-running leagues. The more a team climbs in the WFTDA rankings at the moment, the more likely they will need to go overseas to get the match ups they need, however, as there are now more European leagues doing this, hopefully it should have a knock on effect for the rest of Europe. In my opinion, the main reason top European leagues are forced to look elsewhere for games is due to their initial entry point into the WFTDA ranking system. Most start near the bottom, which means a fair sized rankings gap between themselves and perhaps other European leagues who have climbed the rankings but are actually similar in skill level. The team ranked higher then struggles, as they know they wont be able to get the point differential they need in that game to maintain their position. If there were a lot of teams ranked at their level that they could easily travel to, this would not be an issue as they could help that team out and then average out their ranking elsewhere, however, at the moment in Europe there are not enough near-by teams who have similar ranking levels for this to work. Hopefully with the amount of European teams crossing the Atlantic this year, the gaps will close and we can spread these rankings around. Although then I am sure other parts of the world will have the same challenges as derby progresses elsewhere.
(ARRG) Compared to the lineup at ECDX, the Thistles are facing twice as many bouts, against higher ranked opponents (including the intimidating Arizona, ranked #29 by FlatTrackStats at the time of writing). How do you prepare to face these really tough opponents?
(Cider) Last year when we went to ECDX we arranged a couple of extra games around the area to get the most out of the trip over there; whilst we only played two games at the tournament, we actually played 4 in a short amount of time; so we do have the experience of playing a good amount of teams over a short space of time. However, the toughness of these teams is not something we have had much experience in. We've prepared the only way we know how; by training as hard as possible on and off skates to make sure we are physically and mentally up to scratch. We are approaching this tournament with our usual positive attitude and a set of goals we wish to achieve as a team one of which is to get another good climb up the rankings.
(ARRG) This year, a few more UK teams are heading across the water to ECDX, including Tiger Bay Brawlers, who you narrowly defeated just a few weeks ago. How do you rate their chances in the tournament, given your experience?
(Cider) I think all the teams will do well at ECDX. As I said before tournaments are a great experience and perhaps a league with no experience of overseas travel and tournament weekends might find it a bit overwhelming, however, one of the benefits of being a derby league in Europe is that over seas travel and tournaments are hard to avoid. I'm very excited to see how these teams progress and hopefully I will be able to catch a few of the games on the live stream.
(ARRG) Also joining you as the only other non-US team at The Big O are Okinawa's Kokeshi Roller Dolls. What advice would you give them in approaching the tournament, especially facing a really tough team like Arizona (as you both will be)?
(Cider) It is really important as a team to have clear goals going into a tournament and that everybody is on the same page. No matter what gets thrown at you in a game, focus on the bigger picture and remember it is a team effort. When you know you are going up against a tough team with a much higher ranking I think you should always aim high but be realistic about the situation; you're probably not going to get a 2:1 win ratio against them, but what can you get? Do you just want to get through the match alive? (There have been games where this is all I've wanted!) Get lead a certain percentage of the game? Shut down their point accumulation? Have a goal (or goals) and see them through. If you don't achieve them all, that's okay, just reassess afterwards, pick yourself up and have another look at them; maybe there is something you can learn from not having reached them that will help your team progress further.
(KRD) The Big O is not just a chance to play challenging teams, it's also a chance to meet other skaters. With some very impressive Division 1 teams in attendance, who are you most looking forward to meeting? Are you looking forward to meeting your fellow non-US team, Auld Reekie Roller Girls?
(Riot Earp) There are a few big names thrown around the team as far as whom they HAVE to watch and want to meet, but personally, I'm excited to meet anyone and everyone! In my eyes, every skater there is an unbelievable athlete and work hard to be there. Each skater is special and amazing in their own way and I absolutely cannot wait to take it all in. We are extremely excited to meet ARRG. Being a non US localized team it'll be great to make connections and learn and brainstorm on how they operate overseas and how it could help us improve.
(Dark Passenger) We are extremely excited to meet Auld Reekie as well as all the other teams there competing. We are all so excited to be a part of The Big O, I don't think there's really any team we're really looking forward to meeting. We can't wait to meet all the teams!
As well as a WFTDA Division 1 bracket, The Big O also features a significant Men's Derby schedule, and a (West-coast) oriented Junior Derby schedule as well. What bouts are you looking forward to trying to catch, schedule permitting?
(Cider) I really am looking forward to seeing Kokeshi play, that will be good. I would also like to see Texas - Rose, however, the timing overlaps with one of our games so I am not sure if I will get to see any of it. As for the Men's and Junior's, I would like to see what I can as it is always exciting and there is always something to learn!
(Riot Earp) Being able to see Live Derby at this scale not on a computer monitor is more then we can ask for in the first place I know just being there to watch is going to be more then we could have asked for. We also just found out team USA will be there bouting the MVP mash up… this is one no one will miss!
(Dark Passenger) There are so many bouts we'd like to catch. The big one would have to be Texas Roller Girls vs Rose City.
Going to the USA is expensive.  How do you decide how to raise funds for this kind of outlay, and how are you spreading the word about your events?
(Cider) Well we have some fantastic committees, especially marketing and sponsorship. They look at the figures and come up with some inventive fundraising ideas. We have an awards ball on June 21st which will be a lot of fun; Crazylegs is threatening to turn up in a wedding dress (the theme is dress fancy) so it is really not to be missed. Obviously after the success of our limited edition t-shirts last year, we've rolled out a new design which is friggin awesome and you can get right here. I really love a well designed t-shirt as a fundraising aid as everybody wins; the league gets some help and the buyer gets a great tee. We also have another boot-camp coming up on the 19th July, so save the date, it's going to be a good one! [Auld Reekie have held a range of fundraising events, including a Comedy Night at The Stand last week.]
(Riot Earp) FUNDRAISING FUNDRAISING FUNDRAISING! But yes in all seriousness along with mentally and physically prepping for this tournament we also had to financially prepare. The dollstars created a t-shirt line and have been selling them as well as setting up a GO FUND ME account. We also have been smaller fundraisers such as bake sales and babysitting for donations. Every penny has helped and we appreciate all those that have donated.
(Dark Passenger) The league has been fundraising since about October using GoFundMe and by having bake sales and by creating a unique Okinawa Roller Derby shirt.
Finally, what are your aims for the team with regards to the Big O as a competition and an experience? (For KRD, are you hoping this will raise awareness of Japanese derby, internationally? )
(Cider) Come back alive haha. We really want to climb further up the rankings, we are aiming high, Division 1 in fact, though we know this is a hell of a challenge. I think we really just want to see how we sit against teams ranked in the Division 1 area. No matter what happens this week, we will come back with a much clearer picture of what we need to do to progress further up the rankings and hopefully we can pass on this knowledge to other European leagues too, so that we can all benefit.
(Riot Earp) I think above all here in Okinawa we work hard to spread the word of derby. Most on island have not heard of it or have an ill-conceived notion of derby and assume we play 1970's punch in the face derby. KRD works hard to help the sport of derby grow here in Okinawa and in mainland Japan. We hope that KRD being at the BIG O will not only help get our names out there but also the other leagues such as Tokyo Roller Girls and Devil Dog Derby Dames known. This is just the first step in what will be a long, fruitful adventure in derby for Kokeshi Roller Dolls.
(Dark Passenger) We are hopeful that KRD's appearance at the Big O will bring an interest to other leagues to come out to Asia and skate against us and the other leagues on Mainland Japan and Okinawa. We are definitely planning on more international travel and participation in tournaments in the future.
This article would not have been possible without the assistance of ARRG's Double D-struction and KRD member "ghostopolis" on Reddit.