This Saturday, Glasgow will witness the first ever public bout for the 2014 roster of Scotland's national women's Roller Derby team, Team Scotland. They'll be playing a hybrid team, the Euro Stars, featuring some of Scotland's best other skaters, and members of the Netherlands, Irish and Welsh and Swiss national teams!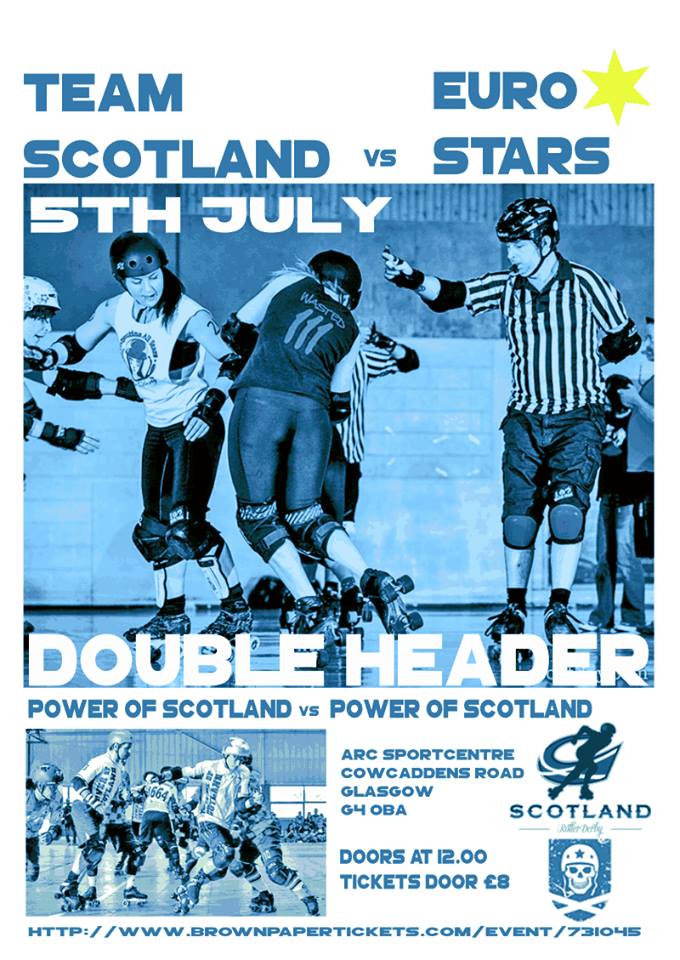 Suffra Jett, one of the skaters joining the Team Scotland roster for 2014, told us, "I'm really stoked about my first game with Team Scotland. I feel really proud to be able to represent my country with a bunch of totally powerful and inspiring women and am looking forward to playing against such fierce opponents! Team Scotland have been working hard on gelling as a team, and hopefully on Saturday our hard work will pay off. Bring it!"
Speaking for the Euro Stars, Fierce Valley Roller Girls' FunGhoul said "Being asked to play for the Euro Stars is a huge honour. All the skaters are amazing players in their own right, and I can't wait to share a track with them. I'm also incredibly excited to get to be in the first team to play against our new national squad. I've skated with most of the Team Scotland ladies before, and I know how formidable they'll be as opponents!"
Team Scotland v Euro Stars will be the second bout of a double header, starting at 12 noon with Men's national team, Power of Scotland in a demonstration bout playing against themselves. This will also be your first opportunity to buy merchandise with the new Team Scotland logo on it, amongst the other fantastic stalls that will be present.
So, get along to the ARC Health and Fitness Centre in Glasgow Caledonian University on Saturday, to see what Scotland will be sending to Dallas this winter!
The event page is here: https://www.facebook.com/events/585745674873560/?ref=5 and tickets can still be booked online.