The next couple of weeks are an exciting time for fans of Glasgow Roller Derby, with all three travel teams set to bout in the next month!
Tomorrow, GRD's A-team, the Irn Bruisers, will take on Middlesbrough Milk Rollers in what is sure to be an exciting bout (the Maidens and MMR have are closely in UKRDA's UK rankings, but Flat Track Stats predicts a GRD home win).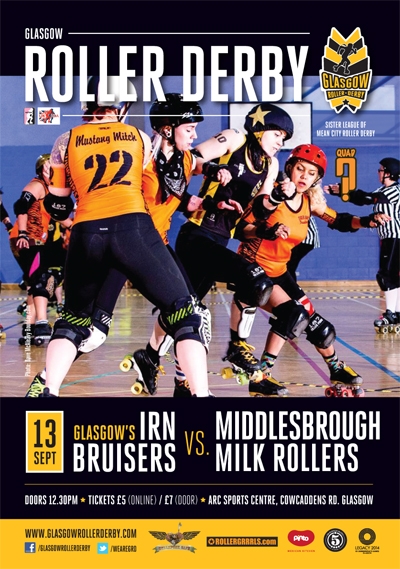 http://glasgowrollerderby.com/content/grds-irn-bruisers-vs-middlesborough-milk-rollers
Then, only two weeks later (leaving a gap for Team Scotland's Bootcamp on the 20th), Glasgow B, the Maiden Grrders, will take on London Rollergirls' imposing C team, Batter C Power.
While this fixture is not yet listed on Flat Track Stats, their predictor expects a very close bout, with only a 10% score difference between win and loss. Tickets will be only £5 online, so it's definitely worth buying ahead of time!
http://glasgowrollerderby.com/content/maiden-grrders-v-batter-c-power-london
Finally, on the 4th of October, we are informed that Glasgow C-team, the Canny Gingers, will be taking part in a double-header with Mean City Roller Derby.  Their opponents will be Bairn City Rollers' Central Belters.  It is probably true to say that the Gingers would like very much to take home a win from this match up, but the Central Belters will not go easy on them. (FTS gives the home team the advantage, based on stats, but since both teams will probably have an altered composition, there's still all to play for.)
https://www.facebook.com/events/718678178181099/
All of these bouts are, of course, listed on our Scottish Bouts page here on the blog.