The second last World Cup post of the week, this time its the day for Team Australia, the first team we've covered who are doing this Cup for the second time around.
Team Australia were something of a dark horse coming into the 2011 World Cup, duking it out against England and Canada for the 2,3,4th places (and taking a strong 4th place in the end).
G-Banger took the time to answer some questions we had about the Team's return to the World Cup for another run at the title...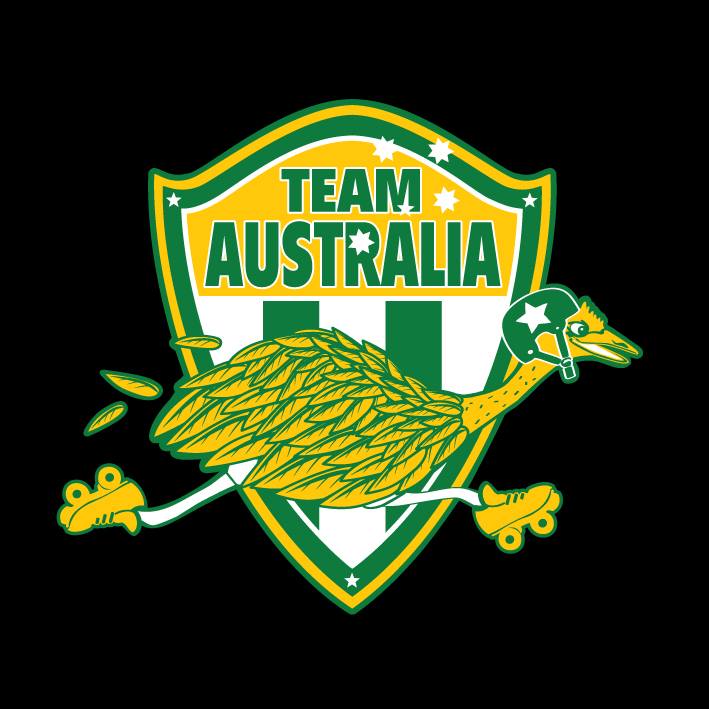 Team Australia logo (Ghost Points)
On the topic of team selection - Team

Australia

is strongly predominantly composed of skaters from

Australian

leagues (with only a single skater from the USA). I believe that was also the case in 2011. Can you tell me a bit about how your team selection process worked (including getting Coach positions etc)?
We advertised the bench coach, bench manager and tour manager positions first. They were then selected by a committee made up of previous Team
Australia
skaters. Skaters were then asked to submit applications. The new bench and the old committee then invited a group of skaters from the written applications to try outs. Two sets of try outs were held. one in Canberra and the other in Brisbane. If unable to attend these try outs skaters were asked to submit a video application. After these visual try outs a group of 30 skaters were picked as the Team
Australia
training squad from which a roster will be chosen from in September.
I guess that having most of the skaters be

Australia

-based helps with team training sessions. How are your training sessions going?
Australia
is a very big place! We have had a few training sessions and also made the most of national derby events to meet up and train. It is still very costly for skaters to fly interstate for these practices. The idea was to have a few at the biggining of the year and then a lot more in the lead up to the Cup.
How many of your skaters are returning from the 2011 roster? (Is their experience directly relevant to improving the 2014 team, or has derby changed enough in the meantime that just their additional skating experience in general is more useful?)
I think there are a few familiar faces. I really think derby has developed a huge amount since the last World Cup. Skaters and the sport have become a lot more serious. I feel lucky having played so many international games and tournaments with the VRDL All Stars, we can give a bit of advice in what to expect on the weekend and ideas on the sort of preparation we do as a team.
A lot of the European national teams are involved in various planned tournaments or match ups pre-World Cup, which gives them a chance to both play teams at national level and also raise awareness and funds. Being geographically where you are, what are Team

Australia

's plans for bouts and training pre-World Cup?
We are just too isolated… we are going to play against each other at some point soon for fundraising. Team Aus vs Team Aus. There will also be opportunities for us to scrimmage against non Team Aus skaters in the cities the training sessions are being held.
In 2011, both Team NZ and Team

Australia

came into the competition as dark horses. NZ and

Australia

's performance was really extremely impressive - now as you return in 2014, having performed as you did last time, what are your goals for the World Cup?
We have been working hard creating a tight unit of the best
Australia
has to offer. We are coming in strong,  trained and prepared and our goal is to go as far as we can.
Team Australia will be holding a "Team Gold v Team Green" bout on the 27th of this month, to promote the team and show everyone how good they are. They are sponsored by many derby-friendly businesses, including Sassfit Australia and Real Athletic Derby. Their gofundme is still running.
The Team Australia training roster is:
Blue Wrenegade 2880 ADRD Colonel KAOS! 601 ADRD Kit Cat Krunch 9 Lives ADRD Chop Chop 117 BCR Susy Pow TOP5 Charm City Bambi von Smash'er 411 CRDL Shaggle Frock 77 CRDL ShortStop 6 CRDL Annabelle Lecter 8 NBR Beth Adder 20 NBR Brutal Deluxe 76 NBR Lil Gee Unit 41 NBR Christy Demons 14 PCRD Freyda Cox 50X SRDL Blockodile Dundee 411 SSRG Cookie Cutter 45 SSRG Dodge&Bolt 58 SSRG Lady Killer 11 SSRG Muzzarati 28 SSRG Polly Crackers 8 SSRG Rose Ruin 12 SSRG Bicepsual 10 VRDL Calamity Maim 4 VRDL G-Banger 10 VRDL Mad Mel Arena 505 VRDL Tiger 782 VRDL Tui Lyon 88 VRDL
Flamin' Galah Bench Coach VRDL Slawta Dawta Bench Manager SSRG Cherry Axe-Wound Tour Manager CRDL