Lots of things have changed this past year for Fierce Valley Roller Girls. Their travel team - the Parma Violents - have climbed up the European rankings, and they also now feature on the UKRDA leader table after the league joined the UK Roller Derby Association in October 2013.
To hear more about it all, we caught up with one of FVRGs founding members and recently retired Chariperson: Grizabelta - who also officiated her 100th bout at the weekend!
1. 2014 has been an extremely eventful year for Fierce Valley Roller Girls: including having your Referrees and NSOs selected to officiate the Men's Roller Derby World Cup; beating Dundee Roller Girls in a 'third time lucky game'; and being asked to play against London Roller Girls. In amongst all of that activity, can you pick out your highlights from the past 12 months?
Wow... Yep it's certainly been a pretty good year for us! As the aforementioned NSO, being part of the MRDWC probably has to be my personal highlight – it was such an honour to get the chance to work with some of the best officials in the world, and to see the best men's derby skaters in the world too! I'm always amazed at just how far men's derby has come. But back to FVRG... It's always good to see our ladies being challenged and we've played some increasingly difficult teams this year, working up to our closed game against LRG's Batter C Power - that was pretty exciting!! We've also had a few Parma Violents debuts this year which are always a pleasure to see – Thump'Her, Johnny Hangover and CBoobies all proved that patience, some hard work and a lot of fun will pay off!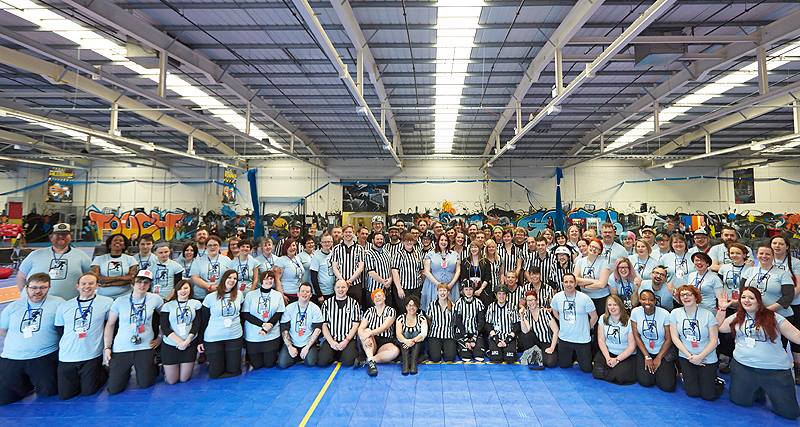 Officials at MRDWC (Griz in the left half)
Photo courtesy of Roller Derby on Film
2. Last year, FVRG achieved their goal of becoming a UKRDA member. How has this changed things in the league this year, and what can you hope to expect from this membership in the future?
I think this year has been mostly about finding our feet, we've gone from making decisions that only really affect ourselves, to having the chance to have a say on UK-wide roller derby and it's representation – and that can be a bit overwhelming. However it has given us the opportunity to take part in sanctioned gameplay for the first time – so we have a UKRDA ranking! We may only be 32nd but it's a start – and gives us something to aim to work our way up! As for the future, our new Chairperson WhoopAsh was lucky enough to attend UKROC with Dita von Cheeze – they brought back a huge amount of information and ideas, and as a result we plan to completely reassess how we run FVRG. It's an exciting time for us, but it will be challenging – however there is a wealth of knowledge and support available by being a UKRDA member so this will hopefully ease the strain a little.
3. The Parma Violents have hosted many home games this year and travelled for away games, and you've been alongside them - wearing a grey t-shirt and an impartial face! Which of these games stood out for you, either in terms of the teams performance or the excitement on the day itself?
Haha it's a case of 'have stopwatch, will travel' with me! Obviously during any game that I'm NSOing my focus is on my job at the time, so it's only really afterwards that I get to reflect on the team's performance. I've heard many great things about the GCRG game, which typically was the only one I wasn't able to make this year, so apart from that, probably the NRG game (or bout as it still was back then!) Although it was a re-match, I'd missed the original game last year so while I knew the score, I didn't really know how the teams had played beforehand, so I was really keen to see how the Violents had improved and if they could reduce the points differential – and they did! It was also my first outing as Head NSO for FVRG, so that in itself always brings a new combination of stress and excitement!
4. You have recently stepped down as Chairperson of FVRG  - a role that you've held since the league's inception in November 2010. You'll have seen lots of changes in that time, not just in the Parma Violents but within the entire league. What league achivements are you most proud of over these past 4 years?
Oh jings... Every now and then, usually at a Fresh Meat session or some other big event, I take a step back and it just hits me – a little idea that came from three friends on a train has turned into a fully functioning, self sufficient roller derby league. It's been an absolute pleasure to see the league grow and help to steer it in its current direction, and I think we've achieved so much – from celebrating our first birthday with our closed bout against Fair City Rollers, to our third birthday with our first international bout against Oslo Roller Derby! I'm also always really proud of our connections with various community and charity events – we've done everything from supporting roller discos, stewarding firework displays and registering marathon runners to being part of the launch of the new Helix Park in Falkirk. And I have to give a special mention to the Fierce Valley Roller Cubs – so many of our members work so hard for both FVRG and FVRC, and I'm super excited for our double header intraleague game in December where we get to show off the talents of not only our newer FVRG skaters, but also the future of Scottish roller derby!
5. What do you see as the next step for Fierce Valley Roller Girls in 2015... and beyond?
Well as I mentioned before, it's going to be all change in the next few months. We have a newly elected Board who are all buzzing with ideas about how we can improve FVRG for the better, and we're starting from the bottom – what are our goals and values and where do we want to be – the answers will be very different now to what they were four years ago! I'd love to see FVRG continue to challenge themselves with the teams that they play, and hopefully there will be opportunities for our newer skaters to play against new opponents too – I think the mixed 'cherry popper' games that we're seeing a lot more of are a great idea. In the very long term, it would be great to become part of WFTDA – a few years ago it seemed impossible, but with the amount of European teams we have now it's become... plausible! It's an exciting time for us – and while I may have taken a step down, I'm not going far – and I can't wait to see and be part of what's in store!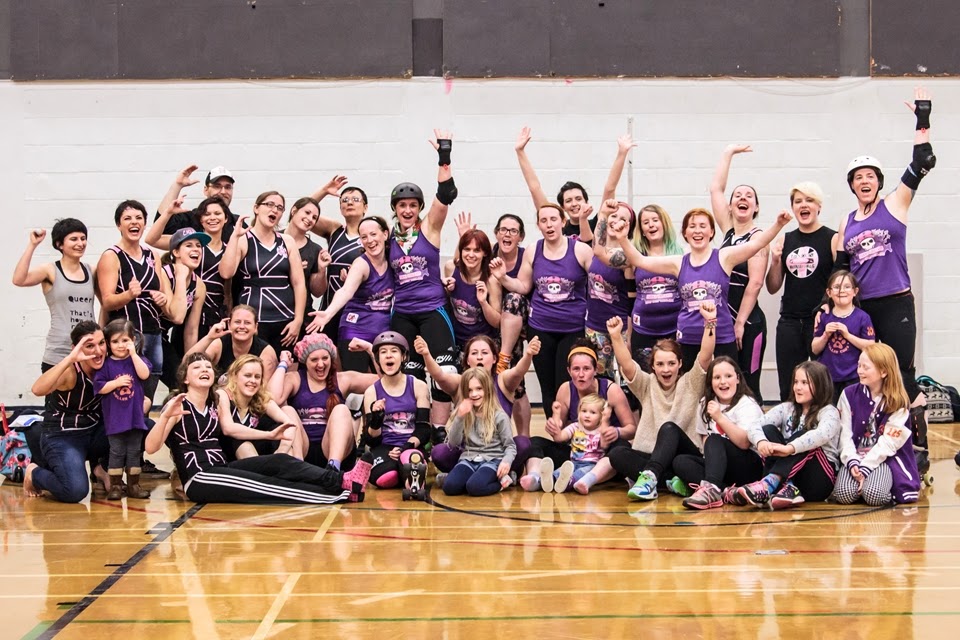 Parma Violents vs London's Batter C Power
Photo courtesy of Laura MacDonald