Earlier this year, we interviewed the outgoing members of the Team Scotland Management and Coaching Team, in collaboration with the UKRDA. In an ongoing collaboration with UKRDA, we're happy to present interviews with Team Wales' Management and Coaching team, starting with Team Manager: Dorkmistress.
(You can apply to try out to skate for Team Wales here: https://docs.google.com/forms/d/1QhY0y8WdT_D7O5LPclsMFEdi1ZMoSdJ-V7CaERtOLkQ/viewform , with a FAQ concerning tryouts here: https://docs.google.com/document/d/19Tw2QvnOzoU3PcD9U4SYPAOLr6tRESI085zvigrlPH4/edit?pref=2&pli=1 )
Dorkmistress has had a long and varied time in Roller Derby. Starting in 2011 with the Cardiff Roller Collective, as a skater and announcer, she has since moved to Swansea City Roller Derby (in 2013), and moved into refereeing for both Swansea and the South West Silures in 2014. She was Team Manager for Team Wales Roller Derby for the 2014 Blood & Thunder Roller Derby World Cup, and continues in this role, having been re-elected in the post earlier this year. Her derby CV is extensive, including over 60 games refereed, and 100 announced, over her 5 year period in the sport.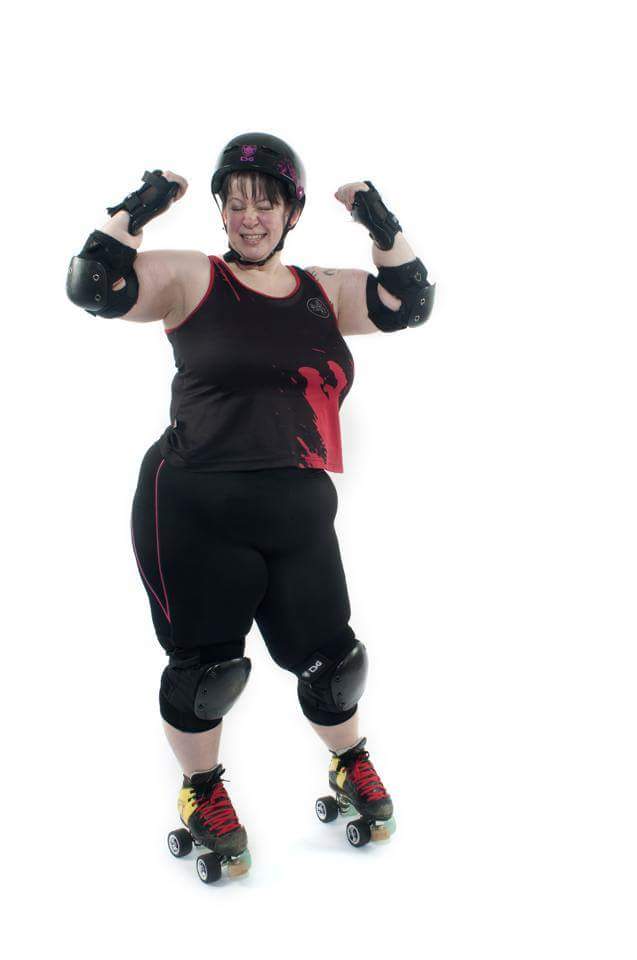 In common with other Team Wales roles, you're returning to the role of Manager from the last iteration of the National Team. What led you to decide to continue in the role? 
It's a big decision - I loved the last two years but it's a fairly big commitment. We learnt so much in the last two years, starting the team from scratch and I wanted to make sure that I could see these lessons implemented. I know how I want to do things differently and think that I can do a much better job this time around. Plus, I'm not ready to watch Team Wales on track without being part of it! When I was thinking about how to answer these questions I looked back on the Team Wales Facebook page and seeing the support, encouragement and emotion on there made me remember what an incredible experience and honour it is to be part of Team Wales, and to be part of a team of such amazing people. And I still regularly look at the pictures of the Team Wales supporters gang - those crazy laydees from Neath Port Talbot, the supporters who travelled to Belgium and Dallas with their inflatables and daffodil hats, our own official leader of chants, Rhys Jones. Who wouldn't want to be part of that?
Managing a National team is quite a complex task, with many things to keep track of (and you've technically managed 2 Nations, what with Team Sealand). What do you think are the most important aspects of the job? (And coping with the workload?) 
Being able and willing to keep all the plates you are spinning in the air is probably the key to success! And you can only achieve that with delegation and lots of communication. I worked with the skaters and other members of the management team to set up committees to cover key areas, like fundraising and events, and each group had an action plan and regular meetings. I did live on Facebook and Google Docs for the year, and ended up missing training a fair bit, but I wanted to make that commitment to make sure Team Wales was in the best place possible in Dallas. I have a busy real life job, but that's given me lots of time management and project planning skills, which were essential. Team Sealand was much easier, I just had to sort out travel and bout contracts ;-)
Last time around, a big part of the Management for most National teams was simply raising the funds to make it to Dallas. How did you guys go about managing the process, and finding new ways to get funds?
We were really clear that fundraising was the responsibility of everyone in Team Wales, and everyone got involved. We had huge support from leagues from Newcastle to LRG to Severn Roller Torrent to Swansea City Roller Derby, giving us raffle proceeds, holding fundraising events and giving us stall space at their events. We had people donate money, we sold a LOT of t-shirts, we held kare-oke nights, we made loom bands, we had a baby picture competition, we had face painting at our games - literally any way we could get money out of people, we tried. We also decided to hold the fabulous Road to Dallas tournament in Newport in October 2014, hosting Teams Scotland, Ireland and West indies. Fundraising was constant - the challenge was to make it fun and to try and not just ask the same people all the time....same as most leagues face. It will be easier in some ways this time - we have our merch in place and an existing fan base - but harder in a sport where we have more leagues trying to fundraise from the same audience.
What've you learned from the last time around that you'll be applying this time, to improve Team Wales' management?
Have you got enough space in this blog? We're starting in a better position - we have a clear identity and design, so we will have t-shirts and merch available sooner and more options for our supporters. Do more on social media - keep everyone updated on our journey towards the World Cup. Delegate more and more completely - easier when you know what you are trying to achieve and know all the details and issues that need to be considered. Get the right partners and sponsors so things are as easy and cheap as possible for us. Play more games - we had 9 months from team selection to the World Cup last time and that wasn't enough - one reason we were keen to kick off the National Squad selection process in the UK. Everyone's going to freak out a bit on this journey - we are all allowed a freakout, just hopefully not at the same time. Sleep more and stop looking at Facebook messages at midnight and then again at 7am. Don't share a room with morning people if you are a night owl - probably the hardest and most important lesson I learnt.....
You've also announced in many places, including at the first Men's World Cup. How would you compare your two World Cup experiences?
Very different experiences because they were very different sized events on very different continents. The Men's World Cup memories I have will last me a lifetime. It was my first taste of international roller derby and it was small and perfectly formed - the announcing team was incredible and the size of the schedule and event meant you could keep up with all of the action and see all of the teams and skaters sat next to you. I got to hang out with Team Japan and watch Team Argentina and nearly lost my voice shouting at Team Wales scoring points against Team USA - and those moments were all in the same room, right next to each other. It was the first time I got to introduce the Welsh National Anthem and I can still feel the hairs rising on the back of my neck. I also got to do the in-house announcement for that Wales V Australia game and the emotion in the venue at that last jam overwhelmed me so much I cried for 30 minutes at the end of the game - us announcers feed off that crowd emotion and I have never felt anything like it. It was such a personal experience I am not sure anything will ever really be the same as that. I'm desperately proud to have been part of the delivery of that event and I am more than a bit heartbroken that I can't go to Calgary this July - but I know Team Wales will make me and everyone else even prouder than they did that day in Birmingham.
The Blood and Thunder World Cup was just so much bigger. When we arrived at the airport the customs guys said 'you here for the roller derby?'. Thats because they had already seen so many skaters and fans. 30 teams is a lot of people, three tracks in this massive room in a ginormous exhibition centre in America? Much bigger than the Futsal! If I went to the team room (each team had its own room! what?!) it was a good 5 minute walk, which, by the end of the day, felt like 5 miles. We'd gone to the European Roller Derby Tournament in Belgium and shared the underside of the bleachers seating with 7 other National teams and the next thing you knew we had a Team Support person, and a room and all sorts of things to make our time easier. I missed announcing though, you watch games in a different way and I didn't see a lot of other games as I was busy on the merch stall or sorting transport or one of the many other things that went on. And I missed being part of the team that showed you the event and explained what was going on. However, nothing in my life will ever compare to being able to walk out on the biggest Roller Derby stage in the world as part of Team Wales in the Parade of Nations. I can't even now, all this time later, put that experience and feeling into words. It's something I will forever be proud of and proud to have been part of.
When you were interviewed last time around, you noted that you were most looking forward to Team Wales playing "teams from far off places". In the event, Wales played South Africa, New Zealand, Norway and Puerto Rico, at least three of which probably count! If you could play any teams (announced or not) in the upcoming World Cup, what would they be?
Norway are going down this time ;-) It was almost impossible to watch the game  - seeing the team play out of their skins to claw back to within reaching distance for Norway to pull away just at the end. I'd love to see us play Argentina, they were incredible in Dallas and I think the South American teams are going to go to the next World Cup with a huge step up in skills and strategy. And there will be teams from new places - Iceland, definitely, maybe even Egypt, or Russia [where there are teams, but no established National infrastructure, yet]! We think and talk a lot about European Derby and Derby in North America, but the World Cup is the only place we get to see derby developing as a Global sport, and thats going to be really evident in the next World Cup for sure.
(And if you have a place you'd like the World Cup to be, for any reason…)
Would love it to be in Japan as I have always wanted to go there but even pretending I'd have to fundraise for that makes me want to cry! Very boringly I'd like it to be in Europe next - I think that showing as many people as possible international level derby inspires skaters and so would like to see it move around continents to give everyone that experience - watching it on the internet isnt quite the same. So next time Australia or New Zealand. Then South America or Asia or Africa. A true world tour!