This weekend saw two big Roller Derby Events - one internationally important, the Japan Open Roller Derby Tournament in Okinawa, and one nationally significant, a triple-header fixture for the British Championships Premier Tier in Glasgow. Due to the time difference between Japan and the UK, as the first was just finishing, the second was almost about to start, so if you weren't planning on sleeping for 17 hours, you could have spent all that time continuously experiencing roller derby!
We'll start with the International event in this review (you can skip to Glasgow by clicking here).
As we reported in our preview, the Japan Open Roller Derby Tournament was an important first for Asia-Pacific Roller Derby, bringing together teams from Australia, New Zealand, Japan, Alaska and Denmark in a two day derby event hosted by Kokeshi Roller Dolls.  Our timezone-adjusted and localised Viewing Guide now contains specific links to each bout in the video feed, so you can jump to any particular game just by clicking on the relevant YouTube link. The Viewing Guide also contains all of the scores for all bouts.
It's fair to say that, in general, the tournament went as expected, with respect to game predictions. Adelaide Roller Derby, coming in as the expected winners by FTS rating, were awarded the Tournament Championship for the A (WFTDA Sanctioned) Tier, having defeated all three Japan-based leagues (Tokyo, Kokeshi and Devil Dog) by considerable margins. Copenhagen, who were also expected to have done well, exceeded expectations, both in terms of their win margins against the Japan-based teams, but also against Adelaide themselves. This latter bout was a last minute addition to the schedule, but was fast-tracked for WFTDA Sanctioning, and will count for Copenhagen's ranking. As the Danish team defeated Adelaide, who reside at a much higher WFTDA rank in the current rankings, we expect Copenhagen to shoot up the tables - their FTS rating has already shifted by more than 100 points as a result of their performance at the Open!
In terms of the other teams, perhaps the most impressive single performance in terms of endurance was that of Alaska's Juneau Rollergirls, who brought only a roster of 6 skaters to compete. Despite this significant disadvantage, they won their first two bouts (against Devil Dog Derby Dames, and Tokyo Roller Girls) convincingly, only faltering due to fatigue in their final game against hosts Kokeshi Roller Dolls. While Juneau have lost FTS rating "on paper" on their performance, it's clear that their actual ability as a team is significant, and they are underranked and underrated by WFTDA and FTS currently.
In the B-tier, it was New Zealand's Pirate City Rollers who topped the board, with their B-team, the Broadside Brawlers, defeating both the Japan Roller Derby Association's exhibition team, Nippon Senbatsu; and Misawa Killa Geishas by very comfortable win ratios. Given that this was the Brawlers' first ever international derby, their performance was especially impressive. The win against Misawa also gives the New Zealand B-team a more solid FTS rating for the first time.
The Japan-based teams - Okinawa's Kokeshi Roller Dolls and Devil Dog Derby Dames, Tokyo's Tokyo Roller Girls, and Misawa's Killa Geishas of Misawa - did not surprise in their performances, remaining generally fairly comparable to each other (although there were no direct bouts between them). With very limited opportunities to play different teams, Roller Derby in Japan needs to grow more leagues in order to become more competitive - one reason why the appearance of the new Tokyo team, KAMIKAZE BADASS, is so important. The Japan Roller Derby Association's Nippon Senbatsu, showed a lot of spirit on track, but clearly had the lowest experience of any teams playing (in their first game, especially, they picked up a lot of penalties for failure to reform and track-cuts in situations where a more experienced team would have read the game naturally).
Overall, the significance of the Japan Open was more than just symbolic - it also genuinely represented a chance for the teams competing to play leagues which they would never normally get to compete against in other contexts. With international Derby becoming increasingly developed, it's especially important for these kind of events to continue to take place, in order to build the strength of Roller Derby, both in terms of skill, but also in terms of Community, worldwide.
There were also several interviews with each competing team (except the JRDA's Exhibition Team, Nippon Senbatsu), which we've hunted down the timecodes for (click the links for each interview):
Adelaide Roller Derby (1) https://youtu.be/FkaGqkdgk9c#t=4h13m10s (2) https://youtu.be/udx3lyF80dE#t=6h17m29s Copenhagen Roller Derby (1) https://youtu.be/FkaGqkdgk9c#t=2h48m36s (2) https://youtu.be/FkaGqkdgk9c#t=10h22m36s Devil Dog Derby Dames (1) https://youtu.be/FkaGqkdgk9c#t=5h56m59s (2) https://youtu.be/FkaGqkdgk9c#t=8h47m35s (3) https://youtu.be/udx3lyF80dE#t=1h45m15s (4) https://youtu.be/udx3lyF80dE#t=3h10m15s Juneau Rollergirls https://youtu.be/FkaGqkdgk9c#t=5h51m34s Kokeshi Roller Dolls https://youtu.be/FkaGqkdgk9c#t=2h53m7s Misawa Killa Geishas (1) https://youtu.be/FkaGqkdgk9c#t=1h27m51s (2) https://youtu.be/FkaGqkdgk9c#t=8h51m45s Pirate City Rollers (1) https://youtu.be/FkaGqkdgk9c#t=7h25m55s (2) https://youtu.be/udx3lyF80dE#t=7h45m26s Tokyo Roller Girls (1) https://youtu.be/FkaGqkdgk9c#t=4h16m29 (2) https://youtu.be/FkaGqkdgk9c#t=10h19m14s Spectator (1) https://youtu.be/udx3lyF80dE#t=2h26m30s (2) https://youtu.be/udx3lyF80dE#t=4h48m55s (3) https://youtu.be/udx3lyF80dE#t=4h52m47s
And, just for the statistics fans amongst you, this is the estimated strength of all of the A-Tier Tournament competitors (calculated via Bayesian monte-carlo), relative to Adelaide. (Juneau are a bit diffuse due to their short roster causing their last game to be atypical of their actual ability, due to exhaustion.)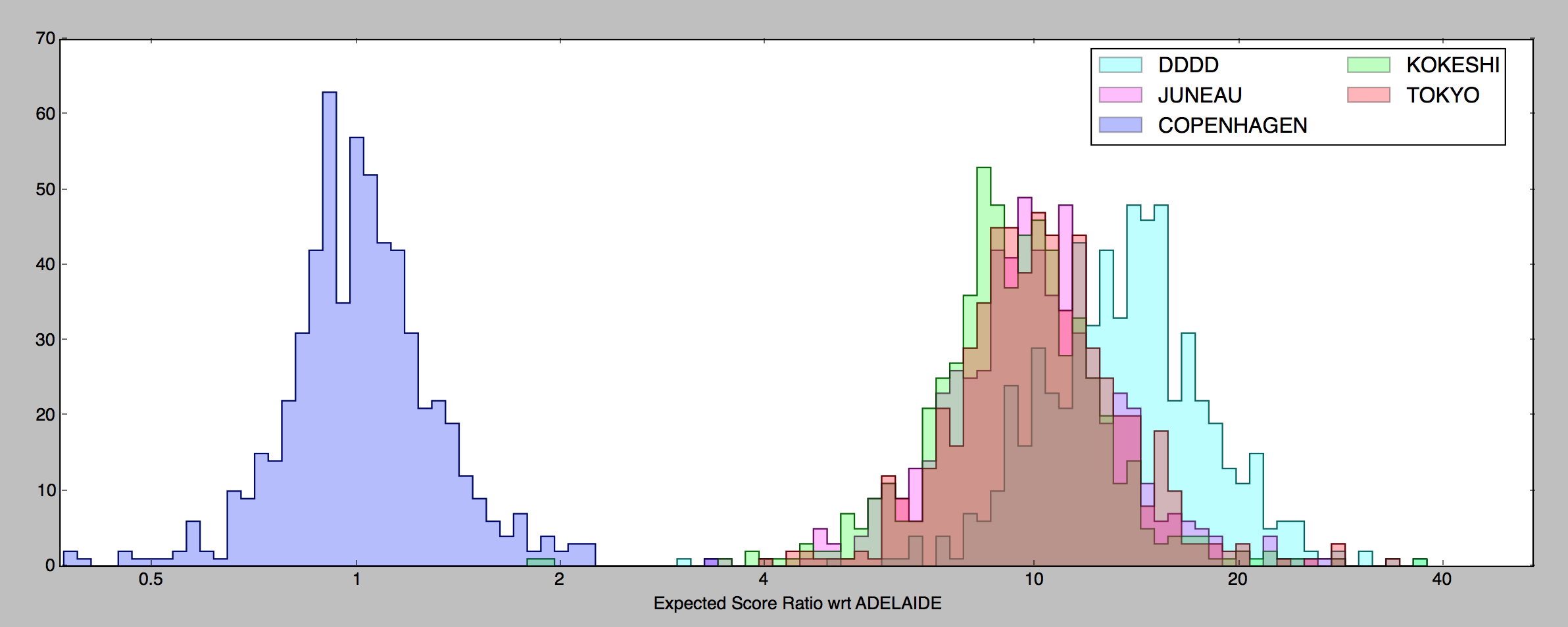 Closer to Home, Glasgow Roller Derby hosted their second fixtures in the British Championships Premier Tier. A triple-header, this saw GRD and Newcastle play Royal Windsor Rollergirls, followed by GRD taking on Leeds Roller Dolls.
After losing both of their games against Newcastle and London in their first hosted event, Glasgow Roller Derby had to take at least one win in this fixture to stand a chance of avoiding relegation from the Premier Tier. Since then, and their performance in the European Smackdown, Glasgow have clearly been developing the cohesion of their new roster, and their performance was somewhat improved in the two games they played - enough to provide a solid win over Royal Windsor in the first game of the day, with the final score standing at 203 GRD to 179 RWRG.
With a 30 minute break between games, a fresh Newcastle Roller Girls continued their win streak in the Premier tier against Royal Windsor, pulling out a very convincing win against the southern English team, 326 to 166. This performance by Newcastle reinforces the signal from the previous game that they have increased in strength over the last year - and places them in good stead for their coming attendance at the US Beach Brawl tournament.
Leeds Roller Dolls capped off the day by pulling off a convincing victory over the hosts Glasgow, 198 to 122, despite a starting roster of only 11, and penalty issues in the second period.
These results mean that Newcastle Roller Girls retain, for the moment, their place at the top of the Premier Tier table, with Leeds Roller Dolls just below them on points difference. With the next British Champs fixtures seeing Newcastle play London Roller Girls (B) (in Newcastle's Walker Activity Dome, 2April) and then Leeds Roller Dolls (also in Newcastle, 23April), the top of the table is getting exceptionally competitive.
With the number of games played so far, there's just enough data to perform a statistical inference on the actual strength of the Premier Tier teams (plotted here, relative to London Rollergirls B). Although there's not enough data for thin peaks, we can see that the evidence suggests that Newcastle and Leeds are both capable of taking the Championship this year, with a significant fraction of their possible strengths above that of London's.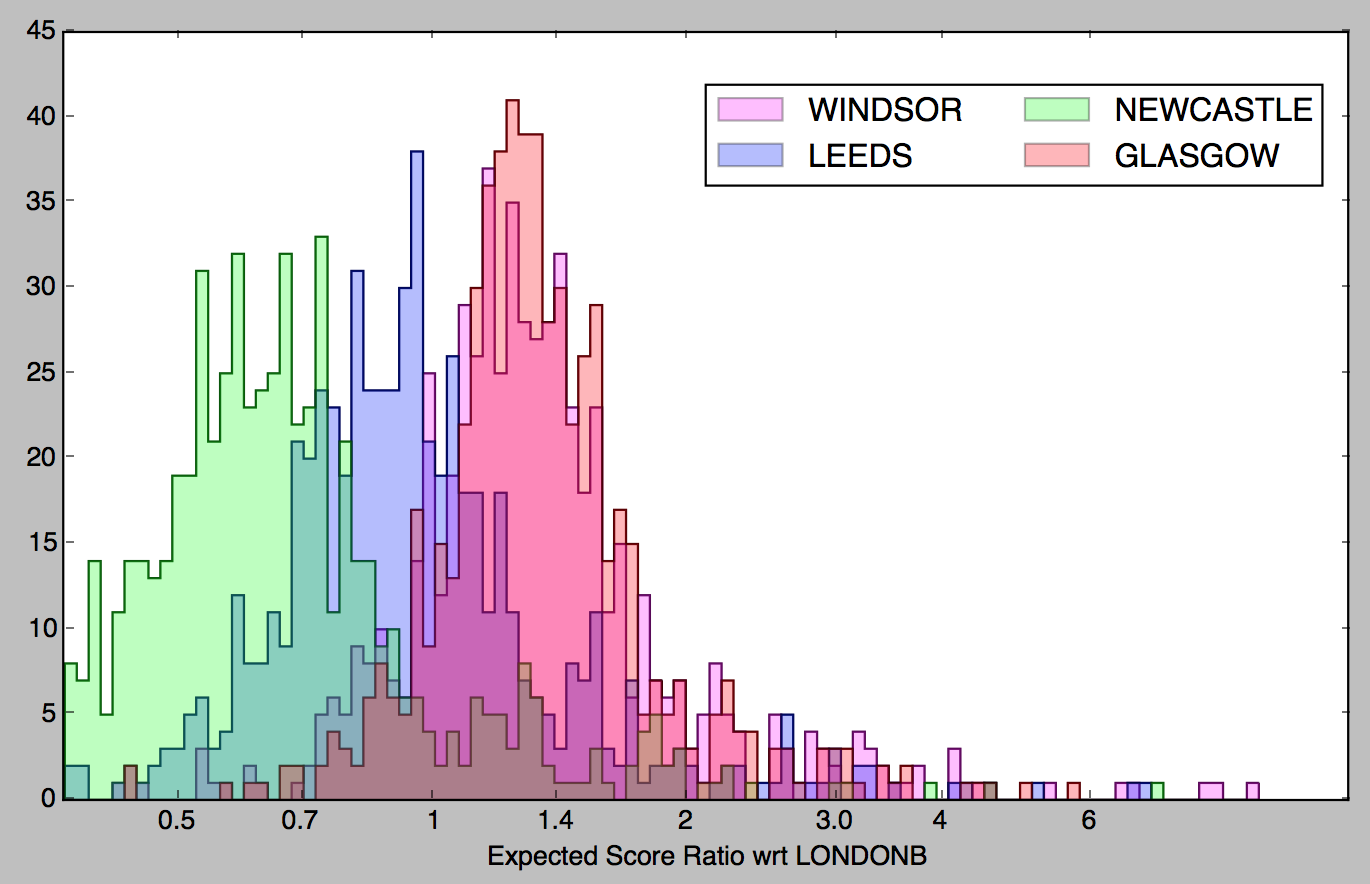 Meanwhile, Glasgow's next bout will be international, as they take on Berlin Bombshells on the 23rd of April in their new venue in Bellahouston. With Berlin having recently lost star double-threat Master Blaster to London Rollergirls, this game will be a chance to see both how Glasgow continue to grow back as a team, and how dependent Berlin was on their most famous skater!