Despite the strong growth of Roller Derby internationally, the couple of years head start that the USA had during the revival means that the strongest Roller Derby is still found in that country. As a result, increasingly more European teams are making the step of attending the big American WFTDA Sanctioned tournaments, hoping to both further their WFTDA Rankings (which, being influenced by Strength of Schedule, are much harder to develop without a large number of Sanctioned games against high level opponents) and their own skill.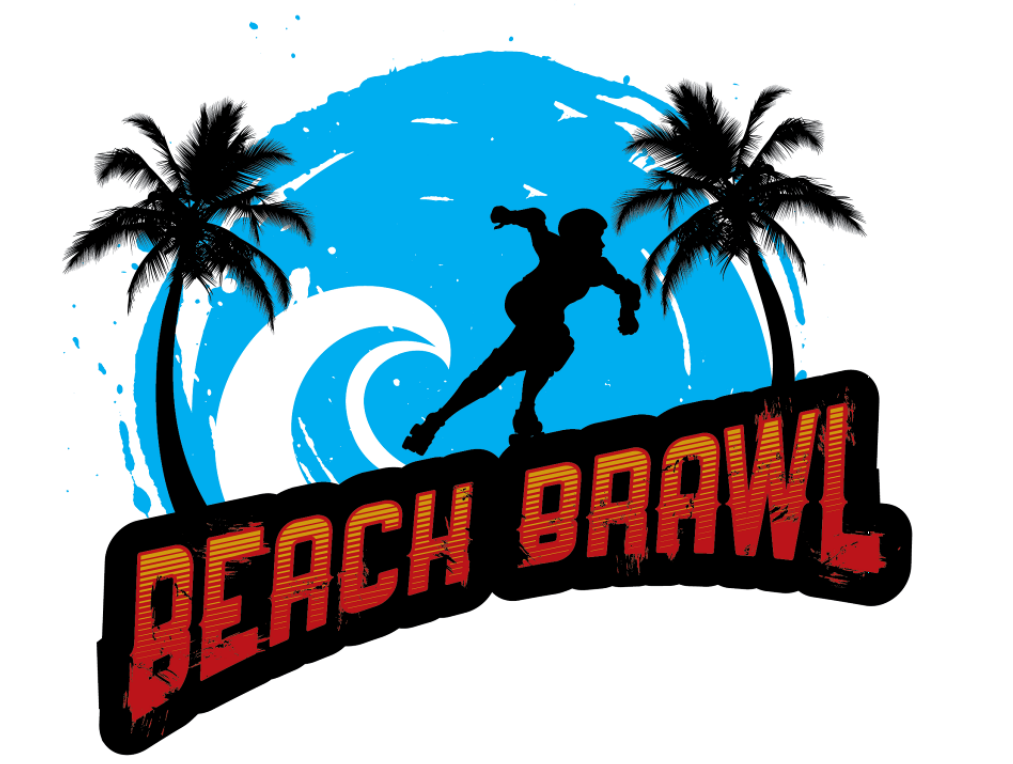 The most popular destination for visiting teams this year seems to be the Beach Brawl, May 13-15, hosted by Gold Coast Roller Grrls in Fort Lauderdale, Florida.  (We are covering Auld Reekie Roller Girls' own plans for USA travel in a separate article, coming soon!)
Current top-of-the-British-Champs leaderboard, Newcastle Roller Girls have set their sights on the tournament as the next step in their development as a league. This will be their first ever US roller derby tournament, although not their first ever WFTDA tournament; in common with many Beach Brawl attendees this year, Newcastle attended the 2015 Skate Odyssey, hosted by Gent Go-Go Rollergirls, coming second overall.
Newcastle's Co-Captain, Missy Pow-Pow, told us: "Since July 2014 when we graduated as a full WFTDA league, our aim has been to improve our ranking. We've been working hard on and off track, both physically and mentally, to up our game.   Last year our hard work started to pay off when we won the British Champs national Tier 2 division and were promoted to the premier tier. We also only missed out on 1st place by 2 points at our first ever WFTDA tournament - A Skate Odyssey. Our game has improved so much so quickly that our WFTDA ranking doesn't reflect the real strength of our team and we're struggling to find the sanctioned games that we need in Europe to be able to improve our ranking. So we're having to do what other leagues in a similar position to us are doing - going stateside to play roller derby. It wasn't an easy decision to make - the cost to the league, skaters and support staff in both monetary terms as well as time is huge, but we felt there was no other option if we were serious about improving our WFDTA ranking. We applied for several US WFTDA events with Beach Brawl being our top choice so we were stoked when we got the invite and can't believe it's now only six weeks left until we fly out! We are continuing to work hard, improving our fitness and performance so that we are ready and prepared as best we can be for this. On behalf of all of us at NRG, I want to thank everyone who's supported our Beach Brawl fundraising campaign so far - we couldn't do it without you and we hope we'll do the North East and the UK proud."
Also attending for the first time are Dublin Roller Derby, who are facing Auld Reekie this weekend. Dublin were also attendees at the 2015 SKOD, where they only narrowly missed out getting to the semi-final, after a 2 point loss against the hosts (just as Newcastle did in the final)! As the highest ranked team in Ireland, it's especially the case that DRD have to travel overseas to compete against better teams.
Dublin's Co-Captain, Snowy, said: "Dublin Roller Derby are about to achieve the ultimate derby dream by becoming the first Irish league to compete in an International Tournament in the United States. This May, we're off to Beach Brawl, Florida, for our first taste of US roller derby. We're unbelievably excited to play in the country that invented this wonderful, mad sport of ours and to see what challenges we'll face stateside. We might also be a little excited by the prospect of a week in a sunnier clime than Dublin, but needless to say we'll be packing factor 50 sunscreen."
Newcastle Roller Girls and Dublin Roller Derby are both raising money for the travel to the tournament via GoFundMe. Newcastle's GoFundMe is here https://www.gofundme.com/nrgtobeachbrawl with a series of rewards for donators including new limited edition Beach Brawl themed merch. They also have several other fundraising initiatives in hand, including a Pub Quiz on the 10th of April (with some big prizes, including show tickets and first class train travel!).
Dublin's GoFundMe is here https://www.gofundme.com/dublinrollerderby , where they also have a range of limited edition (Miami-Vice themed) merch as donator rewards. In common with Newcastle, Dublin are also running a Table Quiz, with a Father Ted theme (!) on the 26th of April.
The schedule for Beach Brawl is not public quite yet. When it is,  our localised and translated viewing guide will be here. It will link to FlatTrackStats for each match up, and will have livestream links as soon as we are aware of them.