Earlier, we covered Team Wales' Manager and one of their skaters from the 2014 team, but we shouldn't forget the Coaching team, who will be training and organising Team Wales on track into the 2017 World Cup. In collaboration with UKRDA, we're happy to start off our run of Coaching team interviews with Team Wales' returning Line-Up Manager, Professor Moriarty.
If you would like to try out for Team Wales as a skater, then you can apply via the form here: https://docs.google.com/forms/d/1QhY0y8WdT_D7O5LPclsMFEdi1ZMoSdJ-V7CaERtOLkQ/viewform The FAQ concerning applications is here: https://docs.google.com/document/d/19Tw2QvnOzoU3PcD9U4SYPAOLr6tRESI085zvigrlPH4/edit?pref=2&pli=1 . The application deadline is April 17, so there's only 2 weeks to get yours in!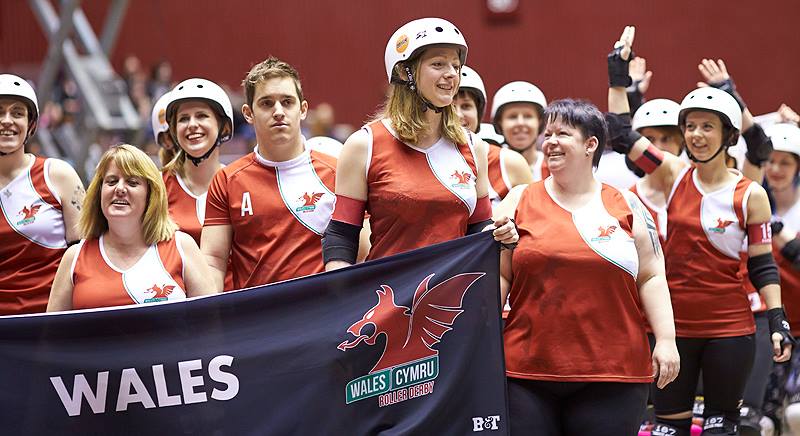 Professor Moriarty, at the left, walking out with Team Wales in Dallas. (Photo: Jason Ruffell, Roller-derby-on-film.)
Professor Moriarty has been a member of Neath Port Talbot Roller Derby since she started in the game, 3 years ago. She bench coached the team through last year's British Champs, and into this year's. Selected as Line-Up Manager for the first Team Wales which competed in the 2014 Roller Derby World Cup in Dallas, she reapplied for the role, and was successful in this earlier this year.
In common with other members of Team Wales, you're returning in your role as LUM from last time around. What lead to you reapply to the role for a second run?
Yep, I'm a glutton for punishment! I had an amazing time during my first term with Team Wales but it was quite an emotional rollercoaster due to us being a brand new team.  We had to start everything from scratch; some said that we would never make it to Dallas, but we proved the doubters wrong and were placed 17th in our very first World Cup. I feel like Team Wales is our baby and I want to be able to nurture it and watch it grow from the fledgling team we were last time. I want to be able to say; "I was part of that. I helped that grow to new heights within the Derby community."
The LUM is also involved in selection and training for the National Teams. What things were you looking out for in Team Wales selection last time (and what are you looking out for in the new applicants this time)?
During our first try outs we were trying to find as many skaters that were able and prepared to give the commitment to a new team that was needed. I remember seeing Jen (R27) for the first time and she blew my mind with her passion and love of the sport. With our ability to now prove we are a country that wants to be present on the World Stage of Derby, I think our thoughts are different. We want to build on what we did last time and need to be more specific in the direction we take. We've done the "Got there, did that", we now want to inspire local skaters to want to be part of their countries team. This can only be done by ensuring that we look for not only existing talent, but also rough diamonds. I may offend a few skaters but my ideology is: we are Welsh, we are not pretty players but what we do, we do well, with the grit and determination of a country that is hardworking and focused on being the best they can possibly be!
And how are you planning on contributing to the training process for the selection?
I am not a coach and will never claim to be one; what I bring to the table is the ability to read people and be able to know what they are capable of. During the last term we had a skater that was not the best, but her communication was second to none. I fought against a lot of opposition to ensure that she was given the chances she deserved and it paid off. Just because you don't have the right footwork or the right build shouldn't mean that you're not suitable to play for your country. This sport was built on inclusivity and I am a huge believer in the underdog!
LUM can get fairly pressured, especially when playing against a tough team (like New Zealand), on a national stage. How you do manage the job in that kind of situation (and what's it like)?
I am a very level headed person (my Husband may disagree with that). When others are losing their heads around me, I am looking ahead to see where we can make changes to improve what we are doing, so as to alleviate the problem. I like to know each and every one of my skaters, their abilities and what I think they are capable of. With this in mind, I am able to read situations and correct them without causing any pressure on my skaters. I believe in forward thinking, analysing what could and may go wrong and having strategies in place to combat them even before they arise, so as to make sure my skaters are in their Zen place when playing.
Returning to the role means that you bring a lot of experience with you. What you do think the last World Cup taught you about LUMing the National Team (and is there anything you'll be doing differently this time?)
The last World Cup taught me to be prepared for all eventualities: Know who does what and where, so when something does crop up it can be dealt with immediately. It taught me to appreciate help and to work as a team. To quote Fear's mantra, "Team work, makes the dream work". The only thing I'd do differently this time is to try and soak more of the atmosphere in, as while it's happening it's like a whirlwind all around you and then, poof it's over!
(And what has been the best part of LUMing Team Wales so far…)
The best part for me was during the World Cup each country had its own room, which was situated on the floor below the auditorium. Before each game we would congregate here and walk up as a team singing. We sang everything from the National Anthem to Tom Jones, it was amazing!!!!!!
Last time around, you were reluctant to say who you'd like to see Team Wales take on in the World Cup. But, we're going to try again! If you could have any team (existing or not) play Team Wales, who would it be? (And if the World Cup could be anywhere, where would you want it to be?)
I'd like to see the World Cup in Europe this time. It's a very expensive time and I think the European countries need a chance to be able to show what we can do. I'm still reluctant [to pick opponents] but would love to see a proper  6 Nations competition, just like the rugby!!