As Power of Scotland continue on their road to Calgary, they gave the Scottish Roller Derby Community a chance to step into their world last weekend and share their skills, drills and only a few minor spills by hosting a fundraising bootcamp in Dundee. Keen to see exactly what the guys could offer, I snapped up a ticket as soon as they went on sale, and I'm fairly certain that I wasn't only person who was excited to see exactly what was on offer as there was a tremendous turn out. Unless you have been living under a derby-proof rock, you will be very aware of the amazing efforts from the whole squad to ensure they arrive in Calgary ready to take on the other participating nations. They've raised money any way they could, from bungee jumping, beard shaving, scrimmage, coaching and selling merchandise at games across the country and now bootcamping (it's a word now).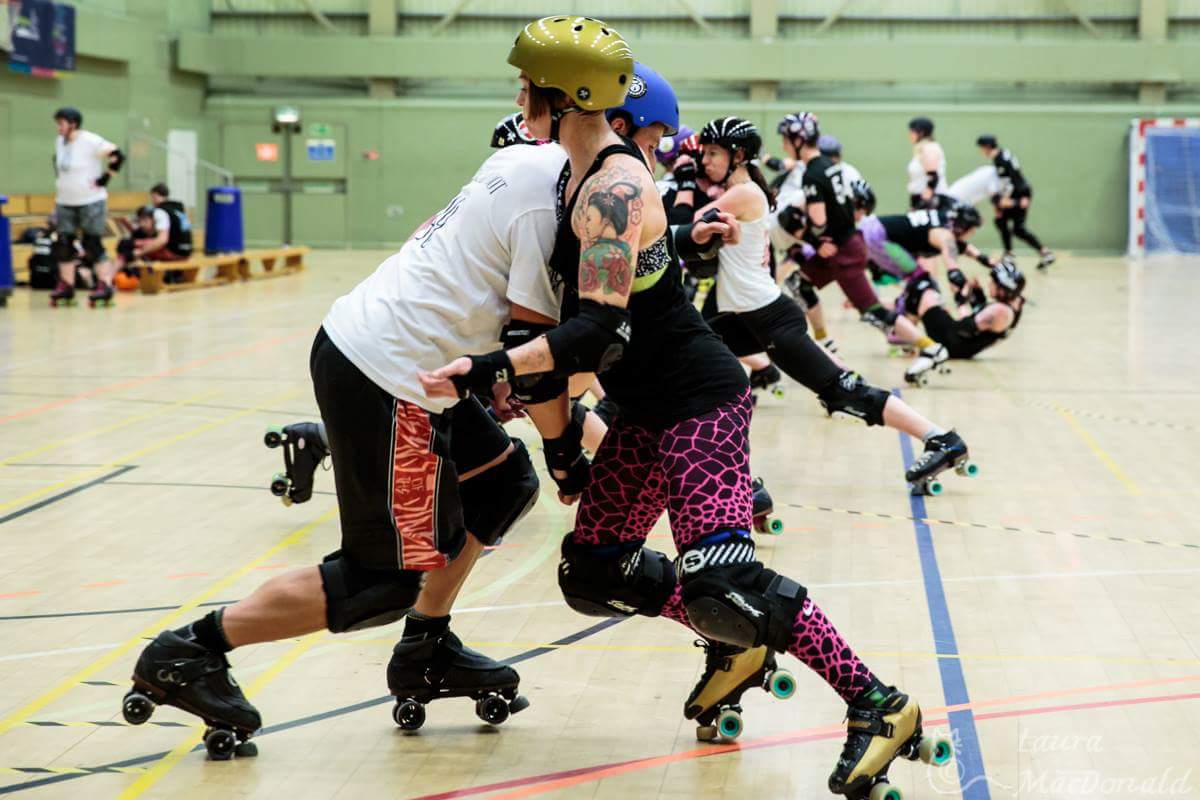 (Photo: Laura MacDonald)
The reason I am so excited by this bootcamp and possibly why I was asked to write this was my enthusiasm for the fantastic planning and flow of the whole day. These guys didn't throw this together overnight. They even had print-outs! I mean who doesn't love a bit of literature to look back on?! The whole squad pulled together and they really delivered. The first part of the day was led by the wonderful Nuke. Now, Nuke is a lovely bloke and a fabulous skater to watch and I was very keen on learning from him. Leading the day with agility and footwork he put us through our paces and he stripped everything back to basics - I learned loads. I've skated since 2011/2012 and I had no idea that since mins I had forgotten how to step without my wheels rolling (Don't make me do mins again). The highlight, however, may have been Nuke's tartan leggings <3 Next up we had the lovely Blockbeard with his jamming skills session. Despite the name, everything he went through was very easily transferable to blockers. He broke the session down into evasive, attack and "Blammer" techniques - he really didn't hold back. His session led on from Nuke's agility session perfectly by incorporating the control and agility we had just learned. With an added technique on moving blocker twice your size with just a wee nudge. Thanks Pal!
Two solid hours of skating and it was time for lunch and an audience with Optimus Grime, Power of Scotlands very own Viking looking, hard hitting, softy. Those who know Grime, know that he has a background in bodybuilding. Who better to take us through a strength and conditioning seminar with bonus print-outs (I think he has surplus and may as well share). Highlighting some of the confusing things about weight training for performance and making it so easily understood was an incredible addition to the bootcamp. I already mentioned how much I loved the format and this for me was a very welcome aspect to incorporate in. Most people think that just skating will get you where you need to be, but Grime makes sure you know exactly how a little weight training will help improve your game even further, also talking a little about nutrition and the right things to eat pre and post-game/training. The chair demonstrations were also absolutely fabulous. [Editor's note: Optimus Grime's accompanying Mental Strength presentation was cut from the bootcamp due to time, but we have managed to publish a copy here.]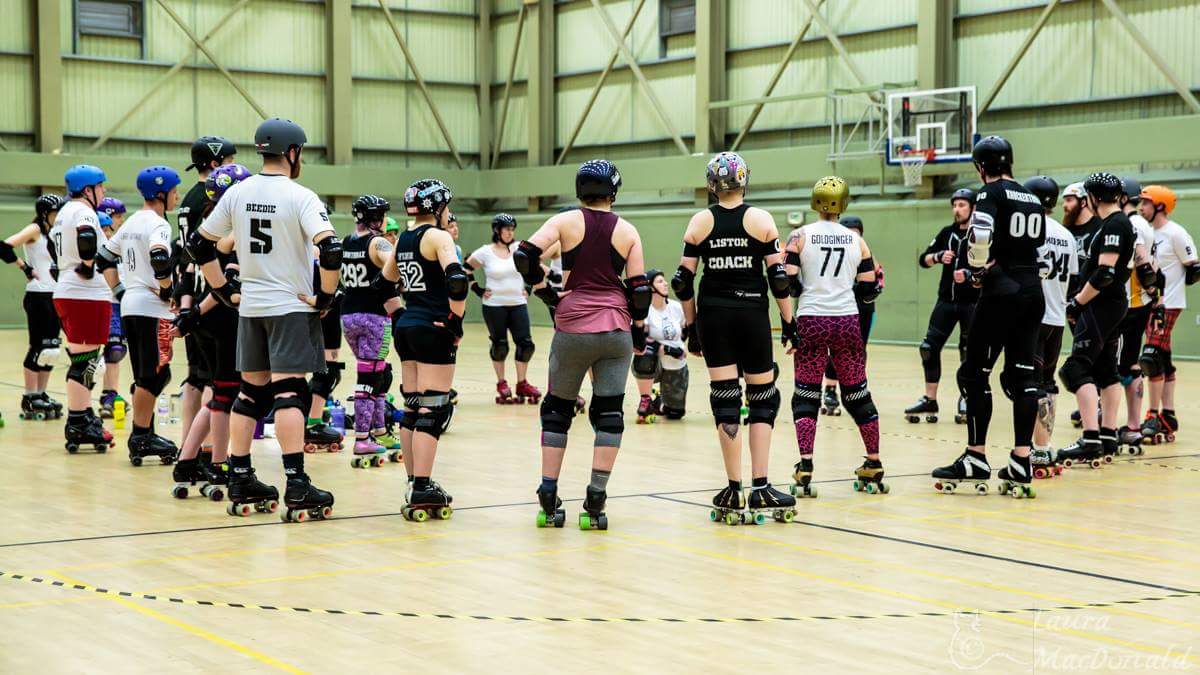 Skate Plisken and attentive bootcampers. (Photo: Laura MacDonald)
Fuelled up and ready to get back on skates our final session before the mixed scrim was led by Skate Plisken. This session was on effective offence. Plisken took us through a few offence techniques that we have all seen performed by the POS guys recently at scrims and they were most definitely effective. Including the beautifully named "Sausage" technique; I sincerely hope no sausages were offended ( HA!)
The day wasn't quite over yet; there was still a scrimmage to be had. We had 1 hour to test out everything we had learned over the course of the day with 2 members of POS being gifted to either side as Bench and LUM. Prior to the scrim Nuke and Plisken, who were LUM and Bench for Team White, sat us down and went over basic Scrim strategy. This was excellent; not only were newer skaters getting the chance to scrim but there was also time to talk about strategy, which we all know doesn't come easily. I'm not sure I can express my love for this bootcamp any more than I already have without sounding like a raving loon.
Throughout every session the boys were on hand to observe, advise and sometimes join in. The day was full of laughs and smiles but no one was holding back. Those who attended skated hard and gave it everything they could. Absorbing all of this information, everyone was eager to take it back to their home leagues and try it out - myself included. I had such a huge buzz from whole day and have been internalising everything I learned since.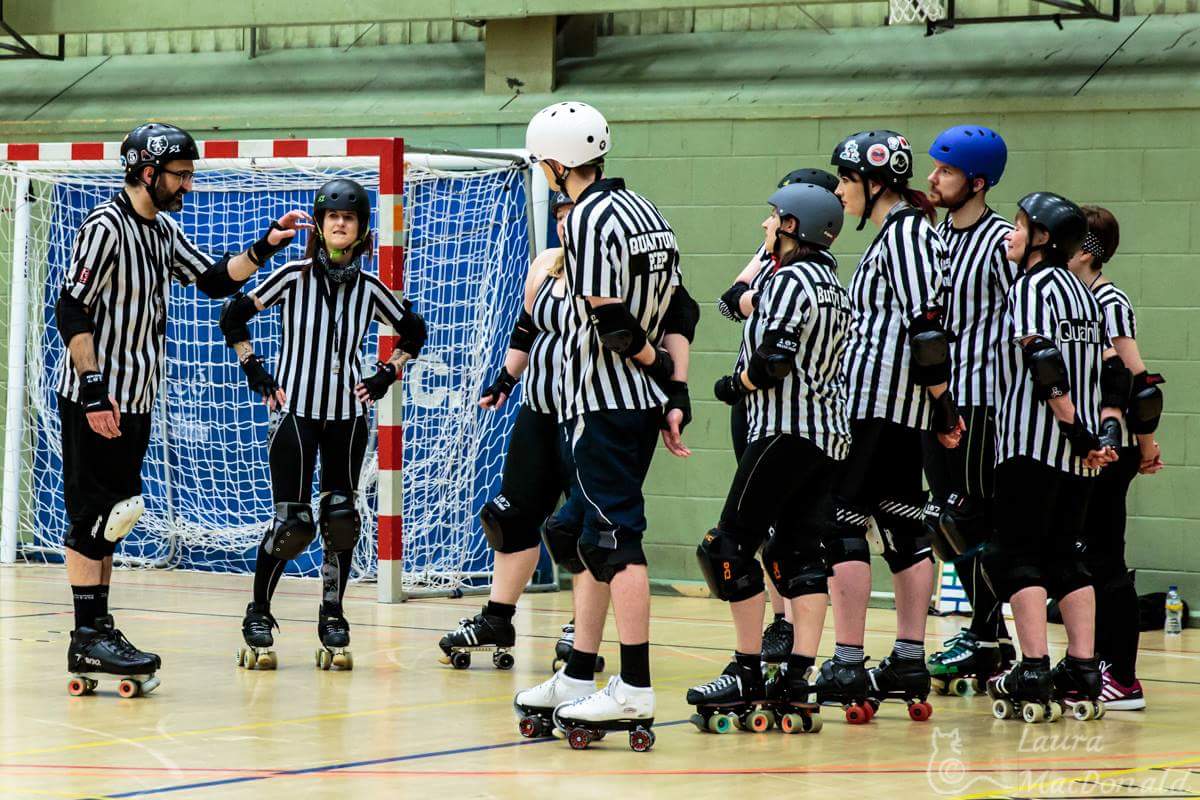 Righteous Oxide drills the referees in their parallel bootcamp. (Photo: Laura MacDonald)
But there was a whole separate side to the bootcamp that I cannot forget to mention, even though I wasn't a part of this side of things I know just how valuable it is to the derby community. Up in the balcony of the hall there were both a Ref and NSO school going on. Led by Righteous Oxide (Dundee Roller Girls) and Fairy Nuff (Auld Reekie Roller Girls) the Refs were in excellent hands to advance through their Refereeing career, with sessions on positions, communication, and Head Referee responsibilities. It must have been amazing because they did a brilliant job during the scrim. The NSO section was Hosted by Alix ( Dundee Roller Girls) and Peggy Krueger ( Auld Reekie Roller Girls) with sessions on NSO positions, communication, people management and Head NSO responsibilities. From what I hear it was amazing and everyone thoroughly enjoyed it. It is absolutely imperative to the sport that we have Refs and officials available and the fact that POS were able to accommodate absolutely everyone was truly amazing. Skill levels did not matter to these lads, everyone had a place and they made it a complete success. I think I can speak for everyone when I say thank-you, POS for hosting such a fabulous bootcamp, for sharing your knowledge, kindness and to wish you all the best of Luck in Calgary.
Gie It Laldy!