With the second Men's Roller Derby World Cup, in Calgary July 21-24th, fast approaching, we thought some profiles for the 21 teams competing would be useful. Over the next weeks, we'll be presenting profiles on each team attending, based on interviews and other statistics.
First up, we have the fan-favourites from 2014's World Cup; Men's Roller Derby Japan!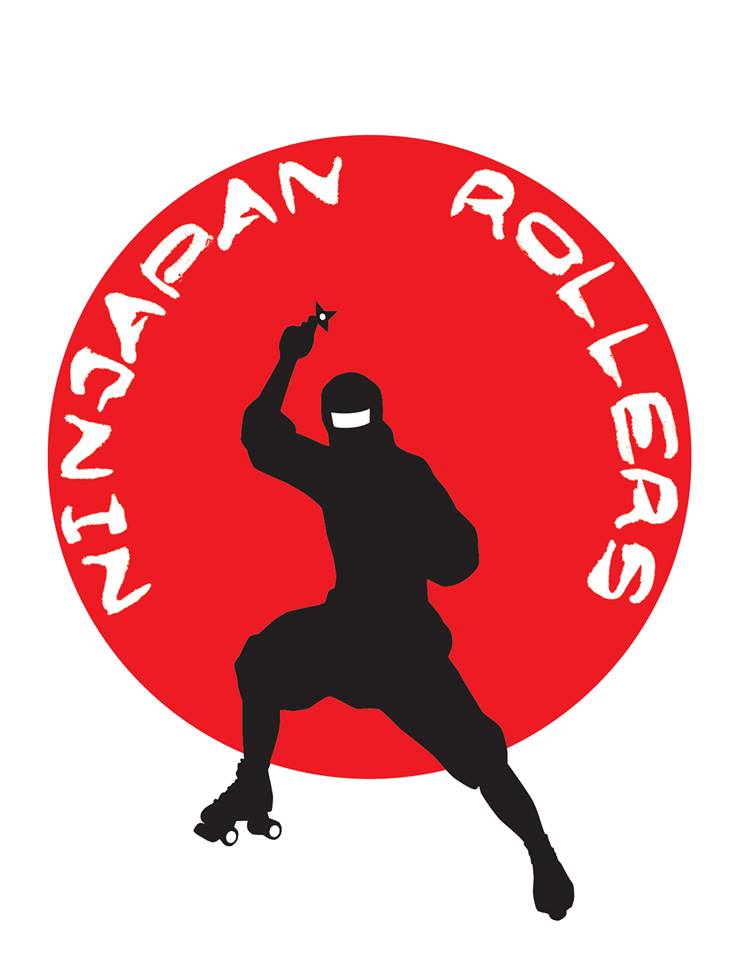 NinJapan Rollers Logo (retained from last World Cup)
Last time around, the Japanese team were very much the underdogs, both least experienced and also relatively short in roster (11 skaters). While they ended up last in the rankings overall, they played with strong determination and clearly improved in performance over the course of the tournament (as can be seen by their scores against Belgium in the initial group rounds, and then rematched in the elimination phase). Such was their team spirit that they quickly became the spectators' favourites, and the overwhelming demand for their merchandise led to a pre-order system being established for t-shirts this time around...
Team Japan (The Ninjapan Rollers) are placed in Group Red, along with the national teams from USA, Scotland, Ireland, Finland and Mexico. Of these, only Mexico is new to the tournament; Finland, Scotland and Ireland all finished within a place of each other in 2014, grouped solidly in the middle of the table. (Team USA needs no reminder of their position in 2014!) This is also the largest group, due to a few teams dropping out of the tournament earlier on, which slightly increases the difficulty of placement in it, as only the top 2 spots in each group progress to the highest-tier knockout round with a chance at the Tournament 1st place spot - with USA in this group, this means that only 1 spot is really up for grabs here!
This time, however, the Japanese team has a stronger roster, with 16 skaters listed, and most of the skaters from last time returning. Ninjapan Rollers were recruited/managed under the auspices of the Men's Roller Derby Japan group. The team have been practising with the Tokyo and Okinawa based leagues, and also held a scrim against the international skaters from the Japan Open Tournament.  They've also already garnered some additional support at the host venue, with Calgary-local derby photographer GI Jones accepted as their Official Photographer for the Tournament!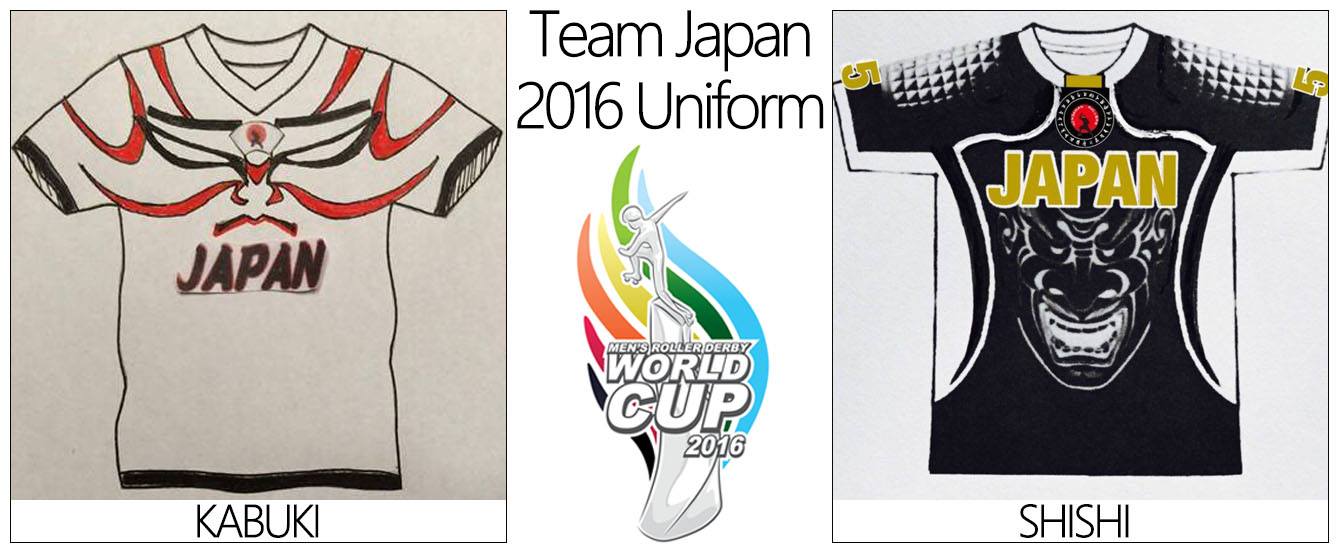 Team Japan Uniform 2016 (selected by public vote)
Keisuke Ohtsuki, "Bubble" on track, was kind enough to answer some questions about the team's current processes and plans for us.
With only one team with male (native Japanese) skaters in Japan (Tokyo3Rollers), how did you go recruiting for the team?
In the 2014 World Cup, we felt that our participation suffered from lack of numbers. As a result, we concentrated on the uncovering and training of new players this time, from an early stage. We tried very hard to recruit skaters for MRDWC 2016. Handing out leaflets, talent scouting, playing and running classes for new skaters who are interested in Roller Derby (which is new in Japan), with all of our skaters, friends, family and collaborators. We strove with various activities including the promotion of Roller Derby in Japan, and the promotion of activities up to last September. As a result, we attained six new members, including skaters who converted from other (roller) sports, and one skater from a US league!
Last time around, Team Japan won the hearts of the tournament, but unfortunately finished last despite showing great spirit and determination. What are your aims for this time?
It was a big aim for us to also make the competition an environment in which we would also practice as we played.   We did not win any of our bouts in the last World Cup, but still we gained a lot of audience support. So, this experience fed each skater's motivation to live up to the audience's expectation this time around.
We value the team work of the players, and the staff which enables this. In addition, we will try our best to participate with the MRDA's international organisation to promote this great sport more positively, as we are presently doing in our own country.
This time around, Team Japan is in the largest group, including Team USA as an opponent! What teams are you most looking forward to playing?
As we may have lack of experience in the game, even playing one bout is good - it's great to do so with any other national teams! The bout against Team USA, the champions of the last World Cup, holds with it an opportunity to learn many more things, so we are particular excited to play against them.
After the last World Cup, was there an increase in interest in Roller Derby in Japan?
We still have only one male league (Tokyo3Rollers), so the environment is extremely limited at the moment. The overseas leagues from around the world voiced their support to play or practice with us. It's a thing that we were very thankful for, and there was a feeling that we wanted to fly immediately to each country and bout and practice with them for our experience; but, unfortunately, travel costs were too high, and in terms of time commitment is very difficult.
However, three (mainly U.S. Forces in Japan) WFTDA women's leagues (Tokyo Roller Girls/ Tokyo and Kanagawa, Kokeshi Roller Dolls/ Okinawa, Devil Dog Derby Dames/ Okinawa) in Japan are helping us a lot with shared practices and scrimmage for our training regime.
The number of supporters for these sports is increasing little by little in Japan. Of course, this World Cup appearance is a big thing for our promotional activity for Roller Derby.
---
Team Japan's first fixture in the tournament is against Mexico, at midday Thursday 21st (Calgary-local-time) on Track 1, followed by USA on Track 2 at 3pm local time. [The official MRDWC schedule is located here: http://mrdwc.com/schedule-2016/ ]
The official Team Japan 2016 Roster is (* denotes a skater returning from the 2014 roster):
UMESAN 7 (Captain) U2 1 Kabukimono 2 HARAKIRI 3 MAYUGE-Born-Die 4 Chuck Breaker 6 NARUTO 8 Honey Badger 9 Bob 29 IKAGESOYARO 32 ShowGun 77 Bubble 99 SHOW 110 *ZORRO 136 Porkchop Express 0242 RedBull 615
Staff Honey Guide The Bash Red Eye Kaoru Ayami Miki Emi