In 2014, All-Ireland Men's Roller Derby were in Group Blue along with Australia, France and Germany. In their final game they played against Finland who took the bowl. Ireland ended the inaugural Men's Roller Derby at number 10.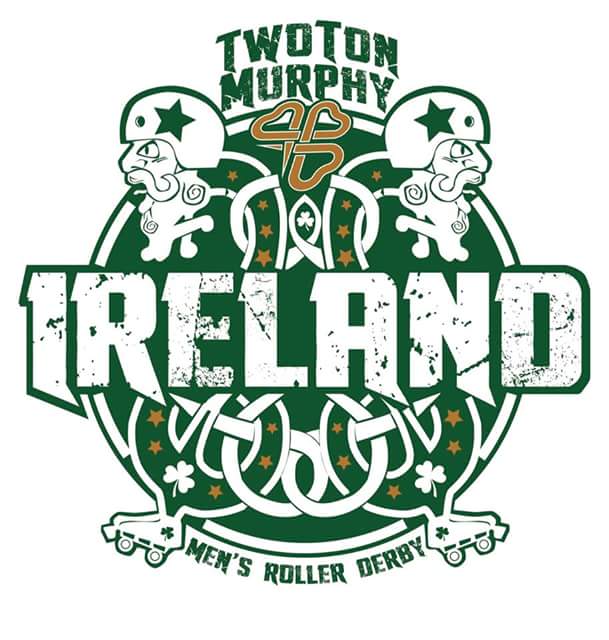 Team Ireland's logo 2016
The very lovely Eoin Flynn was kind enough to answer some questions about how the team have been getting ready for the world cup.
How are preparations going for the World Cup?
With only weeks to before Calgary, we're fired up and as prepared as we ever could be. The work for MRDWC 2016 began almost immediately after the last World Cup so we've had plenty of time to build on what we learned there, as a nation very new to men's roller derby, and we'll be very different from what you saw in Birmingham. That team was expanded into a training squad from which the final roster was picked so everyone's now been training and playing together for over a year, everybody knows their job and that they can rely on the others to do their's too. We're ready.
How often do you train?
With players located anywhere from LA to Limerick, it's quite a job to get everyone together at the same time. But we've all put in the effort to train regularly, and collected the air miles along the way! Since January 2014 we've had full squad training at least every two months for an entire weekend. There have been several home and away games in between too. Of course we'd all do this all day every day if we could!
Do you have any off-skates training?
Our coach - Jessica Rammit - wouldn't have it any other way! Everyone does their own gym work, of course, but we're lucky to have a derby-specific off-skates stuff to work on courtesy of her. None of us will forget bleep-test day! And our off-skates warm-ups are part of our team bonding now.
From which leagues have your players been selected?
From Ireland: Men Behaving Derby (All-Irl), Pig Town Boys (Limerick), Cork City Firebirds, and Harland Wolves (Belfast)
From UK: New Wheeled Order, Southern Discomfort, Crash Test Brummies, Kings of Block N' Roll, Borderland Brawlers, Quads of War, and Lincolnshire Rolling Thunder.
And from USA: Los Angeles' Drive-By City Rollers.
What are your team goals for the World Cup?
As a team, we want to play as we know we can; calmly and together. The worst thing would be to come away knowing we could have done better, we're determined to give it all on track, right from the first whistle.
More specific goals include putting some decent points up against Team USA, but hey, doesn't everyone wanna do that? We also want to keep a grip on the top-ten slot that we earned in 2014, with so many more nations competing this time around, the rankings places are going to be hard fought.
Tell me about your fundraising and sponsorship.
Paying for this crazy sport of ours has been a lot harder this time around, getting everyone to Canada is not going to be cheap. So we've been very lucky to have great support from companies like S1 and Non-Universal Nuts. We've also just done a great deal with TwoTonMurphy.com who are printing, selling, and shipping all of our online merchandise - and all the profits go to our travel fund.
We've also got a gofundme page: gofundme.com/merbyireland , where people have been very generous in supporting us, every little bit helps immensely so we're very thankful. Local leagues have been helping out too, The Cork City Firebirds we very kind to raise funds for us at their 'Love Roller Derby' event recently.
What can we expect to see from Team Ireland at the World Cup?
You'll understand if we don't share any tactics here! Expect to see a well-drilled team far different from the 2014 one, back then there was essentially NO men's derby on the island of Ireland, we've come a long way. Expect dogged determination and playing to the final whistle. You might also expect some strong representation at the after-party! But most of all expect us to be one unit, The team motto is 'Ní neart go cur le chéile.' which means 'There is no strength without unity', we will be strong and we will be united.
This time around, Ireland are in Group Red with Finland, Japan, Mexico, Scotland and the USA. They will play their first game of the 2016 Men's Roller Derby World Cup against Finland (on track 1) at 1pm Calgary time, 6am in the UK and Ireland.