In 2014, Wales were in Group Red with Finland and USA. Their final game was against Australia with the winner taking the shiny plate. Australia took that win and Team Wales took 6th place.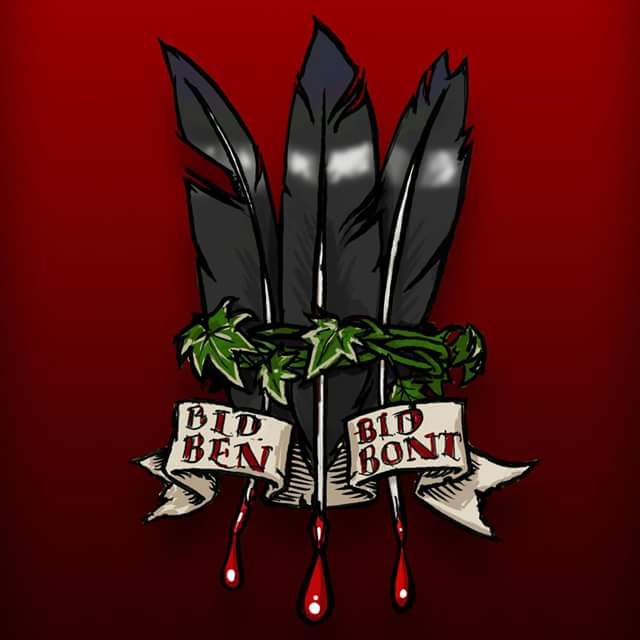 Team Wales' logo, retained from the 2014 MRDWC
I spoke to team Wales skater Ben Phillips who was lovely enough to answer some questions for me.
BENPHILLIPS!!!
How are preparations going for the world cup?
Prep is going well, we've been training quite regularly since the start of this squad's tenure. Coming from the previous squad, which was consisted more of a ragtag group of skaters, into a more structured system with a HR and a proper Head Coach in Oceanne Esparcieux, the benefits have been felt greatly. A large number of the previous squad tried out again and made it so it feels similar to the old squad but with a much needed injection of new blood in the shape of the coaching and new players.
How often do you train?
Twice a week with South Wales Silures and twice a week with Cardiff Bay Crossbones (Roller Hockey team), Refereeing local women's teams when I feel the itch for skating.
International duties are once a month training then games on top of that. We had a pretty good showing in 4 Nations and a friendly against Ireland so we feel like we should be firing on all cylinders come July.
Do you have any off skates training?
I try to cycle to work as much as I can (17miles each way) as a form of cardio and try to get the gym when I have time in the week.
From which leagues have your players been selected?
Mostly South Wales Silures but not as much as the 2014 squad, returning from the previous squad is the Underrated and outstanding Berserker from Southern Discomfort and Swifty from Milton Keynes. We've had some great new blood in the form of U-go Boss from NWO, J-Wrecks from Sons of Icarus, Tom Thump from Wirral Pack Animals, to name a few. We have a resident canadian in the form of Hung Solo who is with River City Riot in Calgary so hopefully he can give us the skinny with the Canadians when we meet them in our group match.
What are your team goals for the World Cup?
To rise in the world rankings, 6th last time round so anything above that would be a success. We're pretty confident we can qualify through our group with our biggest game is against the hosts Canada. Having played them in MRDWC14 I cant wait to meet them on track again, great bunch of guys with some fancy footwork to boot! My personal goal is to have Tim Horton's (Timmy H) for breakfast the entire time in Canada... Dem DoubleDoubles...
I personally believe, depending on how we do in the group stages, we can reach the semis but it'll all depend how we react to the transatlantic flight and Calgary altitude.
Tell me about your fundraising and sponsorship.
So our facebook page, https://www.facebook.com/Wales-Mens-National-Roller-Derby-Squad-278766772249805/ has been running a gofundme at www.gofundme.com/teamwalescalgary as well as a helmet competition with Swift Customs https://www.facebook.com/Swiftcyclesandskates/.
In the hopes of raising donations we have pitted each player against another in a series of 'hilarious' challenges ranging from funny to just a bit weird, the internet seems to like stuff like that.
What can we expect to see from team Wales at the World Cup?
Some heavy hitting as is standard in our derby heritage but with much more control and swish than people may expect. We've got what it takes to be part of the big dogs in this World Cup and hopefully we can prove it. Thanks for listening/reading to my rambling answers and hope you enjoy Wales' games at MRDWC16!
In the 2016 Men's Roller Derby World Cup Wales are in Group Green with Canada, Colombia,  Spain and Germany.  Their first game will be on track 1 against Colombia at 10am Calgary time...which is like 5pm UK time, from the looks of both of these teams, it's definitely going to be a fantastic game to watch! [Due to Colombia dropping out of the Cup, Mexico replaces them - so Wales' first game is at the same time, but against Mexico...]