Someone at Ayrshire Roller Derby is clearly a fan of old Lucasarts adventure games. The league's long-awaited debut bout, hosted at Magnum Leisure Centre, Irvine, is titled simply "Day of the Tentacle", not just a reference to ARD's Kraken/Octopus mascot, but also the name of Lucasarts' famous sequel to their original hit, Maniac Mansion.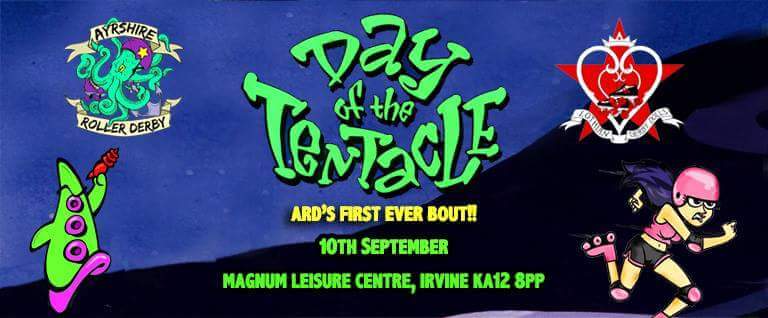 Unlike the game, we expect that ARD have few plans for world domination or toilet-based timetravel, and instead will be concentrating on the challenge of taking on Lothian Derby Dolls for their first public bout as a team. It's something that Scotland's west-most league have been working on for months, with many of their skaters immediately signing up for multiple cherry poppers (or "rookie bouts" as the more serious in roller derby seem to be calling them) as soon as they've passed mins.
And it all builds to this, the 10th September in Irvine, when they come together as a team for the first time in public.
One of the most visible skaters the aforementioned games has been Poison Petal, who's probably bent the rules on how much experience you can gain and still count as a rookie over the last 9 months. She was also happy to talk to us (and take some comments from others on the team) on this occasion:
"We have been on an awesome adventure since the team was first formed until now. There's been highs and lows and many hall changes, but we are finally just about there! Our first bout will take place on the 10th of September against Lothian Derby Dolls. Now the hard work begins all over again. We've navigated our way through mins and now we have even more skills, strategies and tactics to learn. There is a very excited buzz around the team at the moment with everyone pushing themselves in order to merit their green jersey and gain a place on that first team. I asked a few of the team about how they felt about the game coming up.
Barty Ouch, one of our newest mins passed players, said  «[I'm] nervous, excited, slightly terrified; but can't wait to hopefully make the roster and get out there with my team, and show that all our hard work has paid off and what ARD is all about. It'll be a fantastic day for everyone playing or not and this is really just the beginning for us.»
Super Sal agreed,  «I'm terrified, and excited all at the same time. I'm also proud of the team (and myself) for getting to this point! It's taken a while. For me anyway!»
R2 DeckYou «I'm looking forward to taking the first step with ARD into the derbyverse. This will be the first time that I can play with a full team of the girls I've laughed and cried with for the last 10 months.»"
Doors open at
11:30
, for a probable start around midday. There's no online tickets available at the time of writing, so you'll have to get them on the door...