In our second interview of our Tomodachi Derby Cup series, covering each of the teams competing in Okinawa from the 24th to the 26th March, we're with Pacific Roller Derby, of Honolulu, Hawai'i.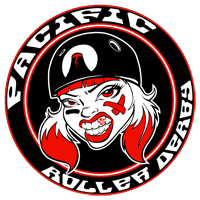 Pacific Roller Derby were O'ahu's first modern-day roller derby league founded back in 2008, and joining WFTDA the following year. As Pacific have grown, they have shifted from their early "All-Star" team, drawn from across Hawai'i, to fielding their own O'ahu-sourced A-Team, the Hulagans. Pacific Roller Derby are very proud of their Hawai'ian culture, and make a point of bringing Aloha with them when they travel for tournaments, or host their own.
The Hulagans will be competing in the WFTDA Sanctioned tier of the tournament, against host leagues Kokeshi Roller Dolls, Tokyo Roller Girls and Devil Dog Derby Dames, as well as Alaska's Fairbanks Rollergirls.
To hear our chat (with rather a lot of Pacific Roller Derby on the other end of the line)...
[soundcloud url="https://api.soundcloud.com/tracks/304626708" params="auto_play=false&hide_related=false&show_comments=true&show_user=true&show_reposts=false&visual=true" width="100%" height="450" iframe="true" /]