Several years ago, back in 2014, we talked to a few teams from Central and Eastern Europe for our series on "The Future of Derby".  Three years later, what was very much the edge of the derby world has developed to the extent that all of those nations have teams at the Roller Derby World Cup in February, and some even have Men's teams aiming at the Men's Roller Derby World Cup.
Closer to hand, though, the world's first "Slavic Tournament" - featuring only teams from Slavic countries - is approaching next month, featuring: Prague City Roller Derby (Czech Republic), White Night Furies (Russia) and the hosts Warsaw Hellcats (Poland).
What better time, then, to catch up with the teams attending?
First, we had in depth interview with Prague City Rollers' Mörkö, following up on some of the topics we discussed with the league 3 years back when they were young!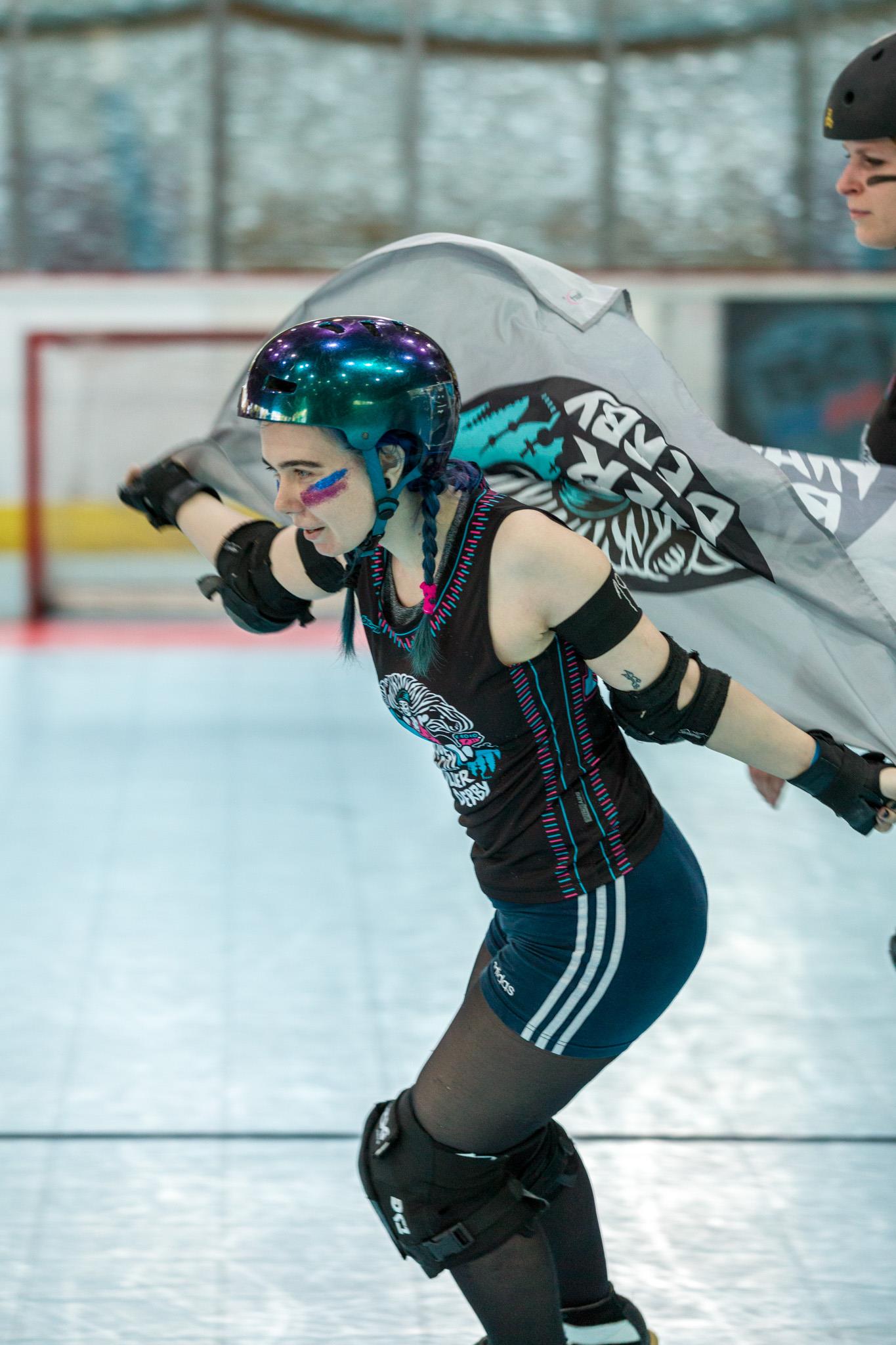 Mörkö
When we first interviewed Prague City, back in 2014, we asked if the Czech Republic would be competing in a World Cup by 2016. Obviously, the World Cup is a little later than we expected, but how does it feel for the Czech Roller Derby Team to be competing in 2018 - and how involved was Prague City, specifically, in making this happen?
It feels fantastic - we have been rolling in Czechia a little over 5 years now and even though we managed to get roller derby covered in the biggest Czech media houses we are still struggling with prejudice and ignorance of our sport. I hope that participating in the World Cup will become one of those milestone moments that will give us positive publicity, show the Czech public how great this sport can be or even just raise awareness, what roller derby is about and make our roller derby journey easier in Czech Republic.
As to how much was PCRD involved in the National team organisation - I can only speak for how I personally see it as a PCRD member. I'm not sure if there was any intention from other leagues, but I know there were rumours about us possibly participating in the World Cup around two years ago. It was still in its very beginnings, nobody was sure what exactly should be done, everyone had their own way of doing things which wasn't always welcomed by others. However, we always wanted to co-operate with other leagues and not to do it just on our own. Since [Fellow Prague-based league] Hard Breaking Dolls became active we invited them to organise a board that would create a basic platform for hiring managers, coaches and other important figures, who are now active in the National team agenda. Most of them are from PCRD, we have a coach who used to be in Porto, but trains with PCRD, another one is from Vienna (soon moving and transferring to London) and that is pretty much it. Since we have been here the longest, we are trying to push our limits always a bit further even though if our league has to struggle for a while. We're inconceivably stubborn I think.
When we first interviewed the league, you were the only derby in the Czech Republic, and one of the few leagues in Central/Eastern Europe. Now, with the Hard Breaking Dolls (also in Prague), and Brno Roller Derby in the Czech Republic, and a growing set of leagues in Poland, Austria and beyond, it seems that Roller Derby is growing well in the Centre and East of Europe... How much work has it been to get derby this far in the Czech Republic, and where have the bumps been along the road?
It's really amazing to see roller derby grow all around us.
I'm especially happy for Poland who are our neighbours and, even though roller derby is still pretty new there, it gives us lots of potential for future cooperation. For example, in September, our B team will take part in the first Slavic Tournament in Warsaw; playing with Warsaw Hellcats and with Saint-Petersburg Roller Derby.
My personal dream is to have a roller derby league in Slovakia, but we are not able yet to build there a roller derby fortress. Even though PCRD is always happy to do exhibitions in other cities apart from Prague and people are contacting us all over the country to help them build a league, there is lots of work that many people from the outside don't realise or can't imagine. It was three years ago, that PCRD made an exhibition in Brno, but it wasn't until the last year when the team gained enough people to form a league and become active…
The politics of PCRD has changed over the course of 5 years as well. What started as a punk sport for underdogs is now a league aspiring to be seen as professional, athletic and serious at what it's doing. I think it's the same trend worldwide - roller derby has changed and so have we. We're basically following the trend and I think the work is paying off - media slowly starts to put us into the sports category, people are spreading the news, we are changing our approach along the way as we notice what does and doesn't work…
However, we're still not perfect and still learning. I think our biggest ongoing struggle is our financial stability, which sometimes influences our participation in games or tournaments or organising bootcamps that could move us further, or even our entire existence. After 5 years, we lost our practice venue due to unbearable conditions given to us by the school where we used to practice. So now we're poor and homeless, but still going :D
I really admire the amount of work my teammates are putting into PCRD's existence. I think what is really pushing us through is taking risks and having a good team of people who are not willing to give up. Even though it is sometimes frustrating having to stand in front of a new challenge every season, I know it will be for the better in the future.
Talking to some of those newer leagues in Eastern and Central Europe (and beyond - Estonia and Latvia...), they've all emphasised how important the support of other leagues has been in their growth. Do you think Support networks, and National (and Trans-national) bodies, are a really important thing for established leagues to "pay into"?
Oh absolutely! If you are a brand new league in your city or even country it is crucial that you have someone to ask for help. Our beginnings were dependent on getting equipment from Germany and advice from people who already knew how the game should look like. The YouTube videos, roller derby forums and a great community happy to share experience don't beat a personal contact.
Roller derby is growing, but it's still new for many people. We gained a lot through people who visited our practices from all around the world willing to share useful information of any kind. I think it used to be our core source until we established some kind of a training plan and managed to educate ourselves on our own, even though we're not giving up on help from the outside; quite the contrary. Also, we're a little lucky being located in Prague which is a very popular tourist place even for roller derby community, so we have visitors quite often I have to say. I'm happy I could learn from people who played long before our league even started.
As we write these questions, Prague City has just been accepted into WFTDA as a full member. Can we talk a bit about how the journey from first applying, through Apprentice, to the announcement of Full Membership? What was the draw for joining WFTDA?
We started noticing how leagues around us were joining WFTDA and how it influenced our ability to organise games.
Most of our opponents come from Germany and since they have Bundesliga it was hard for us to compete with enough leagues who would find space for us in their bout schedule. Once we were refused by some leagues for whom we weren't that attractive we realised that WFTDA membership is a way to go. Of course it wasn't the only reason, but it was the one that pushed us into sending the application.
The application process is mostly a work of two of my amazing teammates, Lenka and Lulu, who took the responsibility and got us through the painful bureaucratic Apprentice parts. Our mock sanctioned bout was against Roller Girls of the Apocalypse from Kaiserslautern. It was a re-match that took place in Prague and I noticed how our bout organising skills were well balanced with WFTDA requirements. Everybody has been working hard so that no detail could show that we weren't eligible to gain the status of a full member. All paperwork was finished in the late spring this year and in the middle of July we were finally announced as a full member.
Speaking of Prague's development, you've had a very busy bouting schedule since we've spoken to you - with 8 games in both 2015 and 2016 (thanks partly to the Daga Denter tournament). FTS rates you as 140th in Europe (and we rate you a little higher, at 93rd, or 115th if you include B teams), with a pretty steady rise up the rankings since you were founded. How have you worked for this success?
It's a combination of hard work, sometimes luck (the attractiveness of Prague has indisputable role), and having dedicated teammates who are willing to sacrifice their time and money to attend practices and games. We do not count on having full roster unless we're sure everybody in the team knows how to play their role in the game the best. Because the team struggles with ongoing injuries of both A and B team players we sometimes have to improvise, but we learned that it's better to roster 10 players who are ready to give their best than 14, who might not be 100% ready yet.
It has something to do with our coach Jay who is used to this system from her home league in Porto. Once we saw her team play and win the Daga Denter tournament with not more than 9 people in her team two years ago we knew that it's possible to build a team on few people, who know each other well and meet at most practices than count on somebody, who might be talented but doesn't know how to co-work with others on the track. By various circumstances we were forced to choose quality over quantity and it paid off. But who knows how long will this strategy last, since there are some pretty amazing and talented players from the B team who I think will soon join the A team forces.
It's been a successful few years since we last spoke to Prague City... but what do you have planned for the next few, and where do you see Czech Roller Derby itself developing?
At the moment we're in the midst of a turmoil, actually. Our season has just started, we don't have much money, we have to practice outside with little luck finding a permanent venue for inside practices so unfortunately most of our energy goes into this right now.
But I'm not entirely negative, it's hard, but I know we will thrive and get through this eventually and be ready to compete and get better. So, I see ourselves in a nice hall made of polished concrete where we can comfortably practice twice or three times a week, having a busy bout schedule for both our A and B teams who establish their positions as fierce central Europeans of the roller derby world. I see the National team competing in an already lost game against Team USA having time of our lives, getting us enough coverage to have at least one or two more roller derby leagues outside of Prague!
---
We also more briefly caught up with St Petersburg's White Night Furies, and Warsaw Hellcats to talk more specifically about the Slavic Tournament.
White Night Furies (#2206 Hulk):
It's been a busy year for the Furies - tournaments in Finland [the Pohjola Cup], national teams [Team Russia Roller Derby] and promoting the sport in new countries [Belarus]! When we first interviewed you, years ago, did you expect any of this?
No way. I couldn't even imagine that all this will come SO far and spread so wide. But I can say that the goals that were in our heads years ago just turned into everything we have now and that means we're on the right way!
Mostly I am excited about Team Russia - making a team on an international level is a huge job, but thanks to White Night Furies now I know how things should be done.
How important is it, do you think, that landmarks like the first Slavic Tournament are achieved, and celebrated?
Since the time when the idea about making a Slavic Tournament came to my head, I really wanted it to happen. But this would've never happen without Warsaw, who wrote me a year ago and offered to participate in some of their games. We've had no free time at that time, but I started to think how we can roll :)
In my opinion, the countries that are close to each other should communicate more, cooperate and be good friends and not only, it's our chance to make a warm friendship with each other. And I hope this would be just the beginning of something big and sweaty :)
And, finally: how are you hoping to do at the tournament?
If we make a full roster this time, I'm sure we can take the lead !
---
Warsaw Hellcats:
How did you come to the decision to hold the first ever Slavic Tournament?
The idea actually came from White Night Furies. Around November last year, we as a team decided to kick it up a notch a little and start playing more. That's when we started making plans for next months and contacting a number of foreign teams, one of them were Furies. The dates we had weren't working for them, but they replied proposing to play during Autumn, and pointed out that we are both Slavic teams, so why not invite 3 Slavic teams and make it a themed event
We don't talk as much about the growth of derby in Poland - how have the last few years been for Warsaw Hellcats since your founding in 2013?
Roller Derby has grown significantly over the last four years in Poland. We've achieved considerable progress.
Our team entered the WFTDA Apprentice program and we played our first mock game; a male team and the National women's and men's teams have both been formed to compete in the World Cups in 2018.
As the Warsaw Hellcats we try our best to play and host events at home to gain as much experience as possible and to get as many people as possible into the sport. We organize bootcamps and tournaments in which we invite derbies from all over the world and other polish cities, we want polish RD and polish teams to grow. We also try to participate in international events not only as players but also as NSO and SO. Still the problem is a training room, but we hope that with the growing awareness of the derby in Poland, it will be easier for us to pass.
---
The Slavic Tournament (Słowiański Trójmecz in Polish) will be held on the 30th of September, in Warsaw, Poland. There's no event page for it yet, but we will publicise it more closer to the time.
If you wish to officiate the Slavic Tournament, then there is an application form here: https://docs.google.com/forms/d/e/1FAIpQLSdmZYZzUjQH9mdzf12Z3hAEcfkfhwtAKXuBLjKU2j71Wk-GjQ/viewform