After a late start due to the very wonderful Roller Derby World Cup earlier this year in Manchester (!), Dundee Roller Girls are hosting their Season Opener on 15th of April 2018 at the D.I.S.C. in Dundee!
Boasting an action packed day for both DRG's A and B team, doors open at 12:30 with tickets on the day at £6. You can look forward to Fair City Rollers' Fear Maidens facing off against the Bonnie Colliders at 1pm, with Auld Reekie Roller Girls' All Star Reserves taking the track against the Silvery Tayzers at 3pm!
With a new season of games, come new captains! So we thought we would have a wee chat with both teams' captains to see how the season is shaping up. First up is ALLY-J and Tiny Tearaway captaining the Bonnie Colliders!
[gallery ids="26529,26530" type="circle" columns="2"]
| Questions | ALLY-J | Tiny Tearaway |
| --- | --- | --- |
| Number | 92 | 931 |
| Position | Jammer | Jammer |
| Derby Hero | Hubs & Mayhem | Lady Trample and Mayhem |
| Motto | "Lets do dis" | "Nothing is impossible, the word itself says "I'm possible"" |
| How long have you been skating? | I've been quad skating with DRG since March 2016, so 2 years now (time flies!) but used to inline skate from the age of 10! | I have been skating 6 years this coming May (scary) and I have been with DRG for 2 years |
| What does this season hold for the Colliders? | We've had the opportunity of playing in Copenhagen, Newcastle and in our home town, and this season we're going to build as a whole Team! We totally found our feet working with each other, and we are looking at focusing on attendance, positivity and building our knowledge of the game! | Yes its going to be very exciting for the Colliders. We have some fantastic games lined up already and a strong team full of skaters determined to be the best. |
| As a B team, what challenges to you face? | Finding our way of working together as a team. Fitting in our newest skaters and helping them gain lots more skills and understanding of the game. | We are all part of a very supportive league so the challenges I see aren't limited to us as a team. We face the same challenges as the A team; attendance, working together well and pushing ourselves to the best of our abilities. |
| How does the league, as a whole, carve space for the B team? | As a league, our A and B team train together, which is an amazing opportunity. We are constantly learning from each other, talking over drills and skills; with us skating alongside folk from Team Scotland, really being able to learn from the best is our greatest asset. | B team, A team who? We're a league that trains together. Skaters for both teams, crossovers and new skaters. We all do the same drills and are expected to put the same amount of hard work and effort into every one from the newer skaters to those who were on Team Scotland. |
| And if you could set goals for yourself and for the team this season? | My personal goal is to work on my jammer skills and tactical knowledge. I want to work well for the team and push myself this season! For the Colliders: to focus on ourselves as a team. Although we are all building our personal skills, I really want everyone to bring positivity and sportsmanship to the Colliders. | Our B team has played and flourished with smaller numbers the past season. It would be great to see us play with higher numbers. This would give us the chance to have a solid jammer rotation and walls that are to be reckoned with. To be part of that jammer rotation is my goal for this season. |
Second up is the captains of the Silvery Tayzers, Seaton and Bosies!
[gallery ids="26532,26531" type="circle" columns="2"]
| Questions | Seaton | Bosies |
| --- | --- | --- |
| Number | 102 | 37 |
| Position | Pivot/ Offence | Blocker |
| Derby Hero | Serelson | Kid Block |
| Motto | "Shitemare" | "SITFU" |
| How long have you been skating? | 6 years, started and stayed with DRG since then. | Skating for six years, initially with GCRD and have been with DRG for almost 2 years |
| What does this season hold for the Tayzers? | I'll probably cry and give dramatic speeches alot. Hoping that as a league we'll be able to continue to perform like we did last season but also move passed that, honing in our skill set. The Tayzers have always performed under a "get the job done, nae fancy shit" mentality and I want to continue that while progressing within the WFTDA rankings. | We are continuing to evolve the skills, tactics and endurance that we've developed last season. Which will set us in good stead for the exciting and tough games we have lined up for this year. |
| As an A team skater, how do you stay ontop of your game | I hydrate and then spew it up if I go too fast. | Pepsi Max, avocados and hummus. And cross training. |
| How has becoming a WFTDA league changed your priorities and training? | I think it gives us clear global equivalents to try to compete against, which we haven't really had before. It's good to be able to feel super involved with the development of the sport as a whole, as well as having access to more teams. | It allows us to skate against teams of a similar calibre at national and international level, as well as competing in tournaments! This emphasises the need for a strong mental game, the ability to work as a tight unit and to continue to function when the fatigue sets in! |
| And if you could set a goal for yourself and your team? | Finish a game without a spew or a cry, working on my mental game is a constant priority as well as my on track skills. As a team, I just want to end every game as a happy wee unit proud of what we have just done. | My personal goal is the same as it was when I first started skating, which is to get lower! As a team if we can continue to work together, support each other on and off track and leave each game with a sense of achievement, then that's a job well done |
---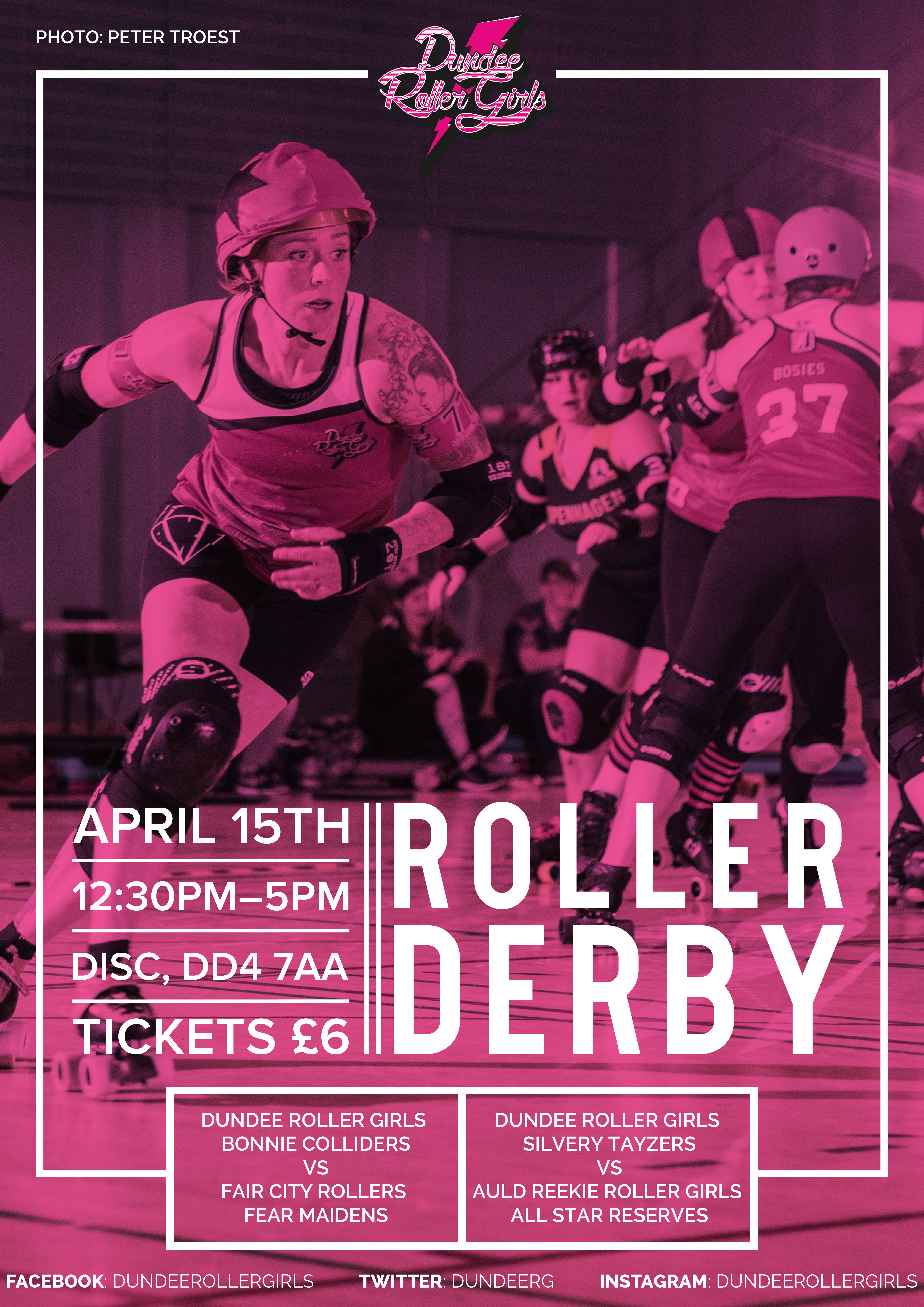 15th April 2018 Dundee DISC Event Page 12:30-5pm £6 on the door