This Sunday is the only time you'll see Perth's local roller derby league, Fair City Rollers, on track at home this year, due to the popularity of their excellent local venue, Bell's Sport Centre. As a result, for those following the team, it's an opportunity not to be missed!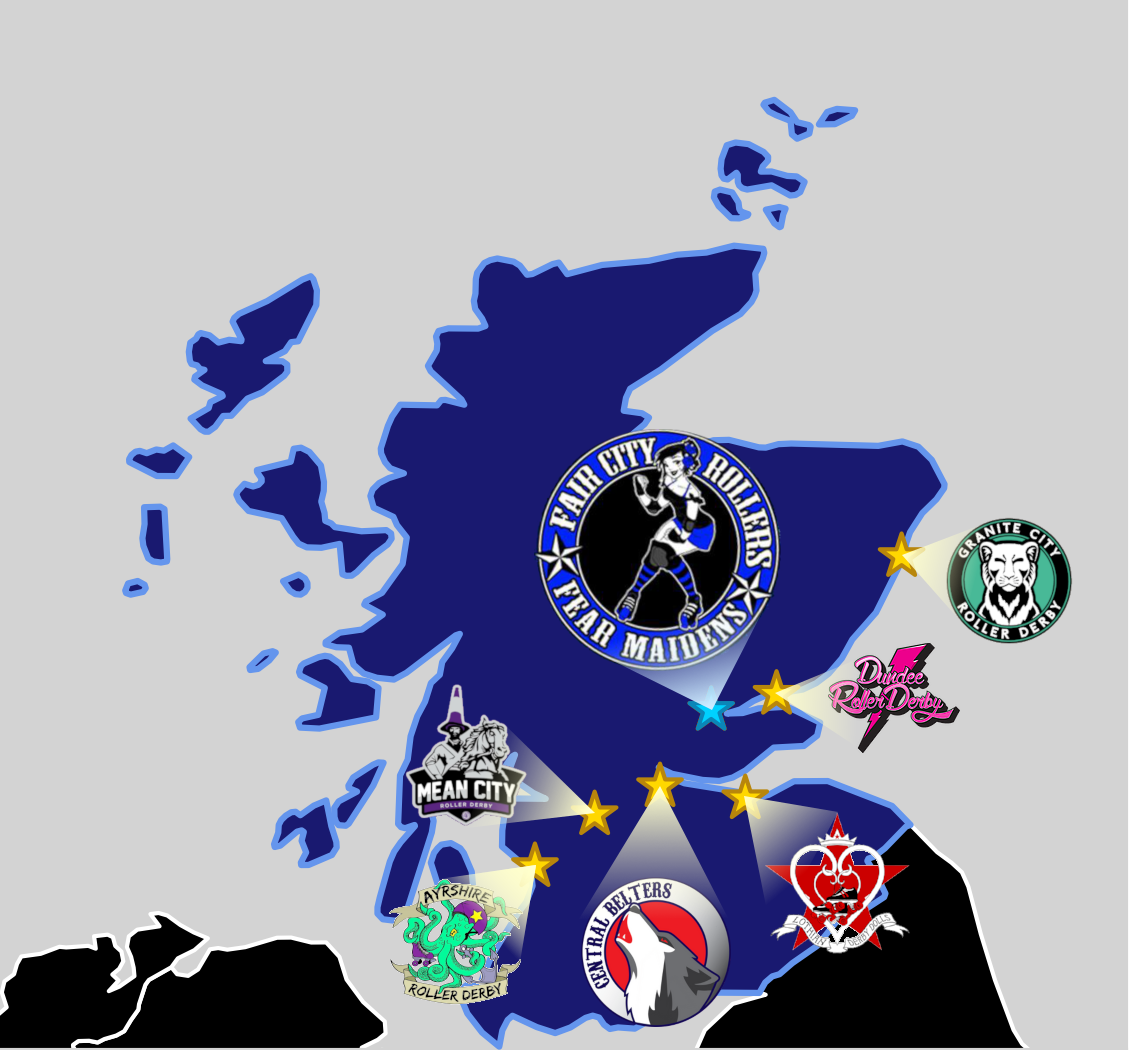 Fair City, and the leagues combining to face them as "Scotland's Rising Stars"
The Fear Maidens, Fair City's travel team, will be facing a mixed exhibition team drawing newer skaters from Ayrshire Roller Derby, Bairn City Rollers' Central Belters, Dundee Roller Derby, Granite City Roller Derby, Lothian Roller Derby and Mean City Roller Derby. Coming together as "Scotland's Rising Stars", these skaters represent some of the best new talent in Scottish roller derby.
The Fear Maidens have played one previous bout this year, losing away to Dundee's B team, the Bonnie Colliders, back in April. Due to way Flat Track Stats' rating changes are applied (always equally, but oppositely, to both teams), this has almost certainly underrated the Perth team at present, due to both Dundee teams' considerable strength gains year on year. Whilst this game against an exhibition team will not compensate in the ratings, we're confident of a strong showing from Perth's only roller derby team at home.
Fair City's Invader Zoom told us, "We are so excited to be playing at home again and can't wait for the people of Perth to see some of our new recruits in action. Our last home game was a nail biter that had the audience on the edge of their seats all game, and we are sure this game will be just as thrilling with a challenge team of skaters from 6 different Scottish leagues!"
As well as Roller Derby action on track, there will be the usual collection of stalls, including an opportunity to support the charity CLIC Sargent in Scotland, raising money to help Young Lives versus Cancer. Fair City Rollers will be participating in CLIC Sargent's Rainbow Assault assault course event in August.
---
Fair City Rollers' "Pack to the Future" is at Bell's Sports Centre, Perth, on the 24th June, 2018. Doors open at 1pm.