In another guest post, we're bringing you a report on Bangkok Roller Derby's recent bout against Pan-Asian travel team, the Spring Rollers, by Mouth Almighty; Mouth recently moved to Bangkok (after being deeply involved in UK derby), and this was her first experience of the East-Asian implementation of the sport. 
So, 2 weeks ago I moved from the UK to Bangkok as part of a change of employment. As a former skater with Wolverhampton Honor Rollers and a former director of UKRDA (United Kingdom Roller Derby Association) back in Britain, I was eager to see what Roller Derby in Bangkok had to offer.

As luck would have it, within my first week of moving to Thailand, Bangkok Roller Derby were hosting an event: "Monsoon Mayhem".
So, at 7pm on Saturday 17th of November, I had my very first taste of Roller Derby, Bangkok-style.

Most Roller Derby bouts or events in the UK tend to be set in the morning or mid afternoon, in a local leisure centre or school (or whatever venue a team can manage to find that is big enough to host a game and is willing to allow teams to actually skate).
Here, Bangkok Roller Derby have the luxury of an actual Roller Dome and an evening start time (I can see why, as it had been 34°C most of the day, with a huge rainstorm in the afternoon, so the humidity factor meant that it was still about 30 degrees at 7pm).
These factors put together surely helped bring what was very close to a capacity crowd to this event, something that I fear very few Roller Derby teams in the UK have the joy of seeing at their events.

Bangkok Roller Derby versus Pan-Asian Spring Rollers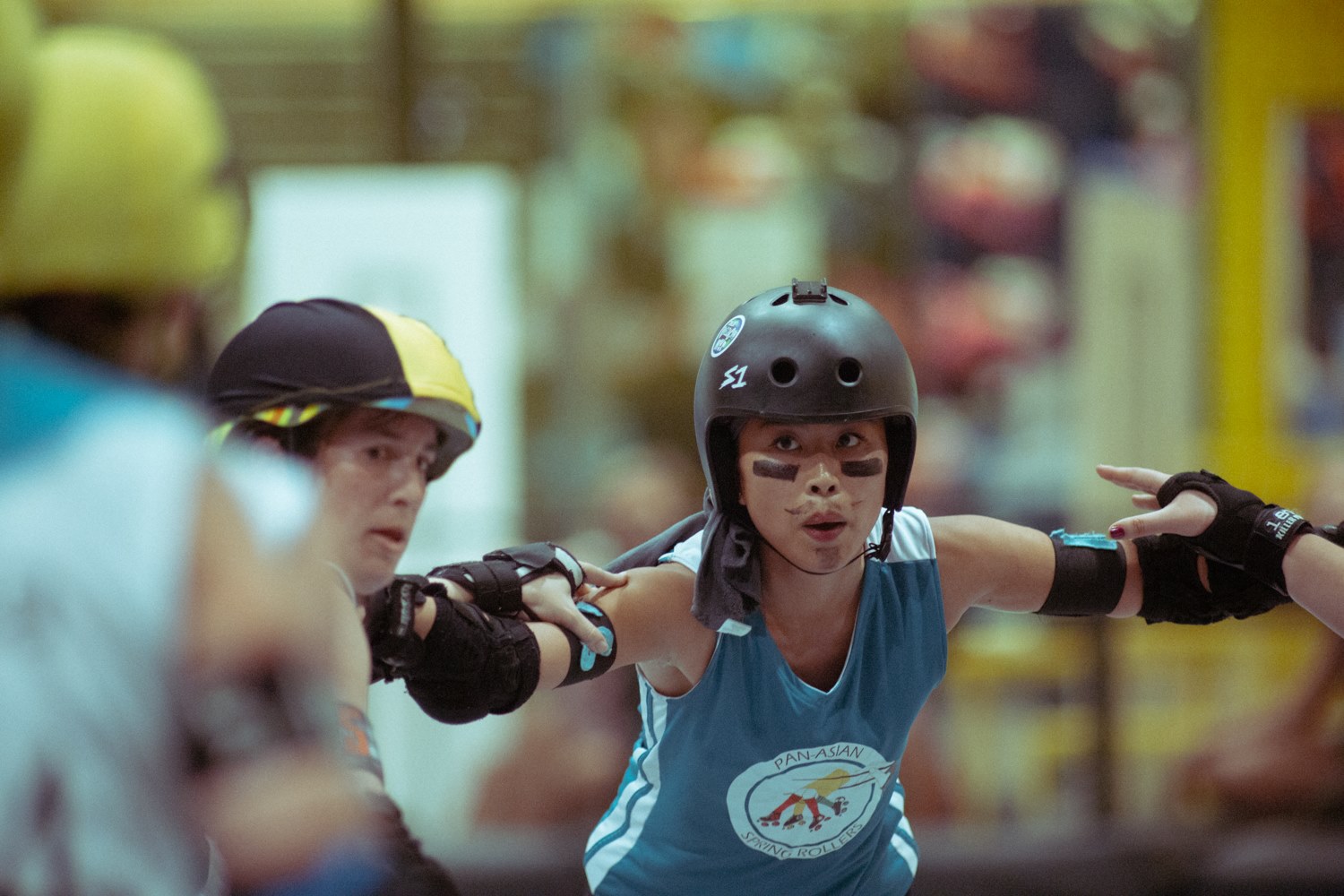 The gameplay itself was fast paced and aggressive, not violent, simply aggressive, passionate gameplay. The girls on track seemed to truly enjoy the fun, frantic pace of the game, as did the people watching it.
An injury early on in the first half bought to my attention that first aid here in Bangkok is not at the same level as bouts in the UK. (However, this was a friendly game). A single first-aider dealt with the injured player before she was eventually taken off the track in a wheelchair (temporary, I'm sure!) to rapturous applause from both players and spectators.
The game continued at a fast pace, with fast jams but with relatively low scoring from both teams; some heavy blocks and hits but thankfully no more injuries.
The second half continued at the same frantic pace, some very fast jammers up against some skilled blocking on both teams.

Noticeable differences between UK and Bangkok Roller Derby included less referees and NSOs (this may have been due to lack of volunteers perhaps [something which affects Roller Derby everywhere - Ed]) but as Bangkok Roller Derby grows, and as roller derby in Asia grows in general, this will surely stop being the case.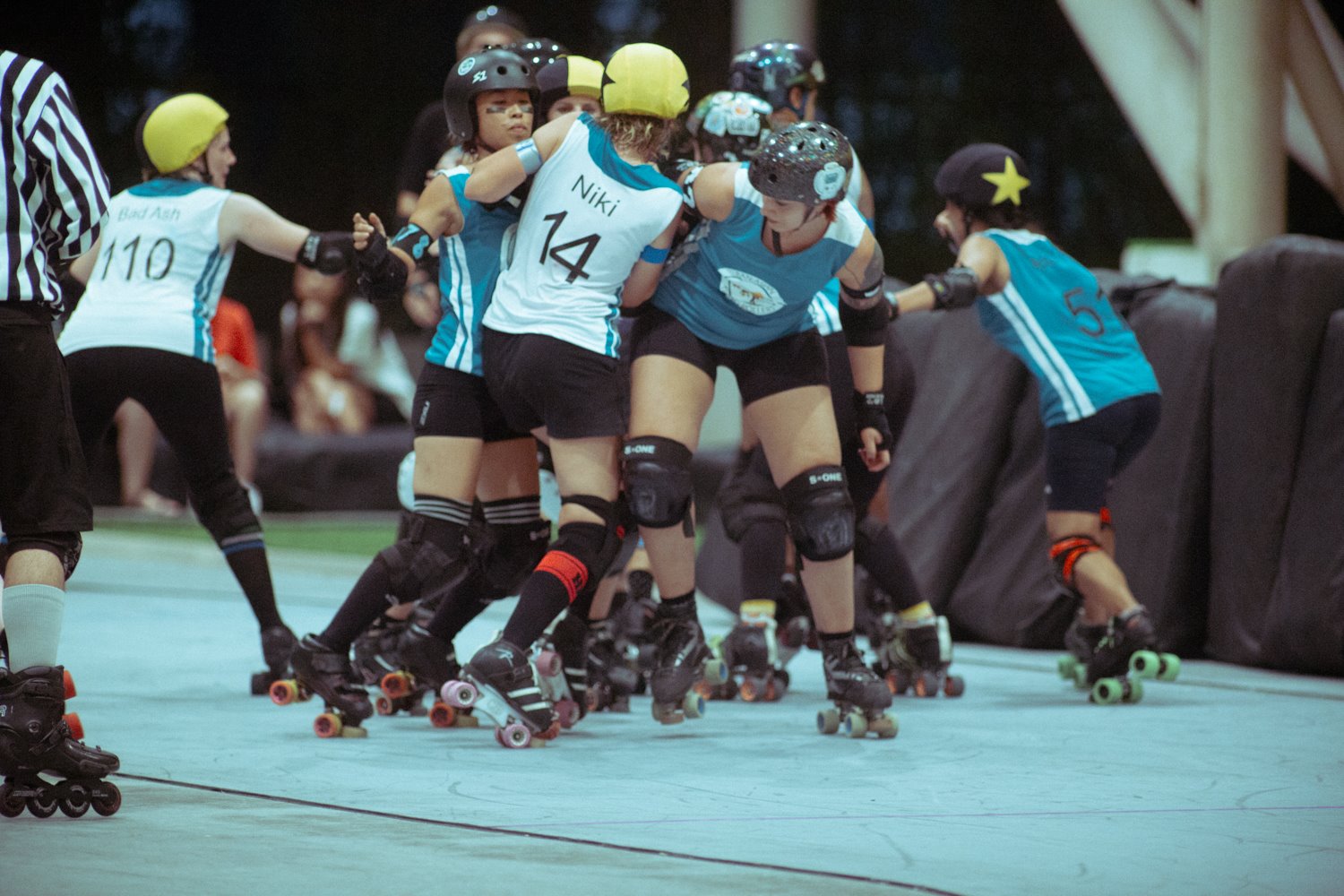 Announcing was minimal, but with a team made up of English, American, Canadian, French and Thai players, and with a truly multicultural audience watching, perhaps announcing would have simply been lost in translation...

There was also no music playing during the game, something that as a follower of UK roller derby I have become used to.
One thing Bangkok Roller Derby did that is not the norm in UK (although is becoming more common for the big tournaments) is half time entertainment: three inline skaters (one in a dinosaur costume) dancing and doing tricks, followed by throwing cuddly toys out into the crowd, which the audience loved.

 The game finished and it was evident that the players on track, the spectators and everyone involved had enjoyed a great evening of roller derby
---
Bangkok Roller Derby can be found here: https://bangkokrollerderby.weebly.com/
Their opponents, the Pan-Asian Spring Rollers, are a travel team composed of members of Beijing Roller Derby, Shanghai Roller Derby, Hong Kong Roller Derby and Bangkok Roller Derby (but are open to other Asian teams). They can be found here: https://www.facebook.com/Pan-Asian-Spring-Rollers-448887468791803/