It's often said that the junior part of any sport is the most important part, as it contains its future. Scottish Junior Roller Derby's first club, Fierce Valley Roller Cubs, is no more, but two of its graduates are now starting to make waves in Scotland, and the UK.
We thought it was a good time to talk to Skye ("Bee"), and Callie ("Cal-amity") MacIntyre; earlier this year, Skye (guest) bench-coached the victorious Lincolnshire Bombinos away against Newcastle Junior Roller Derby, with Callie awarded Best Jammer in the same bout. They both have a lot of past experience, and ideas for the future, of Roller Derby, so what better people to talk to?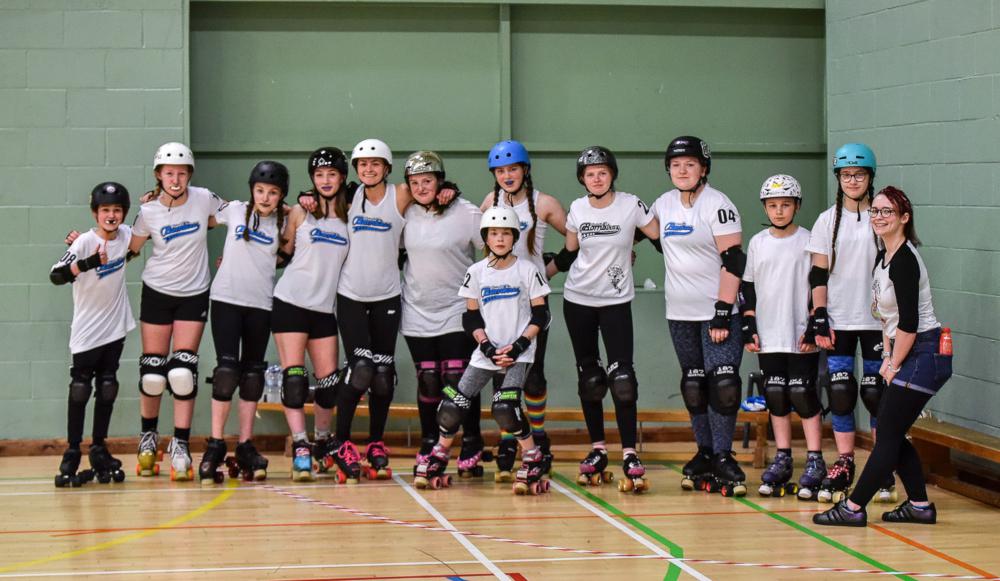 So I guess we'll start with a bit of history: how long has it been since you two started derby?
Skye

Callie and I both started in about June 2014, through Fierce Valley [Roller Cubs] and we haven't stopped since! Callie had a wee few months break between Cubs disbanding and Rollerstop opening up, but that hasn't swayed her in any way. Roller derby is one of the main sports that both of us have picked up and kept at as there is so much appeal for us 😁😁
So, let's talk about the appeal for each of you: why did you start playing... And why are you still playing now?
Callie

I started to play because it was a different kind of sport: it wasn't like anything that I had played before, and I though it was really interesting. Now I play because I love to meet new people when I play against different teams, and I gain new experiences when I play with different teams because everyone is taught differently.

Skye

Roller Derby is appealing because there is such a lovely community, that's the main thing for me. Granted, there's some competition between skaters/teams but that's present in any sport. I have always loved roller skating, ever since I was wee. I'd love to continue with derby and have loads of new experiences like trying for Team Scotland and maybe playing for the World Cup.

Nothing has really changed for us as we were still juniors (except the rules, haha) but the changes make Derby. We can adapt to it and grow from learning all these new things that are being introduced. I love that derby is becoming more mainstream and the sport that we love and spend most of our time playing, is becoming bigger and more people are growing to love Roller Derby too 🙂
So, for you, Skye, you're now on the Bairn City Rollers, was that a big change for you, moving from Juniors to the BCR training and bouting ?
Skye

It was a scary jump as a junior because I'd seen all these adult Derby games and been thinking "wow... this is intense..." but, when I finally made the jump, the only difference was that everyone else was physically bigger (as in stronger and more skilled). It was still the same game, it was still the same rules, and I still loved it. I'd really urge anyone who's been in Juniors and is about to age out to make the jump, it's so worth it! It may be daunting but go for it.

Callie is itching to move up to adult derby 😂
Callie, before the game we're going to get onto, you had a previous practice & Scrimmage with the [Lincolnshire] Bombinos - how did that happen, and do you have memories / thoughts about it?
Callie

Initially I went to Team GB [Junior Roller Derby] training in Oldham, where I met some of the Bombinos.

That's where I got my foot in the door... My mum struck up a friendship with one of the Bombinos coaches (Beverley Gormley) who has been fantastic, sending us links for games we might be interested in. I then went to a mixed game in Sheffield and I met the rest of the Bombinos there.

I have become really good friends with Eve (Lady Macdeath) and a few of the other Bombinos. At the game the children's parents, who have never met me, were supporting me all through the game and I won best jammer too.

I was feeling really accomplished: I've been playing Roller Derby for a very long time, and to get an award for a very exciting game was so good. To hear the Bombinos shouting encouraging words was a fantastic feeling, too.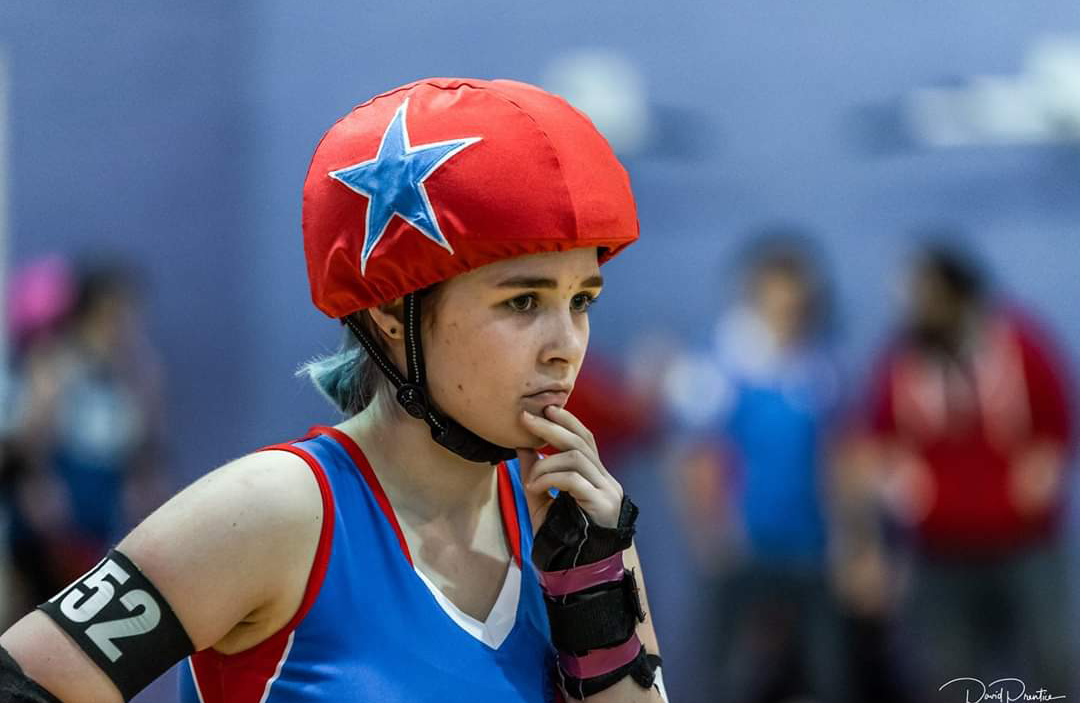 So, let's talk about the game in more detail! How was it being benched by / benching your sister?
Callie

I thought it was really fun because I know her very well and I respect her, so it was easy listening to her and everyone in the team respected her . She was really supportive towards the whole team and never gave up which made everyone respect her more. She was so enthusiastic which I loved about her.

Skye

It was really fun as I have played against, and alongside, Callie but never benched her in a game situation. I've never had a chance to take a step back and see her get her "game face" on and see her play as an independent skater. She listened to me as well (which she never does!) which was amazing and just seeing her having fun meant a lot 😊
So, this was also your first time benching a public game, Skye... How much practice had you had previously? (and would you do anything different next time you bench?)
Skye

I've had previous experience coaching Juniors and benching internal scrims but in all honesty, I was still asking questions about effective benching when we got to Newcastle 😂 . As it was a junior game, though, I felt confident benching the game for them. I've been looking to bench a public Juniors game for ages and amazingly this opportunity popped up, and I'm super grateful to the Bombinos for allowing me to bench.

As for doing anything differently; I hadn't trained with [the Bombinos] so I didn't know what their tactics were and how they played, so I'd try and do a bit more research 😊.

But the feedback I got from the Bombinos was great! They all enjoyed my benching and how I handled it: they felt that I was very relatable as I am about their age, and was very relaxed and not intimidating. They also said that I was very supportive when shouting "you've got this!" And "keep going!" etc. as they passed the bench. So much so that they commented on the [Bairn City Rollers] page that they liked me so much that they were wanting to steal me and take me to Lincolnshire 😁😁

All I wanted to do was help lead them to victory, and they did us proud with an over 100 point lead 😊😊
And are you tempted to try more non-competitive roles in future (announcing? Refereeing?) (Callie: how do you feel about trying a non-skating role? Anything tempt you?)
Callie

I would love to bench a game once, maybe refereeing. I've always been interested in benching as it is something I feel like I would be strong at. I always have experience when I'm training as I am usually captain when we are doing scrims.

Skye

I would potentially look at refereeing as I got older. I would happily do the cake stall at derby games again though 😂

I would love to bench again and I would be more than happy to help out as an NSO, but coaching, benching, and skating is where it's at for me at this exact moment in time. I'm even thinking about attending the Coaching bootcamp in York later this year [ ], because I know there is a lot of junior skating talent that is ready to be developed and I want to be one of the people that could help 😊😊.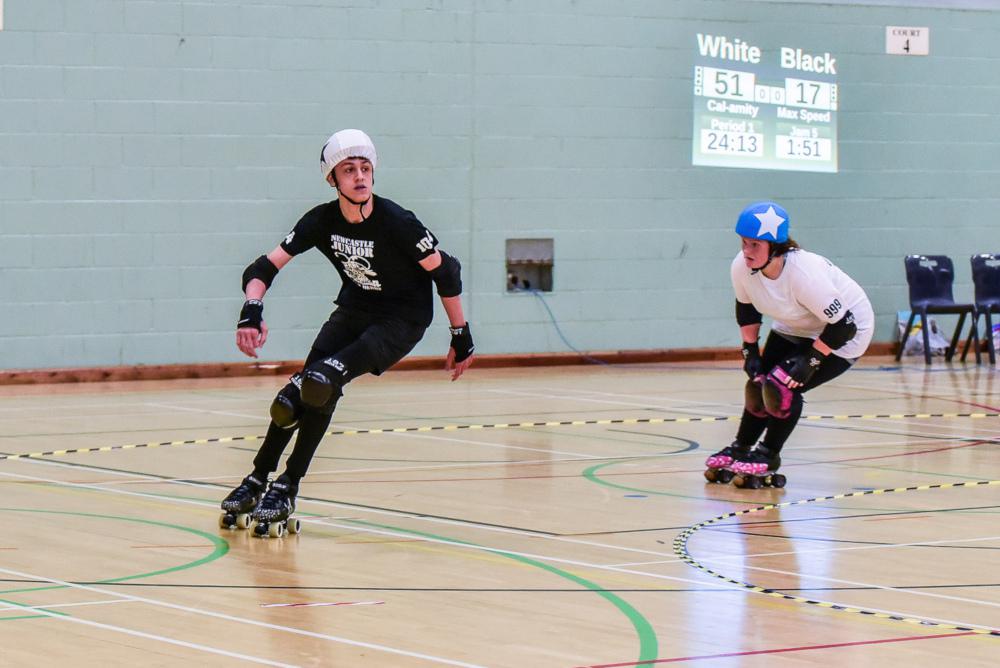 So, Callie: what interests you about benching?
Callie

I'd really like to bench because it gives me better leadership experience, I also have some more re games under my belt than the newer kids. I would love to guide them and use the skills and tactics I have learned through my previous games with Fierce Valley Roller Cubs and the more recent games with Lincolnshire and the Sheffield and Newcastle juniors to take other juniors to a win. Although, its not the winning that counts really, its that everyone feels good and enjoys themselves
That's a very positive attitude to have!
Callie

That's what Derby has taught me: we lost at our Sheffield game, but I came away with a lot more friends I would never have met if I hadn't been there
Speaking of all the contacts you guys now have, what're your plans for the future in general, as skaters?
Skye

For me, trying for Team Scotland and the World Cup. That's the dream 😁😁
For 202x?
Skye

Yeah 202x. I've made friends with Eve who is about to age up to the adult teams and she may potentially try out as well 😊

Callie

For me, it's attending more games with the other Juniors, aiming for Team GB: I would love to represent Scottish Junior Derby as part of that. I want to help my sister coach and develop other kids, as well as me, until I am 16 and can move to an adult team. Then I want to push myself as far as I can with that. Team GB is a huge focus for me for the future.
Do you feel that it would help to have more Junior Derby in Scotland, or is the Rollerstop team in Glasgow enough to keep new talent coming?
Callie

Personally, I think we we need more. There are new teams out there but games are few and far between at the moment. I am travelling to England to get games on my level because I have been skating for years whereas some others are very new to it. Once they are all up and running it will be great but a larger number of teams over the Scotland area will encourage more teams to travel to play.

Hopefully there will be other leagues who see the value in a junior team and maybe start some up.

The talent we have in Scotland is there, it just needs a helping hand 😀

Skye is coaching the kids [at Rollerstop] right now but I know she has an idea that I hope she can develop. It's doing concentrated training for level 3 skaters with a view to getting them ready for going to an adult team. Also for Junior British Champs if it happens and for trying out for Team GB. Right now it's just an idea, but it would let kids like me train on a level that perhaps some newer skaters aren't at yet, and would hopefully give them drive to get there and join in.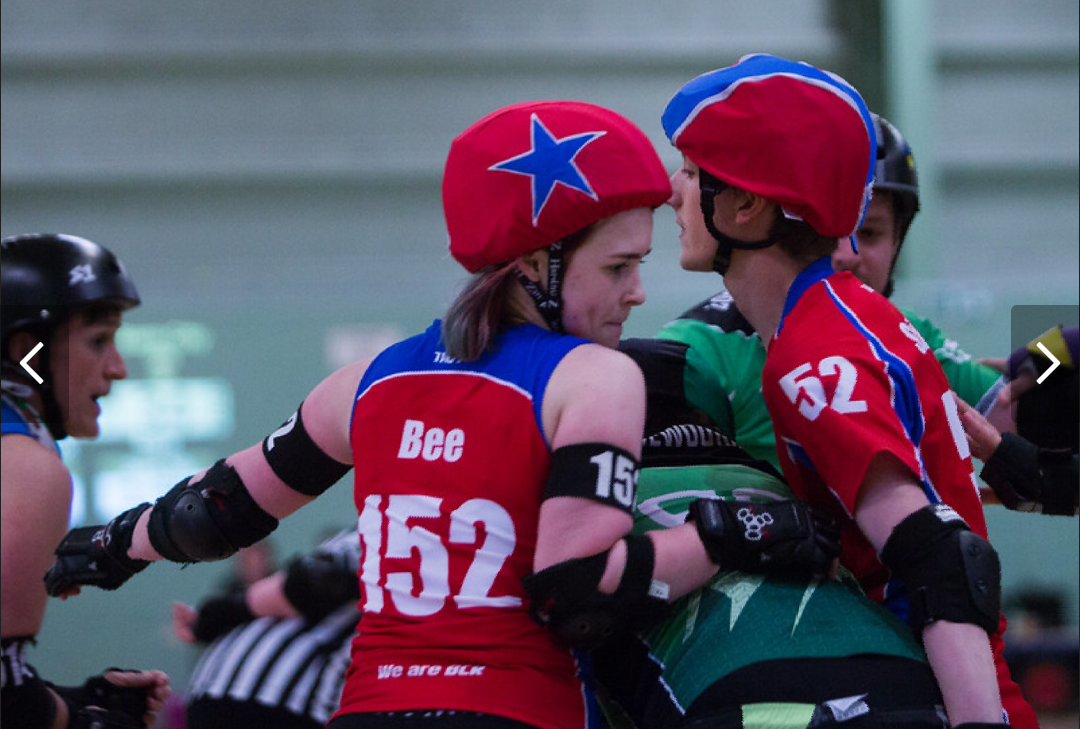 Skye, do you want to talk a bit about that plan too?
Skye

My mum was talking to a few people who wanted to discuss the idea of a Junior British Champs for the future and the options for that, and it came to mind that whilst the kids are training, why not "up the level" for the kids who want to take that next step. The "tweens" who aren't old enough for adult teams but are ready for the next level of game play which is essentially adult games.

What do they do in the inbetween times? I know, I have been there and it's tough. Adults want to help train, but the idea of maybe full contact scrimmage with people who are legally still children can be offputting.
So, in Australia, there's a whole multi-level thing for modified contact scrimmage and so on, which might help with that, too.
Skye

If that would help then yeah, all for it and looking at it. Anything to bring more people to the sport and keep them with it.

I would love to talk with coaches for adult teams, see if there can be some sort of programme of skills that can be shared, best practise maybe to keep the kids inbetween Junior and Adult leagues active and keen and looking forward to their next steps.

Mum and I honestly just talked about it 2 days ago. It made sense because when I was in limbo, before the Bairns took me on, I nearly quit and it would have been a mistake to have done that.
It was very difficult for junior derby in Scotland in general, about then
Skye

We thought we were losing it altogether, no one's fault, but we are so glad it didn't disappear totally

I owe a lot to Coach CB and the rest of the Fierce Valley team, and the Bairns as well 😊
Callie, what about you - how did you manage in the gap between FVRC closing, and then your current Rollerstop + sort-of-guest-Bombinos-skater position?
Callie

I kept up skating at Rollerstop in general, just to keep me moving. Rollerstop Derby lessons came at the right time, although we even looked at the logistics of going to Newcastle for Derby if need be, but it just wouldn't have worked long term.
I know your mum's been very committed to helping you keep going in Roller Derby...
Callie

Haha, she hasn't been at home for the last few weekends because of derby, always driving us to games, supporting us, washing our kit (!) (the most important part) and meeting more Derby parents to get us out there.

She sees the benefits in Derby to us, confidence, health, experiences and new friends 🙂
It's a really good relationship you three all have 🙂
Skye

Mum has been a huge support in our derby career, she's been our taxi driver to games and a massive help. She continues to support us through our derby lives 😊
So, this has been a great interview, really: but I want to hand over the mic to you guys, if there's anything you want to add that we've not covered?
Skye

Both Callie and I think that Junior Roller Derby needs to be spoken about and put out there a wee bit more and we are glad that there is more recognition about the sport.

I'm also super glad about the fact that (some) teams are opening up to 16-17 year olds as it's giving Juniors more of a chance to train.

Callie

[I] would love to see more Junior teams in Scotland so there are more teams to play and gain more experience, and that some games between teams across the border and here become more frequent 😊