This is the Sunday addendum to this weekend's highlights, covering events from Sunday through Tuesday next. There's a lot of end-of-year scrimmages up in Scotland, Finland and other places, of various kinds - but we'd like to shout out one particular event:
Raptors Derby Moscow, only the second Roller Derby league in Russia, are making history this Sunday by holding the first ever public Bout in Moscow! This was only possible due to crowdfunding to support their guest coach flying over from Portsmouth to run the attached bootcamp, and with support from St Petersburg Roller Derby, who have been tireless supporters and promoters of Derby in Russia and nearby countries.
The rules are, as usual: highlights limited to 1 event per country, with an "extra" event allowed for a different kind of fixture (so, 1 tournament and 1 bootcamp), or if they involve Scottish leagues (since we are the Scottish Roller Derby Blog). Other notability might also allow the extra event - great posters, notable teams, etc. (League birthdays may count as "special" enough, at our discretion ;) )
In a bid to make this list as useful as possible, we've avoided links to Facebook except where noted. (Links to Teams are to non-Facebook resources - Instagram, or actual team pages - we'd strongly recommend that Teams get themselves an actual webpage [we can help host one if you need help]).
Locations are roughly organised East-West (with things before the weekend out sequence at the start).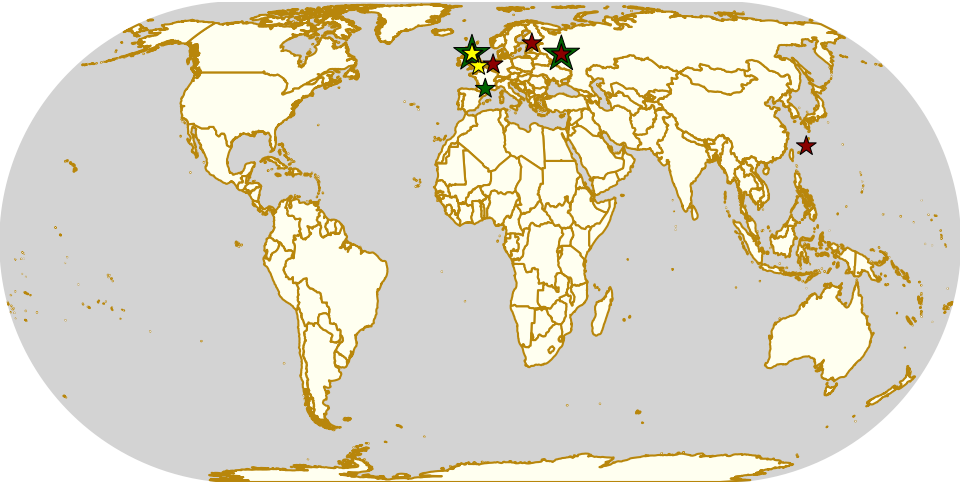 Sun: Okinawa, Japan
Okinawa Roller Derby are hosting a festive Scrimmage open to the public, to celebrate the end of the season.
Candy Canes versus Nutcrackers (Okinawa home teams)
Event starts: 1100 Sunday (first whistle)
Venue: Risner Gym, Kadena Air Base, Kadena, Okinawa, Japan
Sun: Moscow, Russia
Raptors Derby Moscow (link to VK) are making history in their city: their recent crowdfunder has raised enough money to fly their guest coach (Nina Nunchucks [Portsmouth Roller Wenches]) across the Moscow for a bootcamp this weekend.
More excitingly, they will be hosting the first ever public Roller Derby bout in Moscow on the Sunday! Entry will be free for this event.
Sat+Sun? Bootcamp with White Night Furies and Nina Nunchucks
Sunday Mixed Teams Bout (with White Night Furies [St Petersburg])
Event starts: 1730 Sunday (bout)
Venue: Shosse Entuzaistov 33, Moscow, Russia (bout)
Sun: Helsinki, Finland
Helsinki Coast Quads had such a good time with their "Big Track Roller Derby" season ender last year, that they're doing it all again this year. As with last year, this is a fun, "Xmas rules" variant scrimmage, using the over-sized track that was mistakenly provided for them due to misread specifications last year.
Open to All genders of skaters, mins-passed.
Event starts: 1530 Sunday
Venue: Merilahden peruskoulu, Kallvikinniementie 1, Helsinki, Finland
Sun: Arnhem, Netherlands
[FACEBOOK LINK] [FTS LINK 1] [FTS LINK 2]
Arnhem Fallen Angels host a double-header of derby, with their A and B teams both on track
Team Alpha (Arnhem) versus Liège Roller Derby
Team Bravo (Arnhem B) versus Thunder&Lightning Groningen
Event starts: 1300 Sunday (doors open)
Venue: Sporthal Elderveld, Breezandpad 13, JM Arnhem, Netherlands
Sun: Castres, France
Castres Roller Derby are doing the opposite of most of us, and hosting a bootcamp as we approach the festive season. This 1 day skater bootcamp is coached by Mac Rocket (Nothing Toulouse) and Why So Sirus (Montreal Roller Derby). We believe that this bootcamp is open to skates of All genders, and it will end with a Scrimmage as is normal for these events.
Event starts: 0930 Sunday
Venue: Gymnase Georges Mazars, (dit Gymnase de Fitelle), 5 Chemin de Fitelle, Castres, France
Sun: Sunningdale, UK
Royal Windsor Roller Derby are celebrating the holiday season with a free, festive mixed scrimmage. This scrimmage is open to all skill levels (and will be arranged to accommodate all of them)
Event starts: 1230 Sunday
Venue: Charters Leisure Centre, Sunningdale, UK
Tues: Edinburgh, Scotland
The Edinburgh NSO Workshops (link to Facebook) run by Kat Malin-August return, with this 8th edition covering Line-up Tracking, and (if time permits) the combined Penalty-Lineup role.
As always, these sessions are completely free of charge, and open to all attendees, regardless of their involvement in Roller Derby.
Event starts: 1900 Tuesday
Venue: Umega Lettings, 10 Lister Square, Edinburgh, Scotland
Sun: Livingston, Scotland
New Town Roller Derby are bringing their season to a close with an Open Scrimmage with a festive feel. Open To All genders of skater; and also raising funds for charity from the participation fee!
Open To All genders Christmas Scrimmage
"Fun Christmas Skate"
Event starts: 1400 Sunday
Venue: Craigswood Sports Centre, Livingston, West Lothian, Scotland
Sun: Grangemouth, Scotland [CANCELLED]
Power of Scotland are offering an opportunity to practice with them for their last training session of the year. This session, as with all of their Sunday training sessions, includes a full-length scrimmage. The session is open to 18+, MRDA-gender policy aligned skaters - minimum-skills required, experience recommended.
This is CANCELLED due to low numbers as of Wednesday. :(
Event starts: 0945 Sunday
Venue: Grangemouth Sports Complex, Abbots Road, Grangemouth, Scotland
Mon: Grangemouth, Scotland
Bairn City Rollers and Glasgow Men's Roller Derby co-host a festive open scrim (presumably Open To All genders) on Monday evening.
Event starts: 1930 Monday
Venue: Grangemouth Sports Complex, Abbots Road, Grangemouth, Scotland