There were a lot of first last weekend, from Gotham coming to the UK, through Dundee's debut of their B-team... but perhaps the most important event for the future of Scottish Derby occurred at Grangemouth Sports Centre on Saturday.
After considerable hard work, from both the coaches and organisers, the skaters themselves (and encouragement from parents), Scotland's only Junior Roller Derby league, Fierce Valley Roller Cubs, held their first ever public bout.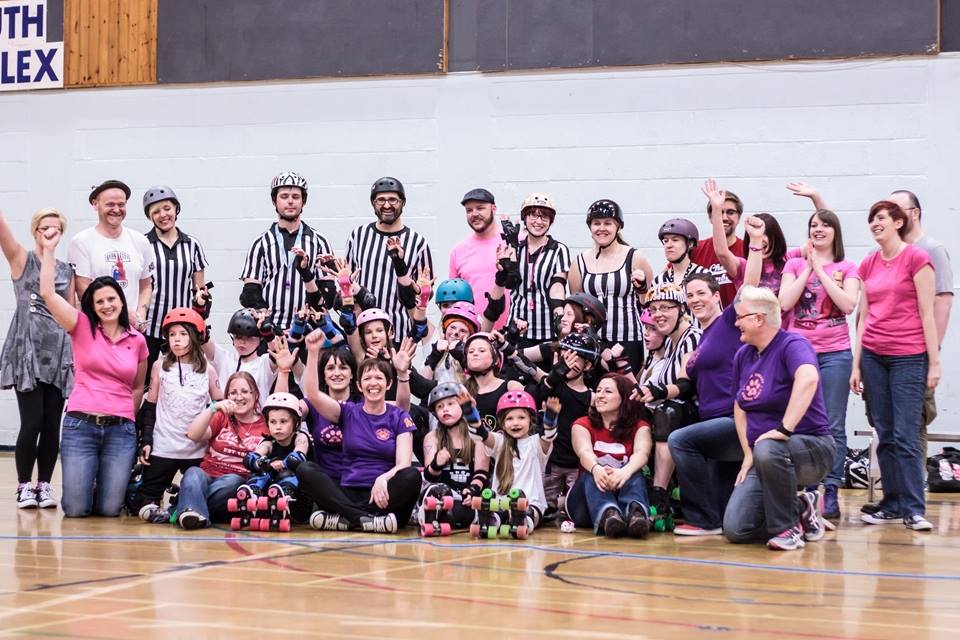 The Cubs, and Friends (Photo: Laura MacDonald)
After a hard-fought game, with Team White taking and holding an early lead through to the end, despite continual resistance from Team Black, the bout ended White 219:168 Black.
We asked the Captains of both teams (Bon Jodie for Team White, and Purple Punisher for Team Black) to give us their own words about the bout experience.
Bon Jodie: I'm 'Bon Jodie' and I had the honour of captaining one team in Fierce Valley Roller Cubs' first public intraleague bout. To captain was an exhilarating experience and to bout for the first time was phenomenal. I was more nervous about bouting for the first time than captaining my team, but I did feel a responsibility from the start to make sure that everyone's spirits were high and they weren't too nervous and were enjoying themselves. Even though in the upcoming days I was extremely conflicted about my feelings towards my bout the second the first whistle blew the nerves were replaced by what I can only describe as determination and adrenaline rush combined. I was very proud of my team, and the other team as we all did so well, afterwards I won MVP during the awards and I was completely overjoyed, overall it was an amazing day I hope to experience again.
Purple Punisher: The bout was meant to be fun and it was just that! Being involved and being captain for the first junior roller derby bout in Scotland was extremely nerve wracking because there was nothing to live up to, we were setting the example. We learnt so much from the bout and the crowd really helped settle the nerves. We made history and being captain was amazing!
The bout awards were:
Best Jammer: Arch Enemy (Team White), Haylstone (Team Black)
Best Blocker: Teeny Bash (Team White), Crimson Crusader (Team Black)
MVP: Bon Jodie (Team White), Stunaimi (Team Black)