Continuing our look at the teams from the south of Europe heading to Dallas for the Blood & Thunder Roller Derby World Cup, we reach the close neighbour of yesterday's entry: Team Portugal.
Since this interview was given, Team Portugal competed in the European Championship, unfortunately taking the last place (but not without some fight!).
Team Portugal managers Carolina and Flávia were responsible for answering the questions we sent them.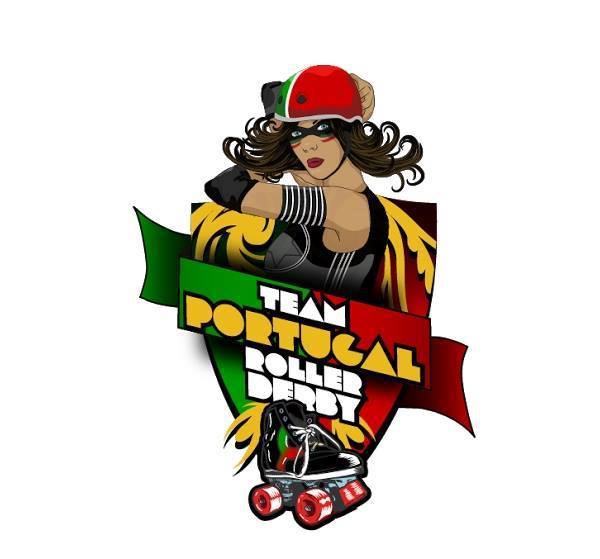 Team Portugal Logo: Daniel Pinheiro
I get the impression that a lot of your skaters are sourced from the Lisbon and Porto leagues, which are both about 2 years old now?
Yes, most of the team is composed by skaters from Lisbon and Porto leagues, but also by athletes from the Algarve and overseas, such as England, Finland, Belgium and USA. Roller Derby in Portugal is indeed a recent sport but it is growing exponentially!
Did you have skaters from outside Portugal submit applications to try out, or were you firm on wanting to be a pure Portuguese National team?
We opened the tryouts to anyone who has a Portuguese nationality and was willing to make Team Portugal´s dream come true! Among the selected athletes, are skaters from the UK, Finland, Belgium and the USA. We were very pleased to have applications from Portuguese athletes around the world and to see that we have several athletes who play roller derby in other countries.
How have you been managing travel for training sessions and team building?
It has been a challenge to conciliate the team´s schedule and availability but we've managed to get most of the team together in our practices. The financial aspect has been the hardest because each athlete and staff member has to handle their own expenses. We are humbled by the effort that all athletes are doing to make this dream a reality.
I see that you're one of the 8 European National Teams travelling to the European Cup in September. How are you feeling about this, only a few weeks before hand? This is a good chance to get a feel for how the team is doing and also raise your profile - is there any other public bouts you're planning before the World Cup?
We are very excited and eager to participate in the European Cup. It is going to be Team Portugal´s first public bout and we are working hard to leave a mark in this tournament. Besides, it is a great preparation for Dallas WC. We are trying to book other public bouts before the world cup but nothing is settled yet.
How are you raising funds and sponsorship for the big expense of getting to the USA for the World Cup itself?
We have a crowdfunding campaign (http://www.gofundme.com/teamportugalrollerderby) and we are always looking for sponsors willing to help our team. We already have great sponsors that are helping us with gear and uniforms.
As a team that is new to the Cup (not having played in 2011), what are your aims for the World Cup?
We want to show that, despite roller derby being a recent sport in Portugal, we are here to stay and that we are going to work hard all the way.
We want to play with the best and learn. We want to soak up the ultimate derby experience, living and breathing roller derby. We also want to have some fun!
The Team Portugal Roster [updated 10 October] is:
Ana Camila Silva | Deadly Rapunzel | 108 Ana Costa | AnnieWhere? | 12 Ana Morais | Blockahontas | 13 Andreia Nicolau | Andreia | 84 Bruna Alves | Yokai Onna | 138 Catarina Sá | Mia Sparrow | 1408 Cláudia Luz | EmeCii | 155 Cláudia Silva | Super Villan | 911 Cristiana Pereira | abraCRISdabra | 1083 Daniela Rodrigues | Speedy | 27 Danielle Correia | Pinky Swears | 2 Diana Santos | Lady Di_struction | 26 Dina Fontoura | Sparta | 000 Jessica da Silva | Da Silva Surfer | 48 Joana Bailão | Big Jo | 21 Joana Borges | Guerrilla Jay | 25 Joana Farinha | G.I.Jójó | 952 Joana Soares | Pikante | 1314 Lillian Ribeiro | Lilly Lips | 77 Maria Azevedo | Mary Pan | 10 Marta Carvalho | Bloodrunner | 3.14 Raquel Correia | Turbo Lenta | IC19
Coaches: João Silva | Silva Spark | 25 Ricardo Reis |RicHard-Core | 24/7 Inês Azevedo | Tink.R.BooO | 01
Managers and technical staff: Carolina Martins | Bonnie Darko | C7 Flávia Neves | Iron FLÁwer | 313 Marta Silva | Scooby Dee | 112