Third up this week, as we approach the end of our South Europe coverage of the Blood & Thunder World Cup teams is Team Greece, another new entry to the Cup this time around.
Team Greece is actually still selecting members as far as we can tell (they certainly haven't announced most of their roster),  so we don't have a complete roster for you at the bottom of this post. They have been running their gofundme, with additional rewards in the form of merchandise for donators.
London Rockin Rollers' Dire Ria and Houston Roller Derby's Bullet Sucker took some time out of Team Greece's somewhat busy schedule to answer some of our questions.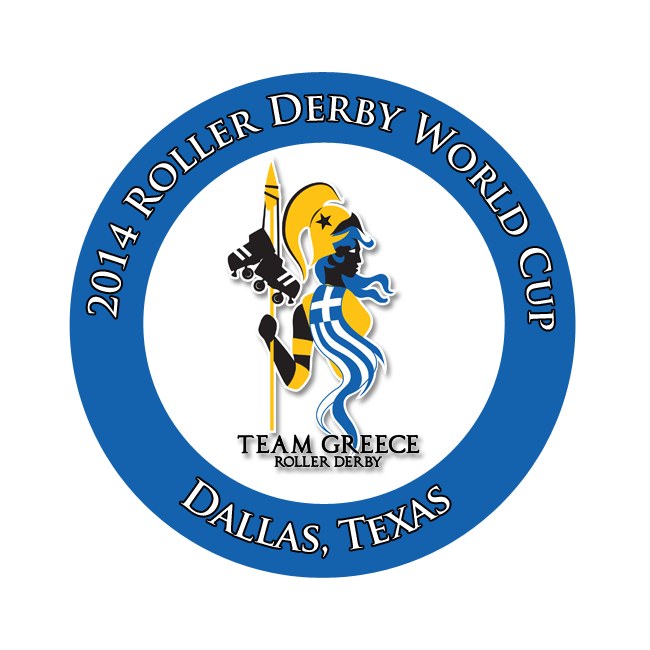 Team Greece logo by Five Second Skate Gear.
I notice that you're only slowly revealing your rostered skaters, one by one, on the Facebook page. Already there are skaters from USA, UK, Greece... how did you perform the selection process to narrow down the list?
Because Team Greece is made up of Greek skaters who live around the world, and roller derby is very new on Greek soil, our selection process for this first year was based on skating and travel ability. In the future, Team Greece hopes to have pools of skaters throughout Greece, as well as the rest of the world, and be able to hold try-outs for World Cup competitions.
With skaters from across the world, how are you managing training and practice to work together as a team?
Team Greece skaters train individually with their respective home teams, using board discussions to share workouts, strategy, and maintain a team mindset.
Given the expense of getting to Dallas for the World Cup, how are you raising funds and gaining sponsorship?
Team Greece is sponsored by S1 Helmets, Derby Skinz uniforms, Atom Wheels, Roller Bones, Monster Muffin, Roller Derby City, Five Seconds Skate Gear, T Shirt Ink, Power Skate, and ZipCar. We are continuously accepting sponsors for in-kind donations. We also have a GoFundMe campaign where donations are rewarded with fabulous prizes like special edition t-shirts and private events with the team during World Cup.
Several of the other European national teams are participating in tournaments before the World Cup, to get in practice against other teams + judge their progress. What does Team Greece have planned?
Team Greece has skaters that play at D1 and D2 level competitions throughout the country. We are also planning on scrimmaging several Texas teams in Austin and Dallas, as well as other international teams, the week prior to World Cup.
As a team which did not participate in the 2011 World Cup, what are your aims for the cup in 2014?
Our goals for 2014 WC are simple: put Team Greece on the map, and begin a derby revolution in Greece. We understand we are at a disadvantage when it comes to other teams who practice together, yet we feel that it is important to start Team Greece somewhere, and this is the year we bring our country to the World Cup, and the World Cup to our country.
The Team Greece Roster (so far) includes:
KISS my V #08
Beth Salts, #500mg
J-BERRY-PUNCH #85
Bullet Sucker #950
Sideshow Ho #808
Sparta-Kiss #300
Dire Ria #2