This week we move a little north in our coverage of Blood & Thunder Roller Derby World Cup teams, covering Northern Europe. First up is Team Netherlands - new to the World Cup this time around, although a participant in the recent European Championships (where they placed a very creditable 4th, after a few other teams we'll be mentioning this week).
Team Netherlands co-Captain Furrrocious was good enough to answer some of our questions.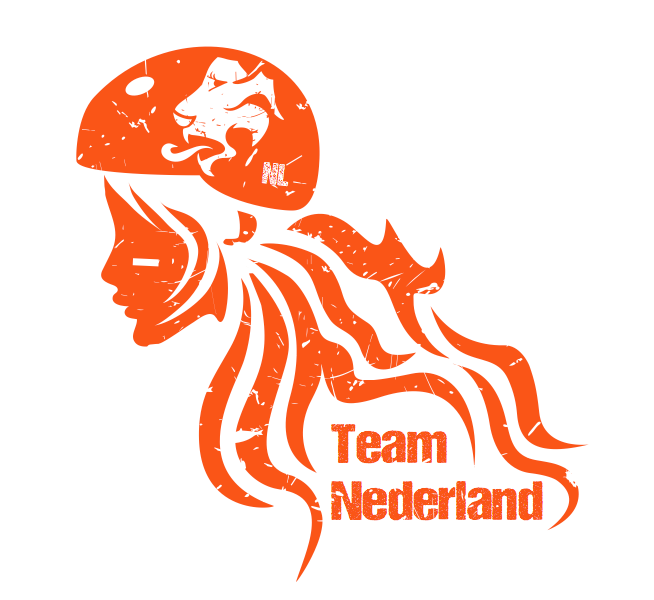 Team Netherlands logo: Camiel Zwart
Are you able to talk about the recent stepping down of two of your coaching & management team?
Yes of course. One of our coaches left due to personal circumstances, the commitment to Team NL was just too much on his plate right now. The other coach left due to disagreements within the coaching staff. And I dont think its my place to say more then that about it. We do however have a new part of our coaching staff. One of our skaters, Ma Baker, has been dealing with an injury and decided to dedicate her time to coaching the team together with our head coach Lola Rock n Rolla. They just functioned as our bench team at the European Tournament and did a splendid job. They really compliment each other.
Most of Team Netherlands is located in Amsterdam, Rotterdam and Eindhoven I think. But you have other skaters from across Europe (and I think outside?). How have you been managing practices with this distributed group?
If you look at the final rostered 20 girls, we have skaters from six leagues. Amsterdam Derby Dames, Eastside Rock n Rollers, Rotterdam Death Row Honeys, Dom City Dolls, Rockcity Rollers and Dundee Roller Girls. The last one you will know, coming from Scotland. :) In the complete training squad we have skaters from even more leagues, including a skater from Crime City (Malmo). For our not Netherlands based skaters it's a big commitment to come to our monthly practices. But they do come. We have tried to have all our practices set up ahead of time so everybody has been able to make the appropriate travel arrangements. We have mostly been meeting up in Utrecht, which is pretty much in the middle of the Netherlands and therefore pretty easy to get to for most.
Team Netherlands is off to the European Derby Tournament in September. What are you aiming to get out of the tournament? (You've also had a few other pre-Dallas bouts, so how useful have you found them in general?)
Little late, but I will answer in retrospect. We were aiming to learn! To get as much experience out of the tournament as possible. And oh my we did! We didn't expect to win against Wales, and when we did it meant we were up against France, who we had already faced in our very first game as a team. This time we did a lot better than the first time! Our game against Team Belgium was epic! It was hard fought and well matched. All our games were a great learning experience and an amazing bonding opportunity as a team. We grew a lot during this tournament, as individual skaters and as a team.
I wish we were able to play a few more tournaments like this before the world cup, as it would get us even more ready for Dallas. But we don't have that luxury. We are looking into scrimmaging other teams before Dallas. Lets hope that will work out. But honestly it's especially hard to schedule everything as all skaters also have practices, bootcamps, bouts and tournaments with their own teams. But the European tournament was a great opportunity and I think we have a lot of stuff we now know we can work on in the next few months.
What have you been doing to raise funds, awareness + sponsorship for the big expenses of getting to the World Cup?
Of course we have a go fund me page: 
http://www.gofundme.com/apsdso
But seeing how the whole derby community seems to be fundraising, these pages don't bring in that much. So we are doing all kinds of stuff on the side. We have been doing a sponsor skate, asking friends, family and co-workers to sponsor per lap or km. Raising quite some money! Also we will be organising a bootcamp for skaters, and all proceeds will go to team NL.
What are Team Netherlands' aims for Dallas ?
Well let's speak for myself as a skater and in the role of Co-captain, I think we are going to Dallas to kick ass! To do the absolute best we can. We know we won't roll away from Dallas in the top 3, but we also won't end up last. Apart from where we will end up (as it's all guess work with 30 countries) I think our main goal is (or should be) to get as much experience as we can and bring it back to the Netherlands. Our country is still young in derby and we have lots of leagues that are eager to learn more. And I think we all want the Netherlands to get bigger and better in the sport of Roller Derby.
Does the English language focus of derby make it harder for Dutch derby, or are the good English skills in the Netherlands sufficient to ease matters?
A lot of leagues in the Netherlands run their practices in English, as especially the bigger cities have a lot of transfer skaters from out of the country. Or, like Amsterdam and Rotterdam, both just have a lot of expats. And in general the Dutch people are pretty good at English. Therefore I am not worried that the language will be an issue for our team.
Some national teams are apparently switching to legal names for the World Cup (eg much of Team Scotland has, with some retaining their derby names). I see that Team Netherlands is one such team, can you talk a bit about the discussion that led to this?
Different skaters have different opinions about this. There was discussion about it when our uniforms were being ordered. But there was no discussion in the sense that we wanted the whole team to do the one or the other. I think a lot of skaters just feel that skating under their real name for a national team just makes it so real. And I think they are proud to be representing their country under their own name. I personally stuck with my derby name. When I play derby I just am Furrrocious. And switching that was just awkward to me. I think what is most important about this discussion, is that people decide to play under the name they feel comfortable with, if that be a derby name, first name, last name, whatever. As long as they are all there, all proud and happy to be there and ready to give it their all, it hardly matters what
type
of name is on the back of their jersey.
The Team Netherlands Roster is:
Abs of Steel Cousijn (San Solo) Crazily InSanne Dirty Job Essemay Furrrocious Fuss (Fuss Ro Dah) Jolly Jane Marcie (Marcie Misbehave) Morales (Ezekial 25:17) O'Pray (Jamakaze) Party Sparkle F.H. Peekaboo Panda Salomons (Ann Alizarine) Van der Star (Vegan Vengeance) Vix Vendetta Vocking (VOCKING Hell) Westhoff (Gina Gasolina) Whippin' Red Siren Zoeteweij (Lee's Lightning)