Stars and stripes dominate derby - from the helmet covers worn by the jammers and pivots to the badge emblazoned on the uniforms of the greatest derby team on the planet.
Team USA are the derby equivalent of the Harlem Globetrotters, The Avengers and The Warriors all rolled into one star-spangled sandwich.
Uncle Sam's derby daughters romped to victory in the 2011 Roller Derby World Cup in Toronto - clinching the title with a brilliant 336-33 win over Canada.
In fact during their five games at that tournament, Team USA amassed an eye-watering 2,150 points tally.
But can they repeat their heroics at the 2014 Blood & Thunder Roller Derby World Cup? Scottish Roller Derby spoke to Team USA assistant coach 'Endless' Justin Campoy.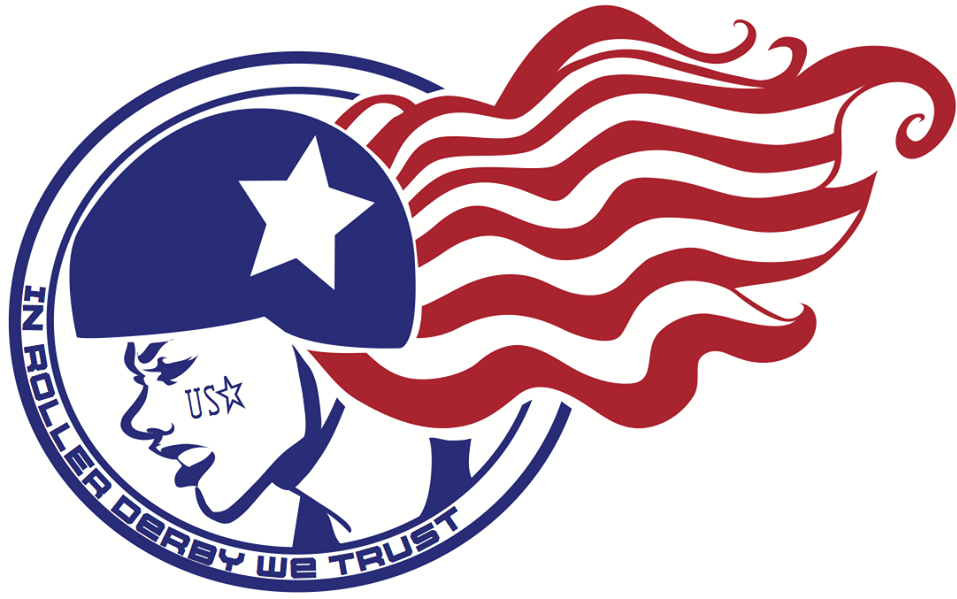 Logo designed by Dani Kaulakis
How are preparations going for the World Cup?
We are doing well, we have the easiest time out of any team. I'd really encourage everyone to help support their home nations with funding. It's an expensive adventure, but the World Cup is the most beautiful and moving derby event, so throw in a few bucks, Euros, pounds, yen, pesos, dollars, etc.
How often are you training?
Not often enough! Our biggest challenge is getting everyone together. We are all so committed to our home teams and in training for WFTDA playoffs, that Team USA doesn't have much time together. We do have a practice the morning after WFTDA Championships. We have had a couple of practices in the past nine months and we have had games against Canada, Germany, Sweden, International All Stars and one Stars vs Stripes game. Being able to quickly come together as a team was a very important trait we sought during try-outs.
In terms of the team - from which leagues have your players been drawn?
Arizona Rollergirls
Atlanta Roller Girls
Bay Area Derby Girls
Denver Roller Dolls
Gotham Girls Roller Derby
Junction City Roller Dolls
London Rollergirls
Minnesota Rollergirls
Oly Rollers
Philly Rollergirls
Rat City Rollergirls
Rose City Rollers
Steel City Roller Derby
Texas Rollergirls
Windy City Rollers
What is the team's goal at the World Cup?
Plain and simple: to win. But also serve as an example of the best the sport can be: through skill, athleticism and team work. We used to talk about being ambassadors for the sport, but while that is true, I am sure other teams are sick of hearing that and just want to take us down. We welcome all challenges with enthusiasm.
Fundraising and sponsorship?
We have sponsorships from Iron Doll, Wicked Skate Wear, Riedell, Atom Wheels, Bruised Skate Nooses, Impact Mouthguards, Derby Famous and S1 helmets. For fundraising we have partnerships with our sponsors and we conduct training camps.
What's the mood of the team - excited, proud, determined?
All of those, but also these players love to put aside their competitive spirits from their home teams in order to come together and share ideas, skills, strategies, tactics and techniques - all in an effort to improve Team USA and the game.
Team USA was numero uno in 2011 - can you clinch the gold again this year?
Yes
Without divulging any Team USA secrets, who or what should people in Scotland keep their eyes out for?
I think everyone has their personal favourites, which is awesome, but the best part of Team USA is how these superstars all sacrifice a little bit of their individual "glory" in order to make the whole team better.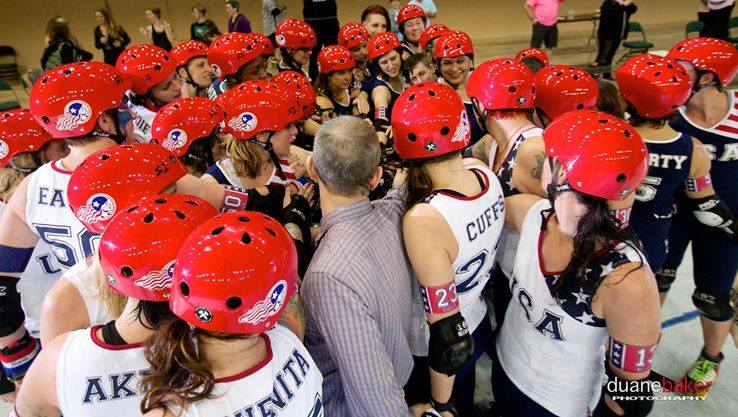 Picture by Duane Baker Photography
Team USA Roller Derby roster:
Tracy Akers Atomatrix Carmen Getsome Fisti Cuffs Danielle Flowers Kimberly Harding Jackie Daniels Laura Mann Mick Swagger Penelope Nederlander Dana Noss Jes Rivas Scald Eagle Shaina Serelson Sexy Slaydie Vanessa "V.Diva" Sites Smarty Pants Suzy Hotrod Wild Cherri Nicole Williams
Head Coach: Aaron Goed aka Buster Cheatin' Assistant Coach: 'Endless' Justin Campoy Team Manager: Katie Mae Peters aka Vivien LeighEmOut