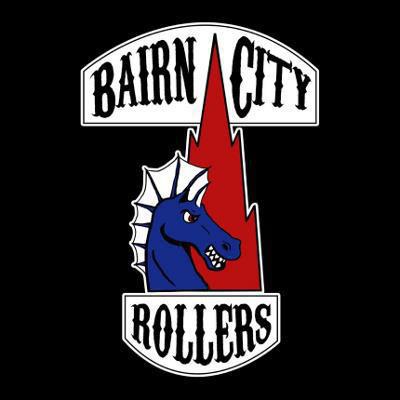 The Scottish Roller Derby Blog caught up with Archibald Wreck, Skelpies Vice, and Entropy who will captain the Central Belters to discuss the 2014 season with the Bairn City Rollers.
2014 marked the second year of Bairn City Rollers' existence. How did it go?
AW: "It's been a year of real growth and setting the ground works for an exciting near future. On the Belters' side they have steadily grew in numbers to reach the point where everyone now has to compete for a place and a really solid team is starting to be moulded. The Skelpies have cemented a very credible position in the men's European rankings and Judder, iHorror, Dreads, rED Baron, Scrim Shady and Dead Hardy all played for their country at the Men's World Cup in March."
Ent:
"2014 was a busy year for us. The Belters have had great influx of skaters this year! This means we've had the opportunity to develop as a team and really get to know each other. We've also had some great results this year against some really tough opponents and we placed well in a Sur5al tournament. I agree, Archie! The Skelpies have slowly but surely climbed their way up the rankings this last year!"
Any particular highlights?
Ent: "The first win for the Skelpies in January was a great start to the year. The Belters coming close to a second win against The Flaming Noras was a great achievement (especially after the bus journey from hell!)
The Sur5al in Stirling was a particular highlight for me. We were able to win a few jams and we held our own against some really strong teams."
AW: "Like Entropy just mentioned, the Skelpies picking up their first win in January against friendly-rivals Mean City Roller Derby was an early highlight. Equally impressive was the showing against Tyne & Fear's The Inglorious B*Stars in June, which saw a narrow loss against a substantially higher ranked team. They also took part in a Sur5val tournament in Oldham, hosted by the Knight of Oldham. I feel we were largely unknown but managed to place really well.
Over on the Belters side there was an agonisingly close defeat to The Flaming Nora's in Barrow earlier in the year. I also agree with Entropy on this one, The five Belters who competed in a Sur5al tournament in Stirling was a highlight for me. The tournament saw them turn more than a few heads with several victories including a win over a Glasgow B-side."
Bairn City hosted their annual co-ed bout again the "Capital Chums", a team made up of skaters from ARRG and Capital City. How did you feel it went?
AW: "That was a fantastic day for everyone involved in the league, whether playing in the game or not. To have achieved victory against a team which included several male and female international players was a great achievement, especially with several "cherry poppers" in the Belter Skelpers making their debut that day. We did not forget how great Capital Chums were, however, and voted them our favourite opponents of 2014 at our end of year awards ceremony in November."
Ent: " You're right Archie, that game was a great day for the league. It highlights just how much we have grown in our two years! The Capital Chums were great opponents and the game was a lot of fun for everyone involved. The fact that the game was so close, it came right down to the last jam, just shows how exciting the day was!"
As Scotland's only bouting coed league, do you plan on pushing coed further in 2015?
AW: "I believe some feelers have been sent to some prospective opponents, so we shall see what emerges in the next few months!
It will certainly remain an important element of this league, as we were founded as the first co-ed league in Scotland and it remains a principle we promote and encourage. We were pleased to see Mean City announce their decision to go co-ed recently and wish them the best in developing this within their own league in 2015 and beyond."
Ent: "Being a co-ed league is what makes BCR who we are and its really important for us to see the co-ed aspect of roller derby in Scotland develop. The fact that there are now other co-ed leagues in the country means that future of co-ed derby in Scotland is going to be exciting!"
What can we expect from both teams in 2015?
Ent: "The strengthening of both teams is what the main focus of 2015 will be. We already have a few games lined up for the early half of the year which will hopefully highlight the work the Belters and the Skelpies have put in to further improve the teams."
AW: "Steady, solid improvement from both teams and a few surprises along the way!
The Skelpies did not play as many bouts in 2014 as originally planned but are already looking at a potentially busy calendar for the first half of 2015.
Both teams are already booked into tournaments (in Edinburgh and Wales) and have individual bouts in the process of being organised as well.
The Belters will continue to mould a strong unit out of the enviable position they now find themselves in with regards to team numbers. The Skelpies will re-inforce their existing squad with a focus on male intake within the league over the coming months.
2015, we're coming to get you!"
Scottish Roller Derby would like to wish Bairn City Rollers' all the best for their 2015 season.
Keep a look out for games involving all three teams in 2015!